DONG Energy has opened the new Walney Offshore Wind Farm, located 15 kilometres off Walney Island in Cumbria. The scheme was implemented through a combined partnership of DONG Energy, Scottish and Southern Energy (SSE) and OPW, with DONG Energy acting as the lead construction and operations partner.
The £1.2 billion development comprises 102 Siemens 3.6MW wind turbines and has a combined capacity of 367.2MW. Now that the wind farm is complete, it will provide enough energy to power 320,000 homes.
Energy and Climate Change Secretary, Lib Dem MP Ed Davey, commented:
"We're celebrating for Cumbria and for Britain and for the green energy movement this fantastic success, the biggest offshore wind farm in the world, and the fastest built so far.
"Britain has a lot to be proud of in our growing offshore wind sector. Our island's tremendous natural resource, our research base and a proud history of engineering make this the number one destination for investment in offshore wind.
"Walney is the newest, biggest and fastest-built jewel in that crown, providing clean power for hundreds of thousands of households."
Anders Eldrup, Chief Executive of DONG Energy, added:
"It marks a new era in terms of financing, being the first project in the UK backed by institutional investors. Walney is a landmark in offshore wind and DONG Energy's strong drive to further industrialise offshore wind power and cut costs.
"Walney 2 is the world's fastest installation of an offshore wind farm and underlines DONG Energy's position as a strong market leader within offshore wind. We've developed our techniques for faster and more cost efficient installation methods and this is an important step in the continuing drive to reduce the construction costs of offshore wind farms."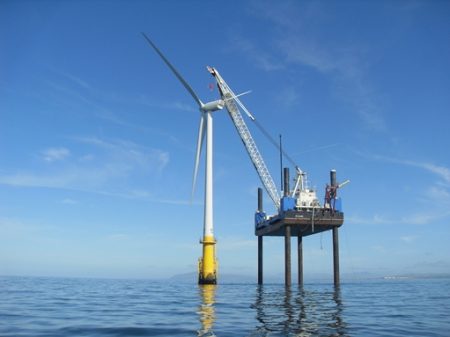 SSE Chief Operating Officer, Colin Hood, added:
"As the UK's leading generator of electricity from renewable sources, SSE is committed to helping increase the amount of renewable electricity generation in the UK and the export of electricity at Walney is a step towards achieving this."
Walney 1 Offshore Wind Farm was completed in 2010 and began generating power on 13th January 2011. In October 2011, Walney Windfarms Limited completed the sale of transmission assets of Walney 1 to Blue Transmission Walney 1 Limited for £105 million. Power for Walney 1 is supplied to the national grid through the onshore transformer station in Heysham, with an approximate annual net energy of 663GWh.
Whilst Walney 1 took a year to complete, Walney 2 was completed in around half the time due to an overlapping construction schedule that was specifically designed to speed up the construction process.
On 1st November 2011 Walney 2 began delivering CO2-free electricity via turbine F14, the first of its completed turbines. Power was supplied to the national grid via the Stanah 132kV onshore substation near Blackpool and a further ten turbines began operation shortly afterwards.
The operation and maintenance of the wind farms is based in Barrow-in-Furness and the project is estimated to have created permanent job opportunities for up to 60 people.
Batt At Sea Ltd
 Batt At Sea Ltd is a specialist in wind farm support vessels. It uses marine vehicles to transport technicians to off-shore turbine towers and to carry out diving support operations. The company is also involved in Marine Mammal Observation (MMO) and Passive Acoustic Monitoring (PAM) services to monitor wildlife in areas that surround wind farms. Batt At Sea Ltd is an equal opportunities employer, with as many female members of staff to male.
On the Walney Offshore Wind Farm project Batt At Sea Ltd provides a crew transfer service. Originally this involved transporting crews to the site for cabling works, but now Batt At Sea is the main transport vessel for each crew change. It has worked on the wind farm at Walney for 18 months.
Batt At Sea Ltd Managing Director, Terry Batt, said: "At Batt At Sea Ltd we like to view ourselves as the official guardian of the sea and our boats burn approximately a tenth of the fuel of any wind farm vessel in existence today.
"This means our fuel consumption is considerably less than any other wind farm support vessel and as the whole concept of wind farms is to offer a reduced carbon footprint through low emissions, we're proud that our service fits in perfectly with this operation."