Armstrong Point is the UK's first zero energy cost business park, located in Hindley Green, Wigan.    
Nine industrial units have been constructed using 14 low and zero carbon technologies, offering tenants zero-energy cost with onsite energy generation. The technologies used include wind turbines, photovoltaic roof panels, rainwater harvesting and LED internal and external lighting.
The build has seen the redevelopment of 0.47 hectares of brownfield land which was formerly a derelict Britvic soft drinks factory.
The £2.3 million project began on 22nd December 2010, with construction beginning in June 2011.
The development, part- funded by The European Regional Development Fund (ERDF) and Armstrong Properties (NW) Ltd, was completed in October 2012.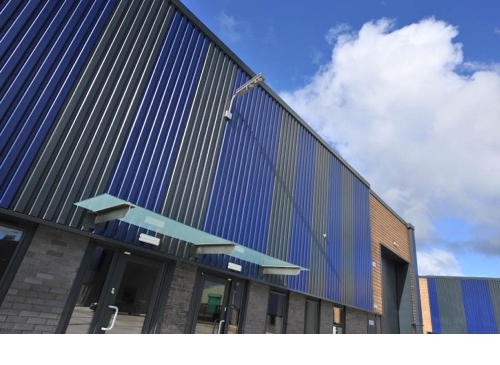 Dave Armstrong from Armstrong Properties said:
"The development is expected to attain a BREEAM 'Outstanding' rating when the final inspection is completed, has achieved A+ rated EPC's and incorporates 14 low and zero carbon technologies. Over 9,000 tonnes of C02 will be saved during the lifetime of the development based on a feasibility study by Carbon Consultancy Company.
"Now that the project is complete we will look to apply for any award that recognises the exemplar development, which has raised the bar in sustainable building ahead of its time. We have recently won our first award for Environmental Technologies at the Wigan Business Awards 2012.
"Carbon Consultancy Company held a residents meeting prior to the start of construction for Armstrong Point and any issues were discussed and satisfied at the time."
The main contractors on the project were Carbon Consultancy Company, WCP Associates, Tolent Construction, Virdian Consulting, Innov8, Wigan Council and Eco Environments. The architect on Armstrong Point was Jennings Design Associates.
It is hoped that the construction of Armstrong Point can encourage others to think about their responsibilities in reducing their carbon footprint in the future.
Dave added:
"This is a completely new venture and believed to be the first of its kind in the UK. The project is a milestone for Carbon Consultancy Company & Armstrong Properties (NW) Ltd who have worked in energy consultancy and property development, looking to pass on their knowledge and expertise in this field.
"We feel the project has re-developed the community in the sense that prior to this the land was derelict and an eyesore. Now that the project is complete we have an on-site demonstration centre where local schools, colleges and the general public can see for themselves how they work, showcasing other products for local companies who wish to further their business."
Shelley Hughes, Business Support Co-Ordinator for Carbon Consultancy Company added:
"As part of our continued support and commitment to providing knowledge and advice in Energy Reduction and Environmental Technologies, we can offer two days free support to any SME's in the North West including Business Start-Ups.
"With our support other businesses can benefit from an on-site Energy Opportunities Assessment, this will highlight were savings can be made with the possibility of investing in some of the Environmental Technologies that have been used in the development of Armstrong Point."