Roomzzz UK have launched a 14 suite luxury aparthotel in Newcastle City Centre.
Formerly known as Friar House, Roomzzz Newcastle City is a grade II listed building which dates back to around 1780. Friar House once belonged to a 19th Century celebrity socialite Sir Robert Hopper Williamson who as Recorder of Newcastle and chancellor of Durham was considered amongst the elite of the North East and one of the most important men in the area.
Head of Roomzzz Aparthotel UK Mark Walton said:
"Roomzzz Newcastle City dramatically improves luxury hotel stays in the North – there are some fabulous hotels in the area but the transformation of Friar House really raises the game. This hotel experience is pure luxury but with the Roomzzz affordability factor."
The £5 million project began in March 2012 and was completed in October 2012. The main contractor was Brims Construction and the architect was Mawson Kerr.
Will Mawson, Project Architect from Mawson Kerr said:
"The building was essentially a country house when it was built but now it is in the centre of Newcastle – it fell into disrepair over time so we had quite a lot of work to do when we took it over. It was basically a derelict building but it had a lot of historic fittings like the coving, staircase, fireplaces, and old kitchen ranges. However once it was opened up we found it was also full of wet and dry rot.
"We've tried to keep everything we possibly could and anything new we've put in has been modern so you can see the new against the old. The planners were also keen that we kept the rooms in their original proportions so we've put in as few partitions as possible.
"We've used quite a lot of glass in the new parts of the design and also stained timber which is quite modern and dark. Externally we have also used micaceous painted steel which is quite a modern look but it's something which plays back against the old building."
The aparthotel design is quite a modern concept and something that is becoming very popular especially in city centres. Every room has its own kitchen and living space, providing people with the personal space that is sometimes lost in ordinary hotels.
Will added:
"The communal area in the hotel is proportionally small to the size of the building with the majority of the space is given over to the apartments which are much bigger than usual hotel rooms. The feedback we're getting is that this is a really popular move.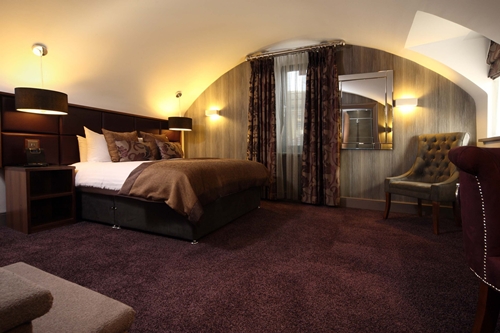 "This project is incredibly important to us because we are quite a new firm and it is one of our first commissions. For us it has been really good to see the building brought back to life because if it was left for another five or ten years it may well have been lost.
"The building across the road – a Presbyterian church – collapsed while we were working on this project so we have seen a very historical building of a similar age disappearing. Also, even though is in the city centre, it's a bit off the beaten track so it will bring that part of Newcastle back into use again."
Hastie Burton Joinery Ltd
Established in 1903, Hastie Burton Joinery Ltd specialise in the manufacture of all types of bespoke joinery and have established a reputation as one of the leading specialist joinery manufacturers in the North East.
Hastie Burton Joinery Ltd have worked on projects including the display cabinets for Tyne & Wear Museums, the reception counter at the RICS Award-winning Toffee Factory for Brims, along with other specialist items for a number of North East based construction companies, architects and house builders.
Adrian Brunton, Managing Director for Hastie Burton Joinery Ltd said:
"Our first job for main contractor Brims was 3 Acre Park, Gateshead, which involved manufacturing and fitting doors and windows to a tight deadline that other companies could not meet.
"On the current project, Friar House, we have provided doors, screens and panelling; and refurbished all the windows which included manufacturing replacements as well.
"We wanted to be involved in this project because it was transforming an important listed building and bringing it back into use and we knew it would be a high profile job. We pride ourselves in providing a quality service and for our excellent attention to detail."