A £15,212,155 million project to bring a brand new sports centre to Ebbw Vale continues to make great progress.
The Ebbw Vale Sports Centre project comprises the construction of a 6000 sq metre centre to provide sporting facilities to the adjacent schools – the Ebbw Fawr Learning Community – and the surrounding community. Once work is complete on the project the centre will boast a range of sporting facilities, including swimming pools, a fitness suite and four multi-use games areas (MUGA).
Willmott Dixon is the main contractor on the project, whilst Blaenau Gwent County Borough Council, Technical Services Division – the original concept architect – is providing architectural services up to stage D of the project and Building Design Partnership is the architect from stage E onwards.
The project is being funded by the Welsh Government and Blaenau Gwent County Borough Council.
Work started on the Ebbw Vale Sports Centre project in April 2012. The two-storey building is being built from a steel frame construction, with a kalzip standing seam roof, curtain walling and a mix of terracotta, Kalzip and Alucobond rain screen cladding. The building is being built to meet BREEAM standards of 'excellent' and Secure by Design.
Internally the new centre will include a 25m six-lane competition pool, a leisure pool with associated spectator area, a sauna and changing village, an eight-court sports hall with storage space, a 65-station fitness suite and a sports lab. Additional features include a dance room, a cafe/kitchen area, reception, a number of flexible spaces and associated auxiliary areas.
External features of the site include a full sized 3G pitch, full sized grass pitch, four 3G MUGAs and on site accessible parking. In addition, external landscaping will include steps, seating, public gathering space and a bus drop off zone.
Blaenau Gwent County Borough Council Project Architect, Simon Jennings, said:
"Prior to work started on the project the site was an industrialised piece of land known as the Steel Works, so before we could start construction of the new centre we had to get the land back into shape. There was no infrastructure, no road links whatsoever and the land contained many existing obstacles and constraints such as basements, which provided a few challenges. In addition we are also working amongst a number of live buildings which inhabit the site, including a college (Learning Zone), Gwent Records and a general office, which opened in 2012. The main infrastructure works were also being carried out during the earlier stages of construction.
"To date, the frame of the building is now 99% complete, the roof is 80% complete and the glazing and cladding is currently being finished off. We are also going through the first fix phase of the mechanical and electrical works and the pool is being tested prior to tiling."
Simon added:
"Our existing sports centre was nearing the end of its life before we started on this new centre, so the creation of this facility is vital for the continuation of sporting provisions in the community. If this building is not built then the community and learning community will not have a sports centre.
"Other future development is also planned for this site, so once the sports centre is complete it will become a central hub that will attract all different members of the community and inject life into this area.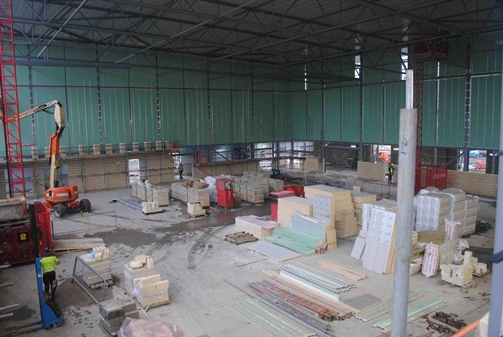 "One of our main objectives is to make Blaenau Gwent a better place to live and work, and the creation of this centre goes a long way to achieving this goal."
The Ebbw Vale Sports Centre project is currently on schedule and is due to reach completion in August 2013.