Located near Alnwick in Northumberland, Breamish Valley Cottages provide holiday makers of all ages with luxury self-catering holiday cottages and accommodation.
The company has won 11 VisitBritain Gold Awards, in addition to a Pride of Northumbria Award, and for the past two decades has been providing guests with an unforgettable holiday experience. In October 2011 work began on a scheme to extend Breamish Valley Cottages' accommodation offering, through the creation of five new cottages. The project reached completion in July 2012, with Breamish Valley as the main contractor on the project and Michael Rathbone as the architect.
Commenting on the work, Breamish Valley Cottages Owner, Peter Moralee, said:
"Breamish Valley Cottages has been in existence for the best part of 20 years. Originally we began with seven cottages that were converted from farm buildings and then we added a leisure club with swimming pool and gym. Approximately ten years ago we built five fit-for-purpose holiday cottages and then moving forward we built another five in time for summer 2012."
Peter added:
"Work progressed well on the project. We had a slight delay to begin with, but fortunately we benefitted from a good winter which meant that there were no further hold ups.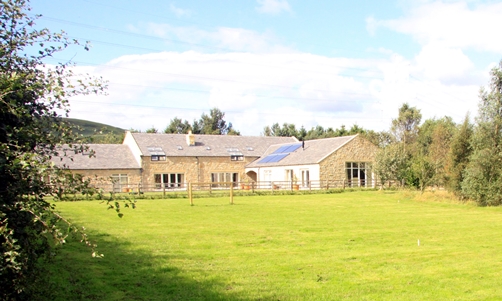 "It was a reasonably flat site, but we had to do quite a bit of tree surgery work in order to let some light into the cottages. Some additional hedge planting was also undertaken, along with the installation of some gravelled areas for car parking provisions."
The new units for Breamish Valley Cottages comprise four, two-bedroom cottages and one, three-bedroom cottage. The cottages were constructed from a timber frame with stone and slate and include timber framed windows.
Each of the cottages is traditionally furnished throughout and equipped with fitted kitchens, Sky TV, Hi-Fi systems, internet connections and a DVD player. In addition, bookshelves are lined with books – a standard in every cottage – whilst wood-burning stoves and oil-fired central heating ensures that guests are warm and cosy. Solar thermal tubes have been added to pre-heat hot water.
Peter said:
"The creation of the new cottages was a great way to expand our accommodation offerings. The cottages have plenty of space and some excellent fixtures and fittings, which is exactly what people want. The new units are a progression from what we already have and we are very pleased with them.
"Keeping in mind the present financial climate, expansion is always a tricky thing, however the creation of these new cottages has worked well for us. Moving forward, we will now concentrate on letting these cottages and providing guests with exactly what they have come to expect from Breamish Valley Cottages."
At Breamish Valley Cottages guests will find all they need for the perfect stay in a self-catering holiday cottage. Historic castles, such as Bamburgh, Warkworth and Dunstanburgh are just a short drive away and some of the best countryside is on the site's doorstep.
For more information about Breamish Valley Cottages, or to make a booking, please visit: www.breamishvalley.co.uk.