Situated next to the National Exhibition Centre (NEC) Hilton Birmingham Metropole is an exquisite hotel, providing guests with a stylish and comfortable stay in one of the UK's best-loved cities.
The hotel has recently undergone a refurbishment to bedrooms and bathrooms and now offers an even more comfortable and convenient stay.
The project comprised the refurbishment of 86 bedrooms and bathrooms, along with associated corridors on Levels 4 and 5 of the hotel's Warwick block. The work was undertaken to give rooms a much needed makeover in order to update and modernise facilities.
The work involved a full strip-out of existing rooms, the reconfiguration of bathrooms and the installation of new bathrooms, furniture and soft elements. To complete the project, an air conditioning system was installed within each room and decoration works were completed.
Work began on the project in late February and reached completion at the end of April. Leicester-based company, Equiss Services Ltd was the main contractor on Hilton Birmingham Metropole Refurbishment project, whilst the design was provided by Hilton and The Project Partnership was the project manager.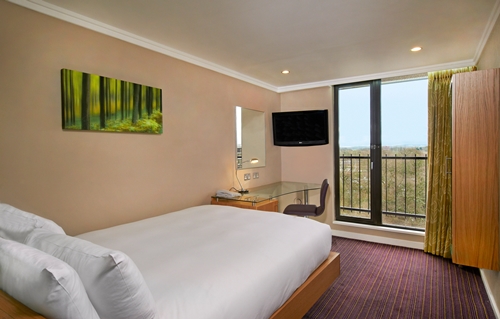 In order to facilitate the works, the project was divided into two phase, with Phase One concentrating on Level 4 and Phase Two focusing on Level 5. During the course of the project the external condensing unit, used for the air conditioning system, was relocated onto the roof.
The Project Partnership Proprietor, Stephen Kelly, said:
"The project ran smoothly, with no major challenges. A couple of years ago we completed a couple of sample rooms, which gave us a good idea of what to expect on this project.
"There are over 800 rooms at Hilton Birmingham Metropole, so this project represented approximately 10% of the room stock. The work was implemented at a time when it would cause minimum impact on lost revenue.
"As the Hotel remained open at all times during the project we were very conscious of the fact that noise could be an issue, so we operated during times of the day when we would cause as little disruption as possible. This is the same for any project taking place within a hotel, so it was nothing out of the ordinary for work of this nature."
Stephen added:
"I have worked as an external project manager with the Hilton brand for 25 years and I've worked in all of their UK and Ireland properties within this time. Hilton is the operator of this site in Birmingham and I have a great working relationship with them. I am always asked to get involved with their projects."
Hilton Birmingham Metropole is ideally placed next to the NEC and as it is just ten minutes away from Birmingham International Airport, the hotel is capable of accommodating those jetting in and out of the country. Birmingham city centre – including the famous Bullring Shopping Centre – is only eight miles away, so with excellent transport links the hotel also offers the ideal base to access a range of business and leisure opportunities.
One of the key elements of any hotel is the guest rooms, which is why the recent refurbishment works were so important for improving the hotel's offering. However, all of the rooms at the hotel have something to entice those keen to spend a few hours in comfort.
Each guest room at Hilton Birmingham Metropole includes access to Wi-Fi, whilst Executive Rooms include free breakfast and refreshments. Select suites include a living room and work area, whilst Family Rooms can accommodate two adults and two children.
All of the rooms have been expertly designed with comfort and convenience in mind and include on-demand movies, desks and associated furniture.
The hotel is more than capable of catering for guests' needs outside of the bedroom, with the Boulevard Restaurant serving up international buffet dining and Millers Restaurant offering up an a la carte menu. Meanwhile, for those guests wanting something a little more relaxing, the hotel's 24-hour Lounge Bar includes an extensive cocktail menu, whilst an on-site Costa Coffee can perk up guests in the morning.
The hotel includes a range of fitness and recreational facilities, from a steam room power plates, through to a toddler's pool and aqua aerobics classes. LivingWell Health Club is a fully equipped facility, with a heated indoor swimming pool, however if guests prefer an easier way to unwind the hotel includes the Ocean Rooms Spa, where a sauna or massage could be the perfect way to de-stress.
In addition, for convenience the hotel offers a concierge desk, news stand, ATM facilities, room service, a gift shop, beauty salon and a foreign currency exchange. Multi-lingual staff is on hand to offer help and assistance to out of town guests, whilst baggage storage is available for guests during check-out.
As one of the UK's largest residential conferencing hotels, Hilton Birmingham Metropole boasts a fantastic selection of conference facilities, which includes 33 banquet and meeting rooms, capable of accommodating up to 2,000 delegates. The hotel understands the importance of today's modern business person, so can also provide a secretarial service, video messaging, photo copying services, audio/visual equipment hire and printing and mail services.
Hilton Birmingham Metropole complies with all ADA Guidelines and complies with the Americans with Disabilities Act of 1990. For more information about the Hotel, or to make a booking, please visit: www.hilton.com/birminghammetropole.
Equiss Services Ltd
Equiss Services Ltd is a leading refurbishment contractor, offering specialist knowledge and experience throughout its divisions, which include building contracts, bespoke joinery, decorating and electrical installations. The company offers a full and comprehensive service from conception through to final invoice and beyond.
Equiss Services Ltd was the main contractor on The Birmingham Metropole Hotel Refurbishment project.
Commenting on the project, Equiss Services Ltd Director, Mike Peters, said:
"We have a longstanding working relationship with The Birmingham Metropole Hotel and have previously completed over 700 bedrooms along with function rooms at the hotel.
"Time was a key aspect of this project as we had to turn around 86 bedrooms within a live site. This is often the case with projects in hotels and at present we are working on a project within the Waldorf, so we are working around the guests at this hotel too."
Mike added:
"We have been in operation for four years and we work across the board, from Warner Hotels and Jury's Inn Hotels to Mecca Bingo and University refurbishment works.
"Working with Hilton is very important to us and they are a key part of our client base."