Located just a short walking distance from New Street Station, in the heart of Birmingham City Centre, adam's Restaurant is a brand new fine dining restaurant currently taking the Midland's by storm.
adam's is owned by Michelin starred chef Adam Stokes and was met with fantastic praise when the doors first opened in early April 2013.
adam's Restaurant has 24 covers and has been designed as a pop-up style site, allowing the people of Birmingham a chance to sample Chef Stokes' fine cuisine before he moves to a larger premises in the near future. For now, lucky Brummies are being given the chance to try out a delicious array of dishes in a smaller, yet perfectly formed restaurant, and this plan is certainly proving very popular.
Commenting on adam's Restaurant, Owner Adam Stokes, said:
"What we set out to do with the restaurant was simple; to give the people of Birmingham a taste of my food. There is already a vibrant dining scene in Birmingham it has three Michelin starred restaurants and many more great places to eat. My aim is to cook our hearts out and tantalise the taste buds of our guests with some great dishes.
"Our location is right in the city centre just off one of the busiest streets in Birmingham. The future site we are hoping to move to is also located in the centre, so this is very much the correct location for us."
After months spent in concept and planning, work began on adam's Restaurant on the 6th of March 2013 and was completed within just 5 weeks. Hillfield Electrical Services was the main contractor on the project.
Prior to the site's transformation into a fine dining restaurant the building previously housed a sandwich shop. Since taking over the site, construction teams have given the site a radical makeover which has included new floors throughout, installing extraction systems, 3 phase & gas all during an extensive programme of redecoration. Additional work on the property included the removal of stud partition walls to open up the kitchen area and the creation of a luxury toilet.
Adam said:
"We welcome guests to see into the kitchen and in turn we want our chef's to walk out into the restaurant with the dishes that they have served. We want to break down boundaries at adam's Restaurant. In the future we want to open up the kitchen further and the configuration of the future site will allow this perfectly."
Work on the new restaurant ran relatively smoothly, one of the major challenges has been the installation of the washroom. In order to work around the lack of suitable facilities plumbing had to be run from the basement and the lobby was adapted to ensure that this area of the restaurant complied with building regulations.
Adam said:
"The experience that Hillfield Electrical Services brought to this project was extremely valuable to us and working closely together we were able to reach our goal with this site within the time constraints, which was just fantastic.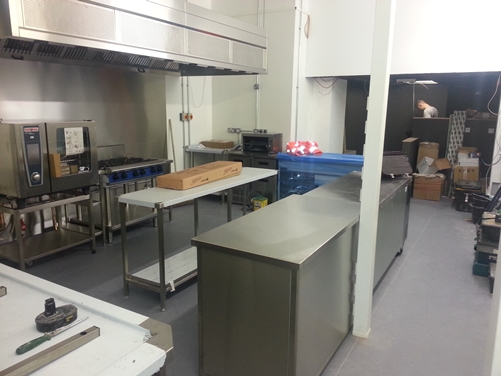 "Seeing this restaurant open means everything to me. Along with my wife Natasha we have been working towards this for the past five years, to create a restaurant where I am able to showcase my ideas, inspirations and skills. adam's restaurant is seeing how far we can go, we have started this restaurant from scratch and through determination and passion we will try and please as many guests as possible in Birmingham.
"adam's restaurant is about taking great ingredients and preparing them using the best techniques. We hope to excite and delight diners every day."