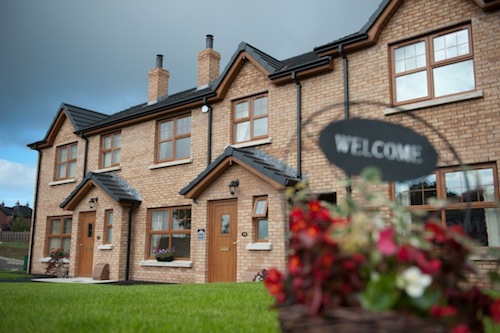 Winning a regional NHBC Pride in the Job Award, Carndale Meadows in Ballymena is the latest housing development from Northern Irish construction firm JFM Construction. 
A family owned business, the company has a long and proud history in residential and commercial construction and has built up an impressive portfolio of developments throughout Northern Ireland.
"Our objective is to create quality and stylish homes at affordable prices. Our focus is on customer service throughout the entire construction process", says Director Joe McLaughlin. "From choosing desirable locations to develop, to the handing over our houses and aftercare, we look forward to building your new home."
This strong focus on quality has been acknowledged by the recent NHBC Warranty given to all properties at Carndale Meadows and the NHBC Pride in the Job Award given to Site Manager, Neil Scullin.
"This is the first time I have received an NHBC Pride in the Job Award and it put a smile on my face when I heard the news. It's great for me and the team", says Neil.
Positioned within one of Ballymena's most central and convenient locations, the development will be completed with an attractive range of two bedroom apartments through to three bedroom townhouses and semi detached properties, providing well proportioned layouts and finished both internally and externally to a quality standard.
Not only is Carndale Meadows within walking distance of the town centre, but it is also easily accessible to Ballymena's main amenities and road links giving it an enviable position when considering a home that ticks all the boxes.
Ballymena is an area rich in history; new home owners will notice ancient buildings, churches and historical sites in the town and the surrounding villages of Gracehill, Cullybackey, Kells and Portglenone. The first recorded history of the area dates to the early Christian period between 5th – 7th centuries; however archaeologists have uncovered artifacts which are reputed to date from the Bronze Age.
The town of Ballymena is built on land given to the Adair family by King Charles 1 in 1626, on the provison that the town holds two annual fairs and a free Saturday market in perpetuity. Almost four hundred years on, the town upholds its promise; the Saturday market still runs and for two days in June, the town's Ballymena Showgrounds plays host to one of the largest agricultural shows in Ireland.
The Carndale Meadows development is currently in its third phase with 30 properties out of a proposed 56 complete. Neil said that the sale of homes was progressing steadily and projected that the development would be completed in around 15months.