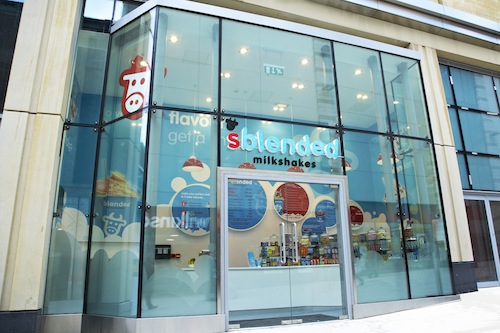 Since 360 Commercial Interiors burst onto the scene, some six years ago, the company has gone from strength to strength, becoming involved in an array of prestigious projects.
360 Commercial Interiors complete work throughout the UK and specialise in high end interior fit-out and refurbishment contracts for the leisure, hospitality and retail sectors.
Past projects for 360 Commercial Interiors include Après Solihull, Sblended Milkshakes and Joe Delucci's in Trinity Leeds and Thai Express in Guildford, amongst others. Most recently, 360 Commercial Interiors was appointed as the main contractor on the trendy new offering from Town & Country Inns, Fleet Street Kitchen.
Taking time out from his very busy schedule to speak to Premier Hospitality, 360 Commercial Interiors Director, Martin Turner gives us an insight into some of the company's high profile projects, including Fleet Street Kitchen. Discussing the new restaurant, Director Martin Turner said:
"Fleet Street Kitchen is a contemporary English restaurant with a Barbecoa – an indoor barbeque – situated at ground level and a nightclub located below. We were the main contractor on this project and completed all elements of the fit-out, including the bespoke joinery, tiling, decoration, flooring, and the installation of the shop front. We also managed the client appointed mechanical and electrical contractors."
Fleet Street Kitchen is a new 120-cover dining experience from Town & Country Inns, the company behind the popular Mechu and Après brands, which play a big role in Birmingham's vibrant nightlife. The interior of the site includes marble mosaic floors, battered leather furniture and fashion-inspired illustrations in graphic monochrome.
Martin added:
"Fleet Street Kitchen was a very important project for us to be involved with and Town & Country Inns is a valued client."
With over 20 years' experience in the industry, Martin and his team know how to get the best results for their clients, and this is something which is evident in all of 360 Commercial Interiors' projects. A dedication and commitment to providing the highest possible level of service has seen 360 Commercial Interiors develop a number of successful working relationships in the industry, including additional projects for Town & Country, as well as schemes for Sblended Milkshakes, Joe Delucci's, Yoo Moo, Paul's and Harpers to name but a few.
Discussing two recent projects for the brands, Martin said:
"Before working on Fleet Street Kitchen we worked on the Après brand for Town & Country Inns. Après Solihull was our first project for Town & Country Inns, which comprised of a phased refurbishment to the existing side lounge, along with the installation of a garden bar. Once this was completed we closed the site for four days in order to refurbish the main bar. This was a fast-track project.
"Meanwhile, Sblended Milkshakes in Leeds was the third project we completed for the Sblended brand. This was another fast track fit-out with a turnaround time of just two weeks. We designed, project managed and fitted out the site – located within Trinity Leeds shopping centre – in a very short period, however working in the restaurant and leisure industry we are used to working to such tight timeframes."
Additional projects for 360 Commercial Interiors include a number of sites for Paul, a high-quality French patisserie, and Thai Express in Guildford. To date, 360 Commercial Interiors has completed five interior fit-outs for Paul, whilst Thai Express in Guildford marks the first in hopefully many sites for both Thai Express and 360 Commercial Interiors.
Commenting on the continued success of 360 Commercial Interiors, Martin said:
"We strive hard to build successful relationships with our clients, as customer satisfaction is at the heart of everything we do.
"We always aim to exceed our client expectations and this has allowed us to cultivate our business to what it is today."
For more information about 360 Commercial Interiors please visit: www.360interiors.co.uk.