Set in approximately 100 acres of mature parkland, Royal Connaught Park is the epitome of contemporary luxury in perfect harmony with Victorian splendor. 
This magnificent building was home to under privileged sons of masons for over 75 years until its closure in 1977, when it became the (US) International University – Europe, and remained so until Comer Homes purchased the site.  Driving through the main gates you are presented with an awe inspiring view of the clock tower – at the very heart of the development;  A truly beautiful vista to come home to. Residents also benefit from a private, on-site health and fitness club including swimming pool, sauna, solarium and outdoor tennis courts. There is also a courtesy shuttle bus to and from the local stations and supermarkets, whilst 24 hour security at the gate and a concierge service provide an air of exclusivity and security.
The development comprises over 350 apartments and houses including conversions within the original buildings as well as newly built apartments. Properties range from 1 to 6 bedrooms and every home is uniquely designed, many with outdoor space and private terraces. The interiors are finished to the highest specification each apartment in the complex contains an array of high end facilities including under floor heating, high level acoustic insulation, mood lighting, as well as telephone and multichannel TV points to all main rooms. The apartments also contain Poggenpohl fully fitted kitchens or similar with Miele appliances, champagne coolers, stainless steel sinks, granite worktops, as well as luxurious bathrooms including electric heated towel rails, power showers and limestone tiled walls.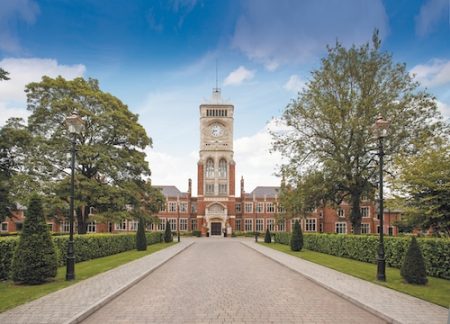 You can still find the school motto 'Audi, Vide, Tace' in various parts of the property; Translated, the motto means 'Hear, See, Be Silent' which is rather fitting when you consider the peace and tranquility you will experience at Royal Connaught Park despite its excellent transport links and relative close proximity to London.
Residents can benefit from the onsite courtesy shuttle bus which will transport residents to and from the local stations & shops. Despite the prevailing atmosphere of seclusion and tranquility at Royal Connaught Park, fast transport links are only a few minutes away. Transport links within close proximity of the development include Bushey Station, M1 & M25 Motorway, Watford Town Centre, Euston, Luton Airport and Heathrow Airport.
Only premium grade materials have been selected, to complement the quality of the original buildings. The original buildings were designed by the Victorian architects Gordon, Lowther & Gunton, and the foundation stone was laid by Queen Victoria's son The Duke of Connaught. The impressive site houses an historic clock tower within JFK House which is the signature building at Royal Connaught Park, named so as a tribute to the Kennedy family who once resided nearby during the Second World War.
In recent years Royal Connaught Park has been used as location sets for numerous films including Children of Men, Monty Python's The Meaning Of Life, Oxford Murders and features in some scenes for the Harry Potter movie. Additionally the development has featured in various TV series including Judge John Deed and Little Britain to name a few.
The picturesque site is nestled in the quaint village of Bushey which boasts an array of shops, pubs, restaurants and bars. Into Watford, formerly The Harlequin shopping centre, is one of the UK's largest shopping malls hosting over 130 individual stores and can be found in Bushey alongside a plethora of great restaurants.
Lovers of fine cuisine will appreciate the number of choices close to Royal Connaught Park. Dine in style at Bushey village' infamous restaurant Saint James alternatively pay a visit to The Grove, a five star spa hotel, renowned far beyond the locale for its choice of outstanding restaurants.
For more active pursuits, a short drive from Royal Connaught Park lies the beautiful Aldenham Country Park with its lakeside walks, a nature reserve and a sailing club. Golfers will appreciate the proximity if Royal Connaught Park to The Grove, and its 18 hole championship golf course-venue for 2007 World Golf Championship and widely regarded as one of the finest new golf courses in Europe.
The local area is also abundant with good schools both private and public- Haberdashers' Askes (school for girls and boys), Queens' School, St Margaret's School and Watford Grammar (also girls and boys). All within easy commuting distance and serviced by reliable public transport links. The Purcell School, a specialist school for gifted young musicians, is situated across the road from Royal Connaught Park. Harrow School, one of Britain's leading independent boarding schools, lies just less than 5miles away.
This project is just one of many property developments that Comer Homes Group have in their vast UK & International portfolio. Established in 1984 the London based firm owns major sites in almost all of the London boroughs as well as Bristol, Portland, Oxfordshire, Northampton, and Surrey.
Prices at Royal Connaught Park currently start from- 1 bed/ 1 bath from £325,000 to £435,000, 2 bed 2 bath from £449,000 to £769,000,  3 bed 3 bath from £879,000 to £1.2 million and 4 bed 4 bath from £999,000 to £1.75 million 5 to 6 bedrooms POA.  Comer Homes are pleased to announce that we have now joined the government based scheme Help to Buy and will be offering this scheme on the development from February 2014.
The fourth Phase of the development launched on the weekend of 1st & 2nd  March 2014 to register your interest and for further information please contact Royal Connaught Park sales & marketing suite on 01923 222292 or email rcp@statons.com website www.royalconnaughtpark.com / www.comerhomes.co.uk