Now boasting an impressive 370 hotels across 32 countries, Doubletree by Hilton is ever growing; its warm, comfortable and smart approach is taking hospitality by storm, making it a trustworthy and reliable option for travellers.
Superbly located opposite Hyde Park and Kensington Gardens, the £8.6million redevelopment of Doubletree by Hilton Hyde Park opened last December is situated a short 12 minutes taxi ride from Kings Cross St Pancras and just 400 meters from either Queensway or Bayswater Underground stations. The warm and welcoming hotel offers proximity to popular London attractions including the West End theatre district and Madame Tussauds, Buckingham Palace, Princess Diana Memorial Fountain, Portobello Market and the V&A Museum.
Redeveloping and re-branding an existing hotel, main contractors County Contractors worked with Glasgow-based designers ICA, a company with an extending list of Doubletree designs under their belts, to design the bedrooms and reception areas of Doubletree by Hilton Hyde Park. The design was predominantly inspired by the colours and warmth of the surrounding area of Hyde Park using various shades of timber and incorporating flashes of orange, all of which inspired the large commissioned piece of artwork within the reception area.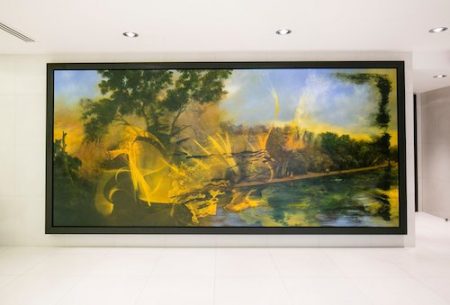 Speaking to Premier Hospitality about working with Doubletree, Kim Vass, an interior designer for ICA said:
"It's a huge thing for us to build a relationship with a company like Hilton, and for us to be linked to a brand of such prestige."
On arrival, guests of all Doubletree by Hilton hotels receive a freshly baked cookie as part of the companys CARE scheme (Create A Rewarding Experience). Guests are able to choose between a number of comfortable bedrooms; guest rooms, deluxe rooms, suites and accessible rooms. All bedrooms come complete with the Sweetdreams by Doubletree sleep experience and CITRON bath products from Crabtree and Evelyn.
Both guests and passers-by can enjoy the Urban Meadow Café and Bar area. The menu boasts options for every appetite, and every need; offering an eat-in or a takeout menu.
Those hoping to grab 'n' go can opt for pastries, sandwiches, cakes and salads; ideal for a picnic in the park or to eat on the move to an event in the capital.
The eat-in menu offers options for grazing, main meals and afternoon tea, amongst an excessive selection of beverages; tea, coffee, beer, wines, soft drinks and fizz. Diners can enjoy crushed avocado toast, Jerusalem artichoke soup, potted rabbit or fried calamari amongst other options for a light bite, alternatively a cheddar and bacon burger, glazed fish pie, 28 day aged steaks, roast tomato and stilton linguine or roast free range chicken would feed a larger appetite. Side dishes don't hold back either; a mouth-watering mixture of everything from macaroni cheese with parmesan breadcrumbs, cauliflower cheese, rustic chips and smoked chilli onion rings.
Those on a business trip can make use of the business conveniences, tailor made for Doubletree by Hilton hotels. Additionally, Doubletree hotels offer Fitness rooms for guests to make use of and enjoy during their stay.