Set up in 2011 by Michelin star chef Keith Goddard, Munch Food Company is a high-end catering company providing bespoke menus to clients.
Munch Food Company has the capabilities to cater for a range of functions, from corporate and large-scale events to weddings and private dinners, with each occasion demonstrating the unique skills of Munch Food Company chefs.
Over the past four years, Munch Food Company has developed into a team of passionate and professional individuals, who are backed by an extensive list of satisfied customers. In fact, customer satisfaction is something which Munch Food Company takes very seriously, with the company striving to provide each client with the same high quality service each and every time.
Speaking to Premier Hospitality, Munch Food Company's Keith Goddard, said:
"We receive a great deal of our business through word of mouth, however we're beginning to build strong working relationships with a number of venues, which in turn brings us more business and helps us to continue our growth. A result of this – as well as our desire to upgrade – we have recently moved to a new base of operations."
Munch Food Company's new home is in New Battersea, with a site expertly designed to provide the company with the best services possible. The Munch Food Company HQ includes office space, a tasting room, wine cellar and best of all, a new state-of-the-art kitchen, all housed within a railway arch.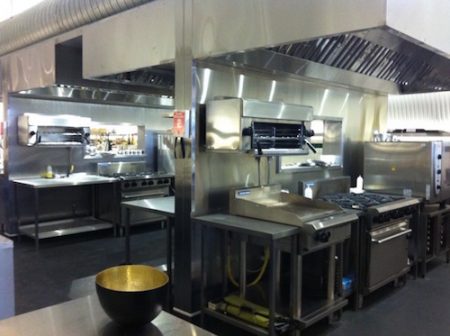 Keith said:
"We took a railway arch and used this as a blank canvas; designing our headquarters accordingly. It is all on one level with an office in the front, our kitchen in the middle and a storage area towards the rear. The office is very comfortable and can be converted into a tasting room for up to 25 people.
"The kitchen is all brand new and includes a range of equipment and utensils, from stoves with ovens to Salamander grills, a chargrill, six gastronorm trollies, a separate pot wash area and twin loading bays. The kitchen also includes granite work tops, air conditioning and so much more. Overall it is a great working environment."
Alan Gregory was the project manager who oversaw the work on Munch Food Company's new headquarters, whilst Welan Contractors Ltd was the main contractor on the project and O.K.E Ltd was responsible for the site's new kitchen. London-based interior design specialist, Nicola Harding Design was responsible for the interior design work on the office space, whilst TPN Electrical provided electrical services.
Since moving to their new headquarters Munch Food Company has already started to develop its services further, including its cooking sessions at the company's cookery school.
Keith said:
"Moving to this building has been hugely important and represents the next step for us. The move reflects the type of clients we are working with and those who we would like to continue working with. It provides us with the opportunity to offer them an even higher level of service, with tastings and cookery lessons."
Munch Food Company's cookery school is overseen by the company's Michelin star, trained chefs, who are all equipped with the skills to help clients learn the best cooking techniques possible. Cooking sessions are great for corporate team building exercises or for private clients wanting to brush up, or improve their skills.
If cooking sessions are not quite the order of the day, and a more hands-on service is required, Munch Food Company is also able to provide customers with their very own chef. Taken from one of the company's collection of culinary experts, Munch Food Company chefs are available on a one or two-day basis, either in the UK or abroad, and bring professionalism and high quality cuisine to the table.
For more information about Munch Food Company or its services, please visit: www.munchfoodcompany.com.
Welan Contractors Ltd
Welan Contractors Ltd has been in operation for over 11 years blossoming from a small company to a larger, more successful operator. The construction firm now takes on large, demanding projects and is proud to still provide general building services to clients of a very high standard.
Welan specialise in all building services including minor repair works, refurbishment works, complex basements projects, as well as major overhauls of entire buildings. The firm ensures every project meets the client's high expectations and is happy to carry out both low costs projects as well as demanding and expensive large restaurant projects.
Pawel Anielski commented:
"We have acted as the main contractors for the Munch project and did all of the bathrooms, ceilings, prepared office surfaces with painted tongue and groove panels, as well as manufacturing all of the doors by my second company Greg Welan Joinery Ltd.
"We've also recently been involved with other large restaurant projects where, together with Greg Welan Joinery Ltd, we have equipped the restaurant with bespoke hand painted panels, antique mirrors and bronze shelves made from the scratch.
"These kinds of projects are particularly important to us, because we can undertake the work from the very beginning and help to create special places on the map of modern London. We are extremely proud of our professional team of craftsmen and builders who help us to carry out our projects and make sure that every client is happy. We are also proud, that our clients trust us as they often come back to us with other projects."
 O.K.E Ltd
O.K.E Ltd is a family run business with more than 40 years' experience in the industry. The company specialises in the design and installation of Oriental style kitchens, as well as the manufacture of a range of woks.
Over the past four decades, O.K.E Ltd has worked with a range of clients on many notable projects, including Randall & Aubin – Soho, Deliverance, Buenos Aires steak houses, Imperial China Restaurants, High Flying Foods (Luton Airport), and Kt Indian Cuisine, amongst others.
Working with the Munch Food Company, O.K.E. Ltd was responsible for the design, manufacture and installation of kitchen and ventilation at the company's new headquarters.
Glen Taylor of O.K.E Ltd, said:
"It was important to be involved with Munch Food Company, as I worked on another project similar to this, so it allowed me to utilise my knowledge and experience of working on railway arch projects. The key factor for me was Keith Goddard's enthusiasm to design and build a great kitchen in this great space."
Glen added:
"We pride ourselves on quality, value, and most of all our good relationships with our clients."