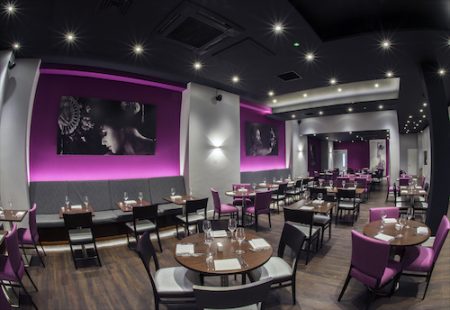 Bringing a rare taste of Spain to central Birmingham, Amantia is a stylish new independent family-run restaurant which has just opened in Bennetts Hill.
Occupying the ground floor and basement of the iconic Sun House offices, the 80-seater restaurant offers well-presented Spanish and Mediterranean dishes and is run by Marta Retenaga, from Madrid, and her husband, Amantia's head chef Andrea Tragaj.
The food is a mixture of tapas, pastas and crepes and for vegetarians has good and interesting options. Amantia also specialises in gin and has a dozen of artisan brands – plus gin cocktails, good wines and Spanish beer.
The project to create the restaurant was designed by Actus Studio, project managed by Andrea and Marta, and carried out by AB Interiors, Ballard Electricals, DM Catering Equipment and Tempair Solutions Ltd as the main contractors.
Works in the basement included the demolition of internal partitions, the remediation of flooring which is on two levels due to the sloping nature of the site, and the installation of new facilities including a full catering kitchen with associated services, customer and staff toilets with associated plumbing and a plant room within half of the space, with the other half being left vacant to be used as an additional dining area in the future.
The ground floor was simply a shell requiring no remediation, and this area was transformed into the main restaurant dining space, bar and disabled toilets. Works included full re-wiring, the installation of new flooring, new ceilings and a new bar, as well as the installation of ventilation and a food lift to connect with the kitchen on the basement level.
The decor is generally in purple, silver grey and black and white, with large black and white prints of flamenco dancers on the walls, a high gloss finished white bar which is triangular shaped in plan, oak laminate flooring and black ceilings with different levels, highlighted by LED rope. The same LED lighting has also been used around the new fixed seating booths, giving a graduated shading effect up the walls.
"The restaurant looks really nice and we are very happy with it. All contractors did an excellent job," said Marta Retenaga.
Marta and Andrea met in Birmingham 10 years ago when Marta was a waitress and Andrea was head chef at Milano restaurant (on the Arcadian site now occupied by Le Truc).
Since then, Albanian-British Andrea has worked in Birmingham's San Carlo and Cucina Rustica and he has brought the Italian influence with him to Amantia, with three pasta options on the menu including mezzaluna filled with crab, prawns and lobster sauce.
The menu lends itself to either a traditional three-course meal or a mix of starters to share as tapas.
In addition to tapas, crepes, salads, pasta and desserts, main dishes include: Solomillo de Ternera – 21 day hung 9oz beef fillet served with sautéed potatoes, braised onions and a Pedro Ximenez sherry sauce; Carrillada – Spanish pork cheek stew served in a Mediterranean herbs, vegetables and butterbean pureé; Albanico de Iberico – grilled Iberian pork shoulder in a fruity cider sauce served with chips; Pollo Relleno – chicken breast filled with Picos de Europa blue cheese, wrapped in Spanish pancetta and served in a tomato sauce with braised Piquillo red peppers.
Fish dishes include Lubina con salsa verde – Pan roasted sea bass fillets with Mediterranean green salsa served with wilted spinach; Lenguado – Lemon sole fillet with king prawns served with a light lemon and Verdejo white wine lemon sauce, served with wilted spinach, and Bacalao Roasted cod fillet with mussels and crab bisque.
"Amantia is the result of many years of hard work, a lot of enthusiasm, and the true belief that Andrea and I could create and run a great restaurant' said Marta.
She added: "It was time for us to take a gamble and prove that our concept of food and service would work in Birmingham. The combination of Spanish ingredients, delicious recipes, and a very committed team delivers an unforgettable experience in Amantia.
"Amantia represents many things for us. Not only is the name of a historic place near Andrea's birthplace but also includes initials of the four family members: Marta, Andrea, Alvaro and Alma."
The images used in this feature were supplied by Stephen Mc Donald B.A Hons.
For more information please call: 07813 704794, email: smdcapture@homail.co.uk or visit: www.smdcapture.com.
Ballard Electricians
Ballard Electricians specialise in making client's electrical ideas, aspirations and requirements materialise in a cost efficient and scheduled manner, by working closely with clients and planning thoroughly.
Ballard Electricians formed in August 2009 and has over 35 years of electrical sector experience within the company. The Company has worked on various projects including: the London Underground, various Industrial projects along with government housing projects and countless private domestic premises. As a relatively new company, they are keen to impress and grow their client base.
Most recently Ballard Electricians have worked for the Amantia Restaurant, conducting all of the initial Electrical Survey coupled with thorough liaison with the client and architect through the planning stage. The Ballard team then conducted the full Electrical Design Package for approval by the architect. Once the approval was given, Ballard Electricians fully installed and commissioned the Electrical System including the CCTV, Fire and Emergency Lighting systems.
Jon Ballard (Director) commented:
"As a business, it is important for us to promote what we do better than the competition and to get our name out there for potential clients to invite us to quote for work. We are a new and big rival for the established and somewhat sluggish electrical companies out there. We are hungry to grow our reputation!
"Our attention to detail and ability to work closely with our client's team is something we pride ourselves on. Our abilities ultimately lead to a smoother project that is completed on time and within budget."