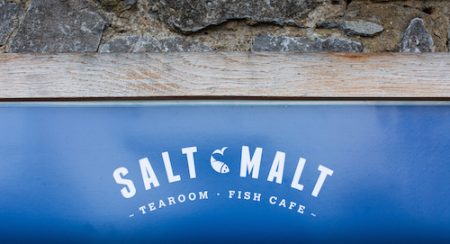 Salt & Malt Tearoom and Fish Café has opened after an extensive refurbishment project.
The venue was previously a popular teashop owned by Bristol Water and has now been taken over by Michelin starred chef Josh Eggleton who has transformed the space into a multi-faceted restaurant and take away.
The cafe transforms into a restaurant in the evenings and features an ice cream parlour, as well as enough seating outside for up to 200 people.
Salt & Malt is situated close to Chew Valley Lake which is just a short walk from Josh's family run pub The Pony & Trap in Chew Magna, so the location is close to his heart. Josh explains:
"Salt and Malt is a project my father, Chris Eggleton and I have been working on with Bristol Water for over 12 months. I've always loved fish and chips as it's where I started my career; I worked in a fish and chip shop when I was 15. We really wanted to create something new but also traditional, which is what Salt & Malt represents; fish and chips but with a focus on quality ingredients, fresh dining and sustainability. Everything will be handmade on site with fish delivered each day from Cornwall."
The building has been redeveloped to take advantage of its waterside location, featuring an Italian marble counter from Italy, booth seating and new bi-fold doors opening up the view of the lake. A brand new menu has been created including home baked cakes, quiches and sandwiches.
To the delight of coeliacs Salt & Malt offers a gluten free fish & chip menu, as well as fresh mussels, squid, crab and line caught fish dishes sourced from the Cornish Coast where possible. Handmade burgers made from beef sourced locally from Blagdon Butchers and bangers from local artisan charcutier Vincent Castellano.
The team is passionate about creating a family friendly, down to earth cafe to put the Chew Valley on the culinary map and the takeaway which opened between Christmas and New Year is already proving very popular with both locals and visitors
Tim Baldwin, from a small design company Baldwin Harris, drew up the restaurant design and independent architect John Blake also worked on the project. We caught up with Gerry Oakley, the General Manager at QCM Equipment, who undertook the kitchen design and fit out. Gerry from QCM commented:
"We have worked with Josh at The Pony & Trap over the years and so became involved in this scheme through our existing association with him. He wanted us to be involved with the initial design of the kitchen and front of house area.
"Josh's idea was to enhance the venue but still keep the tea shop feel, so during the day it still operates as a cafe and in the evening, thanks to extended opening hours, the room has transformed into a sophisticated restaurant."
QCM carried out all of the catering aspects of the venue including the design of the fish and chip shop, the counters and the restaurant and tea rooms' kitchen.
Speaking about the 60 cover restaurant-come-tea shop Gerry commented:
"The venue has been designed with a nautical seaside feel in mind; it is light, airy, clean and crisp without being over fussy. From my perspective Salt & Malt is a pretty unique combination of a tea shop, restaurant and fish and chip shop. I have never witnessed this before, where a venue has three different identities sitting alongside each other
"Josh is a great guy to work for as he is very hands on and is happy to take and seek advice. It was a very collaborative process which made life easier from the design and construction point of view. Josh has been involved with every stage of the project and likes to contribute ideas as part of the team which meant that the people driving the job were the people doing the job."