Young's Brewery own and operates a number of pubs, restaurants and hotels across London and the Home Counties.
Since their inception the firm has steadily blossomed and now boast an expansive portfolio of over 130 venues.
Two of the brand's latest projects include the revamp of the Coach & Horses in Richmond upon Thames and the acquiring of the Bull & Gate nestled in the quirky Camden Town.
Premier Hospitality caught up with Jane Uglow, the owner and director of Jane Uglow Interiors, to find out more about the Coach & Horses renovation scheme. Jane first met with Andy Nash, Young's Operations Director at a Wimbledon business village association summer event in June 2013 hosted by The Rose & Crown in Wimbledon.
This led to Jane putting forward a design proposal for a future boutique hotel renovation within the group. Jane commented:
"My background as an interior designer was in high end residential work for private clients and I was keen to prove that I could use my experience to raise the bar in their up and coming boutique hotel sector.
"Some months later I presented a design concept for The Coach and Horses Hotel on Kew Green sympathetic to the history of the building but with the right amount of modernity to meet the needs of business men, modern travellers, couples, Rugby supporters and families."
In September 2014 works began on site, Jane said:
"I was fortunate enough to stumble upon Ivo prints a textile printing company in Kew who produce a Botanical collection of stunning fabrics under licence from the Royal Botanic gardens. I worked closely with Anni Callaghan, Creative Director for the Kew Textile collection who tirelessly produced colour samples and hand printed all our Botanical fabrics in bespoke colour ways for use in the hotel bedrooms."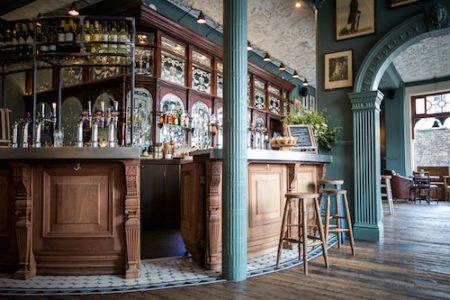 The legend and licence printed on the salvage edges of the fabrics are exposed as part of the design in the soft furnishings. Jane commented:
"All the furniture was designed and made for us or sourced by us specifically for the Coach & Horses hotel project. Generous writing desks with Sabre legs, mini bars, occasional tables, full length mirrors. Furniture items such as decorative painted bedside tables, lamps and mirrors are individual to the rooms. Beautiful upholstered headboards in strong Botanical prints by Yewberry against Painted panelling. Upholstered comfy chairs in Botanical prints and Linens. Curtains in Botanical meadow prints with both blackout and privacy blinds. 100% wool luxurious throws from So Cosy adorn the Hypnos beds."
The bathrooms now boast luxurious generous rain dance showers, colourful subway tiling, panelling and atmospheric lighting.
There are three differently styled and coloured rooms. The Grey rooms with strong moody charcoal bathrooms. The French Blue rooms with fresh light grey bathrooms and Deep Aubergine rooms with soft mellow toned bathrooms. All facilities expected, Sky TV, Dab radio, mini bars, coffee machines, hairdryers and ironing boards and safes in the rooms .
Jane added:
"The project was enormously challenging with 31 bedrooms and en     suites under construction for a very short period, during which time the hotel remained operational. It was a wonderful project, very rewarding and the results have been received extremely well . I hope I have infused a touch of luxury and a warm welcome."
For more information about Jane Uglow Interiors please visit www.janeuglowinteriors.com
The Bull & Gate is a new addition to Young's portfolio bringing a historical gem to the diners and drinkers alike. We caught up with Jamie Derry, one of the directors and designers at LAP architects, to find out more about the project. He commented:
"We have worked with Young's many times across London and around the Home Counties. We became involved with this site when the client purchased this site; we produced a proposal that had to be pursued sensitively because of the history of the Grade II Listed site.
"The brief was to produce a gastro-pub with a dining room to the rear, as well as bring the building up to date whilst maintaining the architectural heritage of the building. The venue boasts beautiful details such as ornate columns and ceilings which we managed to retain."
Works began on site a year ago transforming the space from a pub with a music venue to the rear into a stunning eatery and bar. Working alongside Camelot Construction, LAP and Young's constructed a new extension to the rear of the building and installed a new kitchen.
The rear dining area has been transformed to form a gastro dining space complete with beautiful reclaimed timbers, polished concrete floors and an aged rendered wall effect. A new staircase has also been fitted, as have new toilets on the ground floor and on the first floor to serve the cocktail bar.
The existing counter was exposed and an unattractive plywood overbar was removed to create more of an authentic feel to the space. A new function room has been constructed inside the multi-storey venue complete with an independent bar and manager's accommodation.
Due to the Listed status of the building the team encountered a number of challenges, Jamie explained:
"We worked closely with conservation building officers as we have a common goal to protect these Listed gems. It is an important part of our job to make sure we protect them for the future and so during the project we identified which items were authentic and which weren't.
The venue opened in early April and has received positive feedback. Jamie added:
"We enjoy this challenging project. It has been a delight to see all come together and it seems to have been received extremely well. We wish the operators all the best; Young's as a company deliver cracking sites and we hope to work with them in the future."
Clock House Furniture
Clock House Furniture specialise in making furniture to customer's own specifications. The firm was founded 25 years ago specialising in the production of upholstered furniture; since moving to new purpose-built workshops the organisations joinery team has expanded, and now has more space and machinery to make case goods.
Clock House's skilled team of joiners and upholsterers work in most mediums, as well as in the paint and spray department who are expert in achieving different timber finishes.
The firm boasts a collection of standard designs which they modify in line with customer's dimensions. The team also are happy to work with designers on individual projects.
The firm now employs 16 staff and works with a wide range of designers and specifiers around the world. Previous clients include Rocco Forte Hotels, James Thomson Collection, The Royal and Ancient Golf Club in St Andrews, Red Carnation Hotels, South Lodge Hotel, Stobo Castle Spa Hotel and Royal Crescent Hotel in Bath.
Other clients include Links House Hotel, in Dornoch, Martin Wishart Restaurants, St Pancras Champagne Bar, Rudding House Hotel in Yorkshire and Gilpin Lodge in Cumbria. Most recently Clock House have worked in conjunction with Jane Uglow on the Coach & Horses project for Young's Brewery.
The team designed and made the desks and mini bar cabinets, as well as the mirrors for the bedrooms.
Priscilla Parry of the firm commented:
"We were delighted to be able to work with Jane Uglow on the Coach & Horses. There was an extremely tight time-frame, and we had to make a range of different sized furniture to fit individual rooms. It is important for us to work closely with clients from the beginning of any job because it is vital that jobs are delivered on time and no detail is forgotten.
"We pride ourselves on catering to client's individual needs, and understanding what they want to achieve; no job is too large or too small as we deal with everything in house. The most important part of our work is to end up with a satisfied client who will want to work with us again."