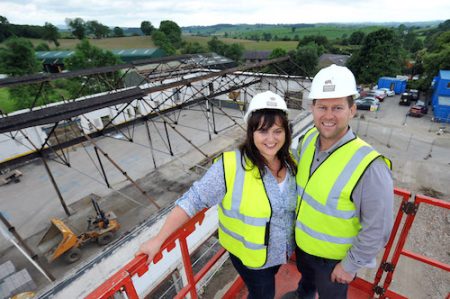 The construction of the £4 million Keelham Farm Shop, in Skipton, is entering its final stages ahead of its official opening in June this year.
Situated on Gargrave Road the shop is Keelham's second site in Yorkshire and is set to provide more than 60 new jobs in the area.
The family run business champions local suppliers and prides itself on offering exceptional tasting food with minimal waste.
Talking about the brands latest shop in Skipton Steve Voke, Project Manager acting on behalf of Keelham Farm Shop commented:
"We're working alongside Bradford-based construction company H B Projects to ensure the interior fit-out is completed to the highest standard, in line with Keelham's ambitious vision for the shop. H B Projects are looking to work alongside the Keelham team in supporting the local community by inviting local schools to visit during the exciting fit out stage as part of their commitment to the Considerate Constructors Scheme.
"I think customers will be truly impressed with the transformation of the space, and, along with the Keelham team, we look forward to showcasing the fruits of our labours when it opens in June."
Work is ongoing on the renovation of the shop's interior with the shell having been recently completed. The eight week internal build programme will realise many of the retailer's innovations including a living wall and a 140 capacity café, alongside the shops substantial offering of fresh produce. The fresh produce accounts for 75% of the produce available to customers and comprises a bakery, delicatessen and long-established butchers.
Victoria Robertshaw, who runs the business with her brother James, commented:
"We're looking forward to bringing Keelham to Skipton and we've already built strong links with local farmers and producers. Every area of the shop, from the butchers and bakery to the delicatessen and café, will be a showcase for some of the best produce in the region. The team in Thornton are passionate about providing our customers with great tasting, affordable, locally-sourced ingredients and we're can't wait to expand that recipe to Skipton."
Victoria and Robert's parents and grandparents were devoted farmers and expert butchers and the duo have followed in their footsteps with the Keelham brand. More than three generations of the Robertshaw family have been dedicated to nurturing and celebrating great tasting food.
The team say the Keelham way of running a business focuses on supporting local producers and farmers and helping to strengthen their local economy, conserve their surrounding countryside, and offer the freshest, tastiest food. The Keelham team also believes in making a difference to the community by providing jobs for local people, giving their time and resources to help with community work, fundraising and education, as well as focusing on schemes associated with young people, healthy eating and the environment.
Keelham believe that food tastes better from the farm, and prides itself on making great tasting Yorkshire food available for everyone, at Yorkshire prices.
Since their inception the Keelham Farm Shop brand have been awarded the Best Independent Retailer Ward by Observer Food Monthly, Dalesman Agricultural Business of the Year Award, Best Retailer of Local Produce by Deliciously Yorkshire and the Local Food Award by the Countryside Alliance Awards.
J W Hinchliffe (Tanks) Ltd
J W Hinchliffe (Tanks) Ltd specialise in the cleaning and decommissioning of fuel and oil tanks. J W Hinchliffe (Tanks) was formed in 1996 – its parent company J W Hinchliffe Ltd was established in 1853 – and works across the industry, from the demolition, construction, commercial sectors, through to industrial and domestic sectors.
J W Hinchliffe (Tanks) Ltd is regularly contracted by both the public and private sectors to conduct a wide range of fuel and oil tank related operations at a variety of sites, such as M.O.D installations, local authority building projects and private business premises. Working on the Keelham Farm Shop development, J W Hinchliffe (Tanks) Ltd successfully cleaned and degassed several underground fuel storage tanks and safely cold cut a number of previously decommissioned tanks that were not located on any plans. This allowed Stainforth Construction to safely excavate all tanks under gas free certification.
John Hinchliffe of J W Hinchliffe (Tanks) Ltd, said:
"We thrive on being involved with projects that are going to have a positive impact on the local community. Working closely with Yorkshire based contractors such as Stainforth Construction to improve locations that we visit on a regular basis, really helps us to maintain our core values as a local family run business, with the ability to serve nationally recognised clients at the highest level."
John added:
"At JWH Tanks we work closely with our public and private sector clients to ensure that we provide a very reliable, safe and cost effective service across all sectors. We aim to develop a solid relationship with all our customers both returning and new, based on trust, hard work and the knowledge that every job is completed to the same high standard every time."
Creative Retail Solutions (CRS)
 Creative Retail Solutions (CRS) designed and installed all of the chilled counters and cold rooms for Keelham Farm Shop, manufactured by their Italian partners Criocabin. The equipment provided includes serve-over counters for the flagship butchery area and deli areas, complete with self-service sections, as well as self-service multi decks for pre packed meats, fish, cheese, deli, fruit, vegetables and food-to-go areas.
The team also provided self-serve islands, frozen displays, cheese maturing room complete with internal peg board, back bars, cold storage rooms and freezer rooms.
Creative Retail Solutions specialise in the provision of bespoke and customized food displays and have recently won Criocabin's award for best worldwide dealer, as early adopters of new technology and ideas in the sector. The engineering system used to power the refrigerated displays and cold stores, includes the latest heat recovery technology turning waste heat into hot water, providing sufficient hot water for all the needs of the building with no additional heating energy.
Mary Irving from CRS commented:
"Keelham Farm Shop is a well-known, award winning farm shop and CRS are very proud to be part of the team, working with a brand that are aiming to be the best in the UK."
Andy Hire
 Andy Hire specialise in the delivery of civil engineering projects, groundworks and plant hire. Since their inception over 15 years the firm have worked with a plethora of high profile clients including Pizza Express, Morrisons, Next, Asda Living, TK Maxx, Bensons for Beds, Halfords and HSL to name but a few.
Durign the Keelham Farm Shop project Any Hire excavated all of the cellars, dug and poured cubes of concrete, erected walls, as well as fit large retenuation tanks and drainage systems.
Another aspect of the job involved laying tarmac, kerbs and paving, soft landscapes and associated building services. Andrew Illingworth from Andy hire commented:
"I know the shop owner personally and have worked with Stainforth Construction, the projects main contractors, for many years.
"This was a challenging and interesting project which will show lots of local people and businesses what we can offer and achieve. We pride ourselves on delivering a good job at a fair price, on time. every time!"