Situated in the Exchange Flags business district of Liverpool, Vincent Café and Cocktail Bar is a fabulous new all day dining venue from Paul Adams, the owner of The Vincent Hotel in Southport.
Open seven days a week, Vincent Café and Cocktail Bar made its debut this month and offers everything from the first bite to the last cocktail – and everything in-between.
With a menu to suit all tastes, free Wi-Fi and first-class hospitality, there is no better place to catch up with friends, enjoy a romantic meal or close that business deal.
If you are pushed for time an express lunch time menu is available and if it is lunch with the family you are looking for there is nothing better than the fantastic Sunday roast. A takeaway service is also available for a'noon teas and sushi.
Paul has been in the hospitality industry all of his life, running everything from fish and chip shops to wine bars and clubs.
His first café and cocktail bar launched in Southport seven years ago with the opening of The Vincent Hotel in the town.
After identifying a gap in the market in Liverpool, Paul decided to launch a city centre venue.
The Liverpool venue is 189-covers and serves a mixture of British and international dishes, including Gringo Sushi – a meat alternative to fish – brought to the UK by Paul.
Vincent Café and Cocktail Bar has a private dining room which can accommodate up to 14 people – perfect for birthday and Christmas parties.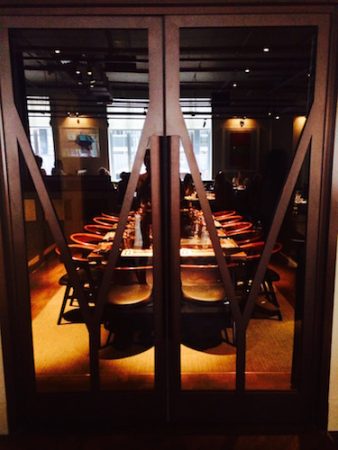 Alternatively, if you are looking for the ideal location for an off-site business meeting, this venue is perfect and is also equipped with a 60-inch plasma TV screen.
The restaurant has been financially backed by England legend, Steven Gerrard and includes an eclectic mix of stunning bespoke artwork and album covers, to provide guests with much to talk about between courses.
Paul said: "The concept of offering everything from breakfast through to brunch, lunch, afternoon tea, evening dinner and cocktails, provides people with choice which is what is so important in modern society. I feel it is something which is well suited to Liverpool."
Award-winning hospitality design practice, DesignLSM has been the designer on the project whilst expert joinery manufacturer and interior fit-out contractor, Mentha & Halsall Limited has been the main contractor.
Dishes on offer at Vincent Café and Cocktail Bar include the likes of Vincent Monkfish curry, with ginger, almond, chilli, Jasmine rice and cucumber yoghurt; sticky BBQ half spatchcock chicken with polenta chips and apple & carrot chop salad; and seared salmon fillet, with asparagus, pea, salmon fish cake and champagne sauce.
Side orders are available and include chunky chips or East West fries; curly kale with cream and bacon; fried hens egg; honey glazed carrots; or Rosemary & polenta chips with parmesan.
A range of small and large options are available, along with salads, breads and appetisers.
Those with a sweet tooth may wish to take a look at Vincent Café and Cocktail Bar's dessert menu, with is far too tempting to resist and includes such choices as sticky toffee pudding, with vanilla ice cream and toffee sauce; vanilla crème brulee, with nut granola and chocolate sorbet; and treacle tart sundae with lemon and poppy seed crumble. Other offerings include chocolate pave, with salted caramel popcorn and peanut ice cream; coconut rice pudding with a mango and mint salsa; and April's flaming smores board, which includes marshmallows, caramel, chocolate dips and cinnamon biscuits with Vanilla ice cream.
To round out the offering at The Vincent Café and Cocktail Bar a takeaway service is available from 12pm until 3pm and from 6pm until 10:30pm.
The Vincent Café and Cocktail Bar is open every day from 8am until midnight.
Further details are available from: www.vincentcafeandcocktailbar.com book online or call: 0151 236 1331.
DesignLSM
DesignLSM specialise in the creation of original brand identities and graphic design, RIBA accredited architectural services and interior design work for the hospitality and retail industry. Steve La Bouchardiere and Simon McCarthy founded DesignLSM in 1988 and over the last 26 years the practice has grown around their creative passion.
DesignLSM's multi-discipline practice works with a diverse portfolio of world class clients, ranging from independent clients to iconic brands. DesignLSM has a strong UK and international portfolio, working in Europe, the Middle East, Central Asia, South East Asia and North America and as such, the design practice is attune to trends and characteristics of other cultures.
Services include branding, architecture and interior design.