The new Blackmans housing development has been recognised by the NHBC, awarding site manager and owner Peter Smith a Pride in the Job Award.
The sought after award was given to PS Homes' Managing Director following the build of three brand new high specification homes in Kent.
The houses, worth over £1million each, are on the Blackmans development in Addlington, West Malling and come complete with data cables and highly advanced smart housing technology.
PS Homes has over 15 years of experience designing and building homes and property developments in the South East. The PS Homes housing ranges from five to seven bedrooms as well as offering cinema rooms, office space and multiple lounge areas.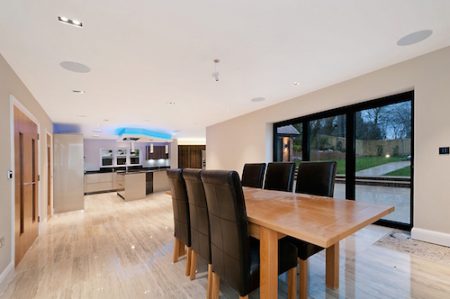 Peter Smith, Managing Director of PS Homes, said:
"The houses at Blackmans are finished to a really high standard and specification. The properties feature front and back gardens, both of which have been fully landscaped and come compete with walls and fences. We've done everything from the demolition of an existing house to the building, finishes and exterior landscaping works."
The interior of the homes is finished with modern details. The internal colour scheme is neutral and tiles and worktops are a high gloss finish. Handles and rails are chrome while the kitchen's double ovens are stainless steel. Ceramics are white and simple; bathrooms feature freestanding bath tubs, square sinks and beautifully modern décor.
Following the demolition of the cottage which previously sat on the land, the building works were plain sailing, however the company did have trouble receiving planning permission for the site. PS Homes also had to clear a large amount of soil in order to make the ground level for the foundations.
The house's smart technology means that homeowners will be able to manage things inside the home digitally using a smart phone. Items such as the TV, CCTV cameras, the house alarm and lighting can be managed using an iPhone and iPad from anywhere in the world.
Situated in an upmarket location, the local residents have been pleased with the latest addition to the area. The PS Homes' development has seen prices of existing houses in the area increase with a number of people telling Peter Smith of their joy. Peter told Premier Construction magazine:
"People from miles around the development have said that they'd love to own one of our luxury homes. We get people saying 'I wish that I could live in one of those houses!"
And praise hasn't only come from locals, the NHBC have awarded Peter Smith a Pride in The Job Award for the development.
He said:
"It was amazing to just be put forward for an award and so to win it is lovely. I've never won anything like this before so I'm really pleased for the company as well as for myself and the hard work we've done. The hard work has paid off and it's great to be recognised for what we do. I'm not great with words but I am really pleased to have won, it's really nice."