Aside from the warm chocolate cookie on arrival, guests arriving at the Double Tree by Hilton Hotel at London Docklands are in for quite a treat.
The historic hotel has recently received a contemporary refurbishment, with hints of the buildings traditional maritime routes, from interior specialists Fileturn and M&E contractor, Synecore.
The development comes as part of the hotel's rebranding exercise. The hotelier's extensive refurbishment plans were not one for the faint hearted; comprising two blocks – Block A and Block B – with 220 bedrooms, 16 meeting rooms, The Terrace restaurant, Terrace lounge bar and reception.  With Fileturn at the helm of the six month project they looked to their long term M&E partner, Synecore for support.
Having worked together for many years on various fit-out projects for big brands in the hospitality and leisure industry, Fileturn appointed Synecore to initially carry out a complete electrical fit-out of the hotel, equating to £500,000. However, three months in, the hotel asked for a full air conditioning system to be fitted in Block B at a cost of £400,000. Synecore willingly obliged to meet the hotels new requirement, while promising to keep the project firmly on track.
Paul Thomas, Managing Director of Synecore said:
"The Hilton project was on face value not dissimilar to other electrical installations we carry out for clients within the hospitality sector. We have been involved in hotel refurbishments before, so we knew what to expect and we worked tirelessly to deliver every aspect on time, even the air conditioning request which was a late addition."
The electrical element of any build is vital to the progress onsite. Before the strip-out work could begin at the Hilton, Synecore made each room electrically safe. Once the floorboards were lifted the first fix could begin with rewiring back to the distribution board. COAX and data cabling were also run to enable internet for guests throughout their stay.
After each room had been carpeted Synecore's team awaited the case goods, which were unfortunately delayed when the manufacturer went into liquidation midway through the project.  Eventually, alternative case goods were sourced and the second fix electrics got underway.
"The delay in receiving the case goods was an issue. We were concerned about the timings, especially as we were receiving some items literally days before the project deadline. In each room there were 22 points to be fitted to the case goods, such as desks, headboards and on bathroom units, that's a total of 4,840 second fixings in the bedrooms alone. However,  we were determined that project remained on schedule, and thanks to our fantastic team, who worked day and night, we were able to hand the project over on time," explained Paul Thomas.
While Synecore faced some delays with the electrical element of the build which was out of its control, three months into the programme the firm welcomed the request from the hotel to provide a complete air conditioning system for five of the six floors belonging to Block B.
Gary Piper, Synecore's air conditioning expert explained: "The air conditioning system needed to serve 100 bedrooms within the block, so after much consideration we chose to install Toshiba's new three-pipe heat recovery VRF system, which is designed to deliver simultaneous cooling and heating in large buildings."
The compact unit is highly efficient; by recovering energy in areas with excess heat, it redistributes it to other areas in a large building that require heating. Synecore coupled this intelligent system with slimline ducted indoor units in each room.
"For such a large building it's essential any faults or leakages in the air conditioning system are detected immediately, therefore we fitted Toshiba's RBC Leak Detection system, which uses software to transmit data from sensors in each room to a central reception computer," continued Piper.  "This triggers an alarm in the room and at reception if the system develops a leak, ensuring it constantly performs at optimum efficiency.  Its sophisticated software is ideal for maintaining the system and importantly will help the hotel remain F-gas compliant."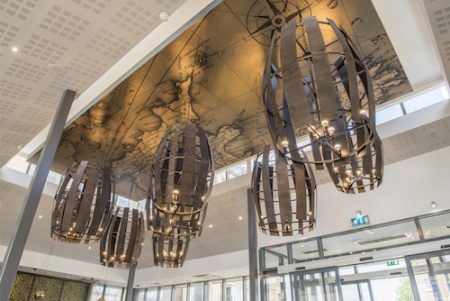 The air conditioning installation was well underway when the hotel asked for an additional air conditioning system to be installed into the sixth floor of Block B, consisting of a further 12 bedrooms and four suites. With the Toshiba three-pipe heat recovery VRF system at its full capacity, to accommodate the additional request Synecore used Toshiba's Multi-Split Inverters with a split wall mounted unit in each of the 12 rooms and two in the suites.
Richard Dray, Fileturn's Director of Hotels and Leisure, championed Synecore for its ability to complete developments of this scale.
"When it comes to M&E contracts for large developments such as the Hilton project, we know without doubt that Synecore will deliver a superb result. This project did not come without its obstacles with a very challenging programme, but Synecore's team worked well with all the other trades onsite to ensure our deadlines were achieved.  Not to mention the request for a complete air conditioning system midway through the project, which we happily let Synecore plan directly with the client. Once again we couldn't be happier with Synecore's excellent work and look forward to using them on future projects.
Paul Thomas concluded: "While we came up against some timing issues with this projects – the delays in the case goods and the new request for a complete air conditioning system – we were delighted we could hand this project over within budget and on time. We always enjoy working with Fileturn, they create incredible interiors for major brands and we're very proud to be their long standing M&E partner."
For more information about Synecore call 0845 2414 953 or visit www.synecore.co.uk.