Situated in the former Sanderson & Sons 1879 wallpaper factory on the edge of Turnham Green, Foxlow Chiswick is the new 150-cover restaurant and bar from Will Beckett and Huw Gott.
Serving charcoal-grilled steaks from The Ginger Pig, fish and seafood from Brixham, smoked meats and salads, excellent brunch and cocktails, Foxlow is hoping to become a popular addition to the area.
The new restaurant follows the success of previous Foxlows, including Stoke Newington in April 2015 and Clerkenwell in 2013 – part of Will and Huw's growing family of successful local neighbourhood restaurants.
The interior of the new Foxlow restaurant, by Macaulay Sinclair, enhances the building's original features by using reclaimed and vintage materials throughout. Lights have been reclaimed from the Ministry of Defence, a Detroit factory, a Kensington department store and a Glaswegian factory, table tops came from boarding school chemistry labs and picture frames from the Victoria & Albert Museum. The bar area, to the right of the glass fronted entrance, features teal leather booths, tall tables with teal stools and a long wooden bar with mirrors above reflecting the natural light.
The open-plan, L-shaped restaurant features brown and teal leather banquette seating and reclaimed chairs. Vintage posters, prints, books and objects add to the lived-in feel and a mezzanine area offers more intimate seating.
The Chiswick restaurant utilises local London independent producers and suppliers, with dishes including Burrata with Sorrel Salsa Verde and Salmon Crudo, Chilli & Ginger to start; Ricotta Dumplings, Girolles & Butternut Squash main and three new salads: Roasted Carrots, Avocado & Green Goddess, Squash, Purple Kale & Burrata and Beetroot, Baby Kale & Horseradish.
All Foxlow classics, including the Smoked Tamworth Spare Ribs, the Ten Hour Beef Shortrib with Kimchi, the Foxlow Fried Chicken and the steaks (35 day aged Sirloin and Rib Eye, 55 day aged Rump and bigger cuts for sharing) are also available.
Rounding out the menu is a collection of desserts, which include Black Forest Brownie, Passion Fruit Cheesecake. A Sunday roast and a children's menu is also available.
The cocktail list features a couple of new sherry cocktails: First Press Martini (Dry Gin, Olive Manzanilla, Honey Water) and Helicon One (Cognac, Smoked Tea, Oloroso, Lemon). Also new are the Alsatian Whip (Poblano Tequila, Pressed Pineapple, Lime) and Bay Bridge (Pisco, Mint, Green Tea, Frozen Grapes). Foxlow Chiswick also has a great selection of beers and ciders including Redhook Long Hammer IPA, Lervig Lucky Jack American Pale Ale from Norway and vintage apple Burrow Hill Cider. Reasonably priced wines, many of which are available by the glass, 375ml carafe and bottle, complete the drinks list.
Foxlow Chiswick is open for lunch and dinner Monday to Friday, brunch, lunch and dinner on Saturday and all day on Sunday.
For more information, please visit: www.foxlow.co.uk.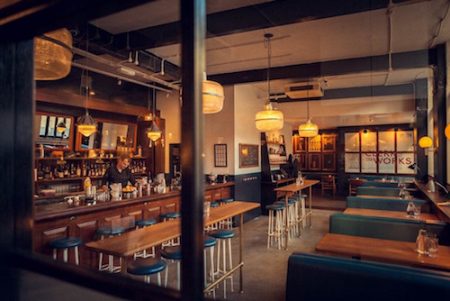 Craftwood
Craftwood specialise in the design, manufacture and installation of bespoke banquette seating for use within the hospitality and leisure sector. The company – which prides itself on its high quality seating and years of experience – has been in operation for 15 years and within this time has worked on a range of prestigious projects, including the recently opened Foxlow, Chiswick.
Vicki Willisson-Hill, HR & Marketing Manager for Craftwood, said:
"We worked closely alongside the design team at Macaulay Sinclair to create seating styles to suit the design intent. Once our production drawings and various samples were approved, Craftwood manufactured and installed the custom seating in the new Foxlow venue at Chiswick."
As well as Foxlow Chiswick, Craftwood have had the pleasure of working with the Hawksmoor team on all of their Foxlow restaurants in Clerkenwell, Stoke Newington and Balham.