BrewDog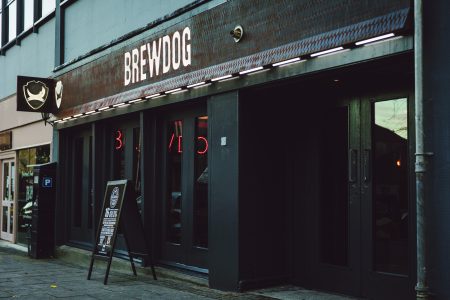 Aberdeen-based craft brewery BrewDog continues its mission to embrace the burgeoning passion for craft beer in Scotland, with a new bar launch in the medieval city of Stirling.
BrewDog is an alternative small business owned by thousands of people who love craft beer.
BrewDog Stirling will be the eighth bar the Scottish brewery has launched in its home country, and was joined by a ninth in Aberdeen, which opened in the second week of December 2015.
The Stirling venue, which BrewDog refers to as 'a craft beer cathedral' is located at 7 Baker Street, and offers 16 different draft lines alongside carefully curated bottles and growlers available to take away.
The project to create the new venue involved the conversion of the old Drouthy Neebors bar into a 16-tap BrewDog, serving amazing offerings from BrewDog itself, other UK breweries and guest beermakers from overseas.
Interior designers for the project were Surface ID; fit out contractors were Turnaround Joiners & Builders.
BrewDog beers such as Punk IPA, Jack Hammer, and the brewery's small batch, artisanal range are available, alongside locally-sourced and international craft brews, providing an eclectic selection for guests to discover and indulge in craft beer.
The venue, which sits in the heart of the city described as the 'the gateway to the Highlands', also serves pies from Pieminister, toasties, Soulful One Pots, and seasonal charcuterie and cheese, complementing the bold flavours of the beer with amazing food.
BrewDog co-founder, James Watt said: "We've already got a really strong presence in our home country of Scotland, and we were psyched to be debuting our eighth venue here. This is where it all began, and Scotland has fully embraced and spurred on the craft beer revolution, turbo-charging the BrewDog movement from its roots in Fraserburgh as far afield as São Paulo and Tokyo. Stirling is an awesome city with tons of history and character, so adding a venue stuffed to the rafters with huge-flavoured craft beers, paired with perfectly-matched food makes total sense."
BrewDog's phenomenal success in the craft beer scene has resulted in the opening of 43 bars worldwide since 2010, and the conversion of thousands to craft beer. BrewDog's popularity is in part down to its game-changing crowdfunding scheme, Equity for Punks, the fourth round of which opened in April this year.
James Watt continued: "It's our 35,000-strong army of equity punks, many from Scotland, who are mobilising the launch of so many awesome craft beer venues across the globe. We recently launched another venue in London's Soho, as well as a second site in Finland in Turku, followed by even more launches before the end of 2015, including in Clerkenwell, London, and a ninth venue in Scotland, in Castlegate, Aberdeen. The craft beer revolution is officially in full swing, but we're still pushing boundaries, changing perceptions and ripping up the rules of beer and business."
According to BrewDog: "For too long, Stirling has been a city with limited options for craft beer fans – and we were overjoyed to be arriving just in time to give the people there a new beacon of hope (and hops) to head for."
Over 35,000 shareholders have invested more than £20m over four rounds of Equity for Punks to date, which is more money taken through crowdfunding than any other business on record.
The money raised will fund new bar openings across the globe, including the brewery's first bar in Germany, located in Berlin, a bar in Norwich, and a new brewery in Ohio, USA. With an increased annual turnover of 63 per cent to over £29.6million in 2014, compared to £18million in 2013, the offer is attracting a lot of interest from potential investors.
Bored with the industrially brewed lagers and stuffy ales that dominated the UK market, school friends James Watt and Martin Dickie established BrewDog in 2007. They decided the best way to fix this undesirable predicament was to brew their own beers. Both only 24 at the time, BrewDog's co-founders leased a building, got some scary bank loans, spent all their money on stainless steel and started making hardcore beers.
"We are dedicated to making cool, contemporary and progressive beers showcasing some of the world's classic beer styles. All with an innovative twist and customary BrewDog bite," they said.
Peppermill Antiques
Peppermill Antiques is a family-run furniture company established over 20 years ago by Scott and Fiona Humphreys. The company specialises in vintage, industrial, contemporary and bespoke furniture for both commercial and private clients and has supplied furniture to a range of high-profile customers over the years, including leading restaurant, bar and coffee shop chains.
In addition to providing the hospitality industry with furniture, Peppermill Antiques has supplied furniture for several well-known television programmes. However, most recently Peppermill Antiques has been involved with two exciting new projects: CrepeAffaire at Birmingham Grand Central and Brewdog in Stirling.
CrepeAffaire purchased a range of products from Peppermill Antiques' reproduction furniture range, including the company's popular Chelsea stacking chairs and stools. Meanwhile, for BrewDog's premises in Stirling, Peppermill Antiques provided a selection of seating, including items from their collection of vintage furniture.
"Being involved in projects like these is extremely important to us," said Scott Humphreys.
"We stock reproduction furniture that is often unique to the UK, as well as really unusual vintage and industrial items. Our products work really well in a range of different interiors and it's great to see the finished look."
Scott added:
"We want to provide our customers with fresh and interesting products that suit their style and taste, as well as a friendly and reliable service, and we pride ourselves on our ability to do that."
If you require any further information about any of the products featured, or would like to find out more about Peppermill Antiques, you can call the team on 01543 375 872 or visit the website: www.peppermillantiques.com.