inamo Covent Garden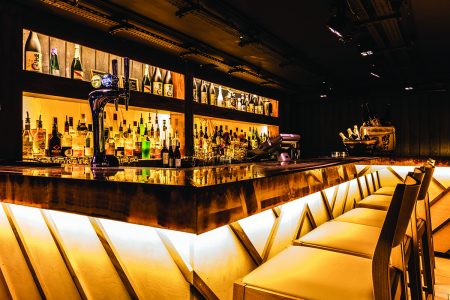 inamo, a pioneering Asian fusion restaurant where the control of the dining experience is placed firmly in the diners' hands, is set to open a brand new restaurant in Covent Garden. inamo's mission is to provide delicious cuisine with charming and timely service in a warm and vibrant atmosphere.
At the core of inamo is the interactive ordering system; diners place orders from an illustrated food and drinks menu on a tablet, which is a new addition to the technology from the other inamo locations. Alongside technology playing a significant role in the guest experience, inamo also prides itself on the dedicated and friendly staff who are always on hand to help with whatever is needed.
The new inamo Covent Garden restaurant is set across three floors, made up of impressive dining spaces on the ground and first floor and a separate bar which is situated in the basement. The Onyx Bar also includes a sushi bar where guests can watch the chefs prepare fresh sushi dishes. With flexible spaces in the building, inamo sees their Convent Garden location as being perfect for private or corporate events hire and is excited at the prospect of the various events they could host.
The ground floor, which has a 65 cover capacity, features a 500 square foot kitchen sectioned off with tall onyx screens. Technology is evident throughout the restaurant with guests ordering through a tablet and taking control of their inamo experience, including the ambience at their tables. The walls are covered in varied materials to give a luxe high end feel, ranging from clay to charcoal timber and pebble. A grand stone staircase with striking bronzed pendants grasps your attention as soon as you enter the premises.
On the first floor, there is a 68 cover seating area and a small back of house area to assist service to this level as well as sliding screen partitions, which can be put into place to section off seating areas for private events and parties.
inamo worked with main contractors Fileturn and designers Macaulay Sinclair to overhaul a restaurant site which had been in situ for the previous 20 years. The contractors stripped the site back to its original shell and redesigned it to fit in with the inamo brand concept. In particular, inamo focussed on incorporating high quality natural materials to ensure a calming atmosphere and a bringing together of nature and technology. In particular, there is significant use of bamboo to link to the pan-Asian nature of their menu.
inamo are thrilled to have opened their third restaurant, and see this opening as the start of the inamo brand moving forward and future growth. Speaking to Premier Hospitality Magazine, Lee Skinner, CEO of inamo Restaurants said:
"From a company perspective it's about coming back to the market with new technology. We've been trading for seven years and it was time to update. When we first designed our restaurants iPhones and iPads weren't a big thing like they are now and so the mouse and mat on the table to order was advanced technology and created a real wow factor. Reinventing that same wow factor in the new restaurant is key. With up to date technological advances and through our determination to be a restaurant that not only provides exceptional technology but an exceptional atmosphere and of course incredible food, we think inamo Covent Garden will do this.
"It's so exciting for us to open this flagship in Covent Garden. This new restaurant is going to give the company a refresh and we hope this expansion can continue in the coming year."
For more information please visit: www.inamo-restaurant.com.