Innex Design -The evolution of excellence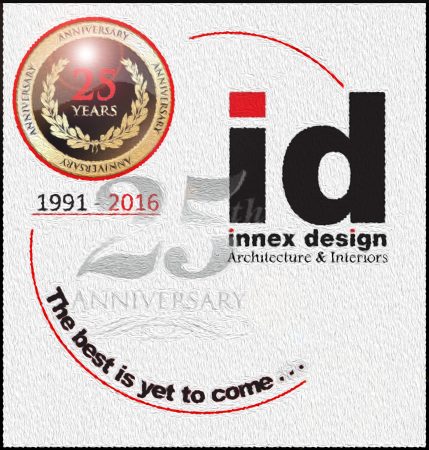 Celebrating their 25th anniversary this year, award-winning design practice Innex Design continues to demonstrate their capability to consistently produce outstanding projects – particularly within the hospitality industry.
The Warrington-based practice was formed in March 1991 by John Catelani and Michael Atkinson, who previously worked for a major Manchester design practice before deciding to go it alone and set up on their own. More recently, Mark Clancy also became a director of the practice.
The name Innex came from INN being a pub/tavern, as well as the first two letters of 'INterior', and the 'EX' being the first two letters of 'EXteriors',  indicating the practice's capability to carry out both interior and exterior design.
Mark Clancy says: "As a company, we will endeavour to undertake any project put forward, but it would be fair to say that our strengths and specialities lie within the hospitality industry. This can range from pubs, restaurants and hotels to spas and nightclubs, and we are very proud of the fact that, in this increasingly competitive industry, we have steadily advanced our position and increased our client base, as well as maintaining a busy workload."
In addition to extensive work in the hospitality industry, the practice undertakes the design of bespoke houses and has also recently undertaken an increasing number of projects involving listed buildings.
Innex design offers an extensive range of services, with these being specifically tailored to the individual needs of each and every one of their clients.
These services include: producing complete design concepts from initial client briefing; carrying out measured surveys; providing a full presentation package ranging from standard sample and theme boards to complete 3D CAD walkthrough visualisations, and production of full tender drawings, undertaking all architectural and interior design aspects.
The practice also has extensive experience of working with all statutory undertakings such as planning permission and building regulations, as well as in obtaining competitive tenders – either in-house or working with an independent quantity surveyor.
Further services include: attending site to deal with the building programme and monitor progress; chairing regular site meetings, and monitoring/commenting on financial management – again either in-house or with an independent quantity surveyor.
In addition, the practice can, if required, arrange for full project defect/snagging meetings and arrange handover; source and arrange placement of bric a brac, and assist with graphic/ corporate design.
Mark Clancy said: "The company's ethos has not changed from our inception, in that in we do not design for our ego or to make the trade glossies. Our work is geared exclusively to meet each client's expectations and aspirations and, most importantly, work within the budget. We design with our hearts, and give whatever the project requires.
"Although the company does not set out to win awards, it is always pleasing when effort is recognised. Some of the awards which Innex Design  have received include the Camera Good Pub Design (conservation category) 2012; The Duke of Westminster new business awards (finalists); The Publican Pub award; Best Community Local Finalist with Amber Taverns; the Conservation Award from Pontefract Civil Society, and The Green Dragon, amongst others.
"Each and every project carried out is seen as a team effort, with input welcomed from any member of staff."
Having been in the industry for 25 years, the company has celebrated many achievements which are too numerous to mention. However one event that does give the company some satisfaction, was the purchase and incorporation of the Manchester design practice where both of the founding principles previously worked before setting up Innex.
Innex were also very proud to have been included in the initial concept design of Neighbourhood Manchester – one of Manchester's most successful 'trend' bars. In addition, they were delighted when Christopher Catelani was made a full director of the company, joined more recently by Mark Clancy who was also awarded a directorship, with these appointments seen as ensuring the company's successful continued and future growth strategy.
Recent projects by Innex Design include:
The Suite Hotel, Knowsley
An ongoing relationship with the operator has seen this highly prestigious hotel develop over the last decade. It was perhaps the UK's first all-suite hotel with state of the art leisure and spa facilities.
The Black Swan Hotel, Rixton, Warrington
A local private individual bought and rescued this village inn and had a long term plan to see it become the centre of the community. This was achieved over a period of three years, with projects involving the addition of new bedroom extensions, the refurbishment of the restaurant and other areas, plus the addition of a unique feature. The client dedicated part of the land to the community and created a new pond for the benefit and use of the village.
Hogarth's Gin Palace for Amber Taverns
Innex Design was involved with the client since the initial concept discussion. The scheme has seen the creation of a 'wet' trade only, high end quality public house, with reference to the history of British pubs. The design utilises quality materials such as, leather, brass, stained and etched glass and beautiful detailing, as well as hi-tech audio visual effects. Hogarth's is now rapidly becoming well known throughout the UK and has recently won an award.
The Tap and Tanner Walsall
An innovative concept was required for this project involving a public house in the city centre, on a site which was land locked. The scheme involved removing a large portion of the roof to provide an internal integral courtyard for use as a smoking and external drinking space. This design solution worked perfectly in a development where there was previously no other opportunity available to provide external space, given the confines of the existing building. Innex Design has gone on to repeat this idea in several pubs around the UK.
Amans Restaurants, Worsley
This was a new take on the traditional Indian restaurant, introducing a completely new design concept, far removed from the cliché standard flock wallpaper and lanterns. The stylish, distinctive interior incorporates high quality features throughout, including seating booths for intimate dining, as well as fish tanks with water features above. This highly successful formula has been repeated by the client with continued new openings across the North West.
Students, Bar Lancaster University
Innex Design's innovative concept successfully met all the stipulations of this challenging brief, which required the creation of a bar area that would cater for students to relax and study in during the daytime, yet also provide an evening social event space, transforming into an almost night club type atmosphere.
The Whistle Blower, Consett
This previously former run down town centre pub that has now been transformed into a warm customer focused ale house, with the design including the use of traditional materials, expansion of the trading area and the introduction of natural light to the rear of the building.
The Saracens Head, Dudley
Initially unwelcoming and not at all customer focused, this town centre grade II listed pub was transformed by a total refurbishment, including the demolition of a sub-standard conservatory and the formation of a new beer garden. The project has seen this historic building become a key feature of the town centre circuit.
Lemon Tree, Wrexham
This privately owned grade 11 listed Victorian Gothic style hotel was purchased by a private client who wished to restore it to its former glory. The challenge to Innex Design was to create a welcoming environment, introducing some contemporary elements whilst maintaining much of the original character. 12 individual boutique bedrooms were also included in the refurbishment.
The Joshua Bradley, Hyde, Cheshire
Hydes Brewery acquired this former private home with attached craft and garden centre, and Innex Design was commissioned to obtain all the necessary planning permission and to carry out a complete refurbishment, transforming the property from private house to public house.
Retention of key existing elements was essential, whilst the need to increase the building's footprint resulted in the addition of a new 'orangery conservatory', also used for weddings. The project also included the provision of a wedding suite and several small private meeting rooms. Since completion the venue has seen trade and reputation exceed all expectations.
Neighbourhood, Manchester
This Neighbourhood restaurant/bar was on a site formerly occupied by Shimla Pinks Indian restaurant, located in the up and coming Spinningfield's Avenue North.
Innex Design evolved the concept to transform the empty shell, creating a classic industrial themed restaurant/bar and introducing a new mezzanine level to enable private booking for functions.
Caravan Clubhouse – Garstang
The creation of a new club house at The Six Arches caravan site was a project for a repeat client, following the success of a past project undertaken by Innex Design at Cockerham Sands. The project involved the design of a 605 sq m club house, creating a modern environment for the campsite to use both for daytime functions and events, as well as for evening entertainment.
Projects in the pipeline for Innex Design include a full hotel refurbishment and extension scheme in the Lake District; a proposed inner city housing scheme on a former retail site, and the continued development and roll out of the 'Gin Palace concept' across the country.
Mark Clancy concluded: "Since I joined Innex five years ago we have grown immensely. From leaving university 14 years ago, I have always worked in the leisure industry designing for JD Wetherspoon, Luminar Leisure, Mitchel & Butler and Barracuda bars, before I walked in to Innex and hit the ground running.
"At Innex we are a tight knit group who all pull together. When I first joined the company there was five staff, which has now grown to 12 – all working towards client satisfaction.
"The most important thing is we have no 'egos' in our office – unlike with previous employers where I've witnessed some big 'egos' who want to work alone in order to win sole recognition for their scheme. At Innex we all work together – it's like a family really, which is good and makes my job of running the studio much easier.
"So in this, our 25th anniversary year, we are celebrating the addition of many more new clients as well as a number of big new projects coming our way.
"With this in mind, we look forward to continued growth over the next 25 years."