Dickie Fitz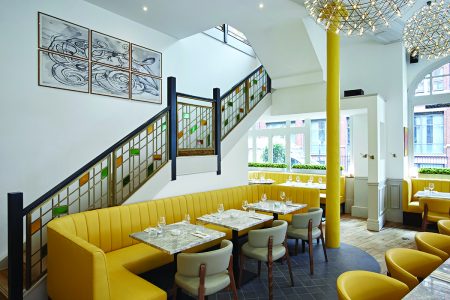 London based operator Affinity Bars & Restaurants have recently opened their fourth site, Dickie Fitz. Located at the former Newman Street Tavern on Newman Street, Fitzrovia, the new restaurant will include 100 covers across two floors and a 14 cover terrace.
Tris Hillier, Managing Partner at Kanvass, who led the restaurant's transformation said: "Our aim was to create a thriving, bustling all day restaurant. The requirement was to evolve the design from the traditional pub format and décor into a light and airy all day restaurant that would serve as a neighbourhood hub."
The design brief given to Kanvass was to create interiors and styling that would appeal to the media and fashion focused Fitzrovia crowd. Kanvass wanted to maintain the characterful and local nature of the building whilst creating an elegant, fun and buzzing interior to serve as a backdrop to Chef Matt Robinson's Australian inspired food.
The building itself is a remarkable space offering grandeur, drama and major street presence. This allowed the restaurant design to play the natural juxtaposition of grand old pub exterior moving through into a light, vibrant and dynamic restaurant space to suit the all day dining environment.
Tris added: "We wanted to create a buzzy local hangout for people with an element of glamour, so we have brought in lighter tones with the yellow leathers, art deco aspects on the stairs, gold mirrored lighting behind the bar and featured lighting downstairs, which is absolutely stunning. In the day it glows and in the night the reflected feature lights create something really special."
We wanted the lights to act almost as an art installation not only to create atmosphere in the room but to be seen from the street and challenge the perception of the pub exterior. Upstairs is softer with a bespoke Dickie Fitz yellow velvet being used to soften the space along with gold lighting and mirrors being carried through from downstairs. There is a different feel across both floors so you have more of a grander meeting place downstairs and then more of a lunchtime/evening relaxed dining area upstairs."
The main dining room itself has also been opened up providing more room for diners by creating a new staircase.
"The big change structurally is that we moved the staircase," said Tris. "Originally the staircase broke up the space coming down into the main restaurant, so we moved the line of the stairs not just for space efficiency and to improve customer flow but the artisan art deco staircase becomes a significant feature in itself."
Conceptualisation work started on the project in June 2014. Work then began on site on 4 January 2016, with contract work undertaken by Lenton Properties.
Dickie Fitz opened to the public on 24 February 2016 and offers diners contemporary dishes inspired by the flavours and ingredients of the Pacific.
Tris said: "One of the things that is really important to us is to make sure everything works together in harmony. The philosophy of Matt's food has always been refreshingly different and we wanted the environment and food to work together.
"Every project we undertake is important and each project is massively unique. The project becomes a journey; a blend of our creativity and the clients. Working with Affinity was a pleasure; as experienced operators they were very clear about the feeling and experience that they wanted to achieve and we quickly developed a creative trust. All in all it was an inspiring project to work on and we are really pleased with the end result."
Lenton Property Solutions
Lenton Property Solutions is an expert contractor specialising in reactive maintenance and general & preventive maintenance works for the construction industry. Lenton Property Solutions provide guaranteed results and can undertake all refurbishment works, including small and large refurbishment programs in the retail and commercial fields, with a specialized division focusing on bars and restaurants.
Lenton Property Solutions has been in operation nine months and within this time has worked with an array of clients, from well-known high street brands, as well as the private sector and 'Blue Chip' companies. Most recently Lenton Property Solutions was appointed as the principal contractor on the Dickie Fitz project, working closely with Affinity Bar & Restaurant Group and Kanvass Ltd.
Works undertaken on Dickie Fitz, included plumbing, drainage, roofing, electrical, carpentry, metal works, painting & decorating, pest control and all aspects of health & safety. The work was conducted over a 5-week period.
Karl Lenz, Managing Director at Lenton Property Solutions, said:
"As a young company every client is important to us, but to be involved with such a well-known company as Affinity Bar & Restaurant Group and managing to meet client expectations given the quality of finishes that were required, can only enhance and cement our reputation as the go-to company for new clients, who are looking to achieve excellent standards without the need of an excessive budget."
Karl added:
"At Lenton Property Solutions we pride ourselves on our vast industry knowledge, experience & expertise, our proven track record of success and our resources – we have the tools to help clients succeed.
"We provide a comprehensive package for both internal and external refurbishment works, our attention to detail is second to none and we provide peace of mind for our clients, who can contact us 24 hours a day 7 days a week and receive a quality service on 0203 829 5460."
Kanvass Design
Kanvass Design is a fully integrated interiors project agency for the hospitality industry that specialises in total transformation. They work from the conceptualisation stage through to the design, project management and fit out.
The company has over 20 years' experience within the industry, bringing together their vast knowledge and expertise. Kanvass was formed in June 2015 to use this expertise to provide stunning interiors and a seamless experience from conception to fit out to completion.
The company works with restaurants, bars and boutique hotels across the country and most recently worked on Dickie Fitz, a new restaurant based in Fitzrovia, London. Kanvass Design was involved with the design and project management aspects of the project.
Tris Hillier from Kanvass Design said: "Having a full creative license without constraints was massively refreshing. The Affinity Group are a dynamic restaurant business who gave us a remit to deliver a relevant and exciting new concept for the ever evolving Fitzrovia area.
"As a company, we pride ourselves on creativity, challenge, collaboration and positive partnership, but ultimately we are here to create thriving commercial operations for our clients. Their success is our motivator."