Crabtree & Evelyn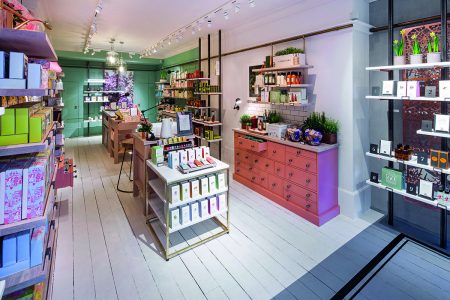 Unveiled on 2nd February, a brand new store concept was introduced by Crabtree & Evelyn, to the Kings Road pop-up space. Inspired by the brand's English heritage with a contemporary twist, the concept has an inviting domestic feel and draws upon product storytelling and a theme of exploration.
Premier Hospitality caught up with Elise Holmes, Design Team Leader (Interiors), and Ashley Hodge, Associate Design Director, (Graphics) of Dalziel & Pow, to discuss the recent launch. Elise and Ashley told us about their involvement in the project, including the importance of working with Crabtree & Evelyn.
Elise said:
"Crabtree & Evelyn opened a pop-up store at the end of October with their existing scheme, and the new concept was subsequently layered through in February.
"The feedback from the client has been fantastic, and the staff and customers have also responded really well; it has all been very positive."
Ashley commented:
"I think for Crabtree & Evelyn this is a big step – the new concept is much more inline with the new target that they are trying to capture; they want to be a contemporary lifestyle brand and appeal to a younger audience too – there hoping that the new concept will help with that."
Working with Crabtree & Evelyn has seen Dalziel & Pow develop a new relationship with the brand; one which began from an informal conversation in which the practice spoke about Crabtree & Evelyn's potential.
Elise said:
"Crabtree & Evelyn gave us quite a visual brief – that took the idea of inspiration from nature throughout. The concept needed to feel inspired by nature to reflect the products that they sell. The aim was for it to feel very British and eclectic, with lots of colour and detail."
Ashley added:
"We want to accentuate the brand's English heritage by adding a contemporary twist on things; for example the chest of drawers with some of the drawers open and inside plants can be found instead of just products; so it is a little bit quirky."
Elise said:
"It was also about promoting the idea of a sense of discovery, we always wanted to make it so that everything on offer wasn't immediately obvious to customers – promoting people spending more time in the store and as they do, they discover a range of things. Also we wanted to reference the ingredients used within the products, in order to tell the story surrounding them."
Ashley said:
"Dalziel & Pow have several high profile clients, and it's quite nice to collaborate with a well-established business like Crabtree & Evelyn. The design process has evolved really easily and everything felt quite natural – so it was a pleasure."
Elise added:
"Crabtree & Evelyn were looking for a change; so their enthusiasm for this project has really made a difference. It feels very personal to them and you can feel the commitment to their brand."
Dalziel & Pow is a leading, independent agency based in London, creating engaging brands all around the globe. Defining brands and designing retail experiences for a new era of customer is what they do, with a collaborative team of retail experts that offer creative strategy, design and innovation.
Over the past three decades Dalziel & Pow has become one of the world's most insightful and creative agencies – helping clients to form a more imaginative future for their brands and engaging experiences for their customers. From fashion flagships for Primark to a game-changing concept for Rockar Hyundai, all of D&P's work is defined by customer insight, creative strategy and engaging ideas – evident by the 50 industry awards that they have earned in the past five years.