Second store for Urban Decay
Cosmetic brand Urban Decay has revealed a brand new stand alone store in Brent Cross, London. The new addition opened in February 2016, and is the UK's second store – following the introduction of the first which took place 18 months ago in Covent Garden.
Isabel Malbois, General Manager at Urban Decay, spoke to Premier Retail about the new store at Brent Cross:
"Since its opening the feedback has been fantastic! Urban Decay products are generally sold through department stores and online, so 18 months ago we took the decision to explore opening our own boutiques and the advantage there is for us to be able to connect directly with customers and to express the brand how we want.
"The great thing for us is the amount of new customers that has been introduced to the brand, and I think this has stemmed from regular and loyal customers to Brent Cross Shopping Centre and also loyal customers to the Urban Decay brand.
"I look after Urban Decay UK and Ireland, and this is our second free-standing store. Walking through the entrance of the Brent Cross centre, our shop is a small unit on the ground floor, however it still appears open and airy.
"This particular site comprises different sections which is different to what we did at the Covent Gardens site. To the right hand side, there is a dedicated consultation space and as a make-up brand, it is really important for us to have an open space for consultation for the make-up services that we provide.
"The left hand side is dedicated to what we call 'free access' which is the merchandising of all of our products and customers are free to shop the product and test them out.
All Urban Decay stores are designed by a brand team within the Urban Decay headquarters, which is based within Newport Beach in California. However, while the stores have a US influence, the store design and visual merchandising team are based in London, so each store uses materials and ideas specific to their location.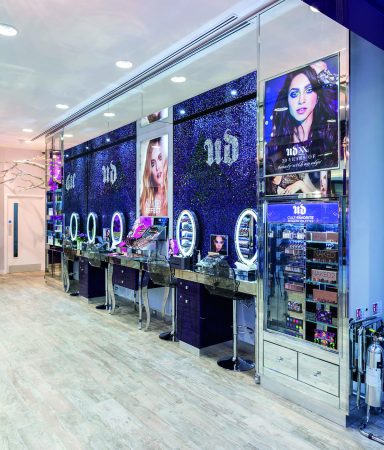 Isabel said:
"Blending modern chrome fixtures with more classic fixtures is what we do – for example our store in Covent Garden features reclaimed wooden flooring which we balanced with chrome materials, to produce a look which mixes contemporary with classic.
"However, because reclaimed wood is difficult to work with, for the Brent Cross store we decided we would try something different, so we found this fantastic tile which looks like wood and works equally well.
"Towards the rear of the store, tills are displayed facing outward, with a large eye-catching digital screen placed behind this. A large floor-to-ceiling chrome tree is in place on the right hand side – the founder of the brand (Wende Zomnir) was inspired by the snow-covered trees on a trip to New York one year, and the idea was born from this."
Since opening, Urban Decay Brent Cross continues to go from strength-to-strength.
Isabel said:
"Our new store is trading above our expectation which is fantastic – it has only been a month so it's very exciting. For us to be able to express the brand as we want to in our own store is great."