Brownsword – To the manor born
A major refurbishment has been completed at The Slaughters Manor Hotel in the Cotswolds, transforming the hotel's entire ground floor by creating vibrant new spaces as well as restoring the character of the 17th century building, exposing and emphasising many original architectural features.
Located in the picturesque village of Lower Slaughter and formerly a country manor, the hotel is privately owned by Andrew and Christina Brownsword.
The hotel closed for the fast track project, which was completed in three months, reopening in March.
Interior designers for the scheme were Simon Morray Jones Architects; main contractors were Ken Biggs Contractors, who won praise for their work on the project.
Representing a significant investment by Andrew Brownsword Hotels, the project has created a stunning, revitalised layout with new and well defined rooms.
Rachel Morris of Simon Morray Jones Architects said: "One of the key design considerations was to create individual spaces for people in what was a large open hall. Previously many of the original internal walls had been removed to create a large space, so we restored the original layout, forming individual rooms offering a variety of accommodation."
This includes a more inviting entrance hall and reception, a bar, lounge, billiards room, library and a snug.
Rachel Morris said: "The building is listed and has considerable historic character which was concealed by the previous decor and layout. We decided to strip all this back and reveal the historic elements, including exposing all the original historic plaster work – which is a key feature of the property."
Natural materials, finishes and objects and a simple colour palette as well as new chevron pattern oak parquet flooring extend throughout to create an elegant country look.
New spaces created on the ground floor include: an entrance hall and lobby divided by a crittall screen, and a reception area which has been re-located nearer to the entrance. The design features rural influences aiming to immediately offer a warm welcome. Natural timber and rich fabrics create a light, spacious space.
The bar, which is open to both residents and non-residents alike, offers a place to socialise, enjoy a drink and a selection of new tasting plates from the kitchen. Rachel Morris said: "Located at the centre of the hotel floor plan, the bar features a glamorous brass and black leather themed design and offers a hub for people to gather before moving off into the space of their choice, including the main lounge which opens off the bar."
The bar has been relaunched in partnership with craft distillery Sipsmith, which is fast becoming the UK's premium dry gin of choice. All of Sipsmith's traditional small batch gins are served, both within simple long drinks and as the base for delicious cocktails.
Described as 'eclectic and interesting', the lounge features soft colour palettes and contrasting brass accents, creating a warm, inviting space in which to relax and unwind.
"The colour palette for the lounge is very pink and includes lots of tactile velvets, leathers, wools, cottons and tweeds, combined with brass lighting and marble side tables, with the furniture arranged in groups," said Rachel Morris.
A new offering, the billiards room features a deep colour palette, bespoke tan coloured felt billiard table, groups of tub chairs and modern art, purchased by avid art collectors, Christina and Andrew Brownsword.
With its roaring fire, statement armchairs and warm tones, the library offers a more 'masculine' counterpart to the lounge and aims to create a smart space in which to relax. Here the colour palette is simple, featuring white combined with tweeds and leathers.
The Snug with its built-in deep banquette seating is a small, cosy space where guests can play board games or watch a film on the large TV. "This room includes lots of cushions and throws where people can really feel comfortable. The design palette features shades of grey, punctuated with red and natural fabrics such as linen" said Rebecca Morris.
A new waiters' area has also been created, together a wine storage area. The ground floor toilets have also been fully refurbished.
According to Rachel Morris:
"The project went really well and was completed two weeks ahead of schedule.
"Ken Briggs Contractors did really well and I would especially like to commend their contracts manager Jamie Priest and site manager Andrew Colbourne, who both did a fantastic job.
"The client really let us go ahead with the brief which was geared to attracting a wider clientele, which I believe is the case since it re-opened. The concept was fun and it was enjoyable working on such a lovely building in an amazing setting."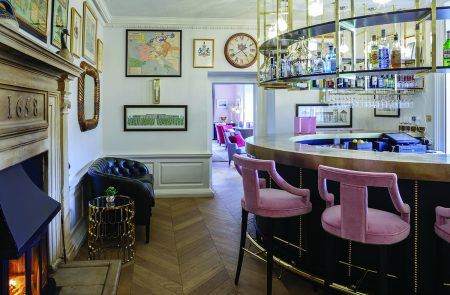 Pietra Wood & Stone
Pietra Wood & Stone was established in 2004 to provide tailored surfacing solutions to the professional and residential market sourcing materials directly from factories across Europe. The business specialises in large format porcelains and wood finishes from engineered floors to cladding with a particular expertise in reclaimed material.
Pietra have worked on a variety of projects, including the South Sands Hotel, Devon; Beechfield House Hotel in Wilts; Halcyon Hotel, Bath; Cabana Restaurant, London; and currently the St. Andrews Hotel, Scotland.
Premier Hospitality caught up with Managing Director Stuart Faint, to find out more about Pietra's recent involvement in the successful completion of the Brownsword Hotel. Stuart commented:
"We were delighted to work on the project and were given an opportunity for input at an early stage on the supply and installation of a large chevron floor which provided several challenges which we were able to overcome and ensure the outcome met the client's requirement.
"The project demonstrated how Pietra can work with designers and architects at the early stages of a project and translate this in to the practical environment of liaising with the contractors to integrate our installation within the overall schedule to ensure deadlines are met."
"We offer this service to all our customers – regardless of size and expect to be able to provide quality solutions from our extensive product range to meet all budgets. Pietra has recently become the UK agent for Atmosphere & Bois, who specialise in reclaimed timber for internal and external cladding, flooring and furniture. These products are ideal for the hotel market."
For more information please visit: www.pietrawoodandstone.com.