SIRIN LABS – SOLARIN Concept Store
Elemental Design, the London-based, retail design agency, is excited to announce the launch of SIRIN LABS' flagship store on Burton Place, Mayfair, London. SIRIN LABS introduces SOLARIN – a revolutionary new entrant to the technology market. Aimed at the international businessperson who carries a lot of sensitive information but doesn't want to compromise on usability, quality or design, SOLARIN combines military–grade security protection with second-to-none connectivity and audio-visual capabilities.
SIRIN LABS worked with Elemental Design to deliver a unique concept store, which reflects the brands ethos; to deliver privacy, connectivity and uncompromised quality. SIRIN LABS selected Elemental Design in December 2015 to develop and produce their first-ever store. Work on site began in March 2016 with help from Main Contractors Universal Projects.
The look, feel and the layout of the space was initially conceived by Sirin's branding agency, Point One Percent in New York as part of the overall brand strategy. Alexander Duckworth, President and Founder of Point One Percent worked very closely with Elemental in the early design phase. The store references the brand language, tying together the digital platforms, the packaging design, the mark of the logo and the product.
Speaking to Premier Retail, Elemental Design Founder Gary Porter commented: "They had a very strong idea in their minds that they wanted to challenge the notion of traditional retailing and create something quite unique as a store experience. They gave us a very strong steer from the beginning, which included using the front two thirds of the shop as an experiential, or educational, area where one doesn't actually get to see or handle the product at all. They had also expressed that because the brand is called SIRIN LABS, there was a notion that the store could have a slightly clinical/laboratory feel to it."
Guided by SIRIN LABS' extensive market research, Elemental Design sought to create a visually compromising environment to deliver an immersive store experience that thoroughly communicates the key features of SOLARIN. The result is an unexpected and original space; a brand aligning its narrative with its physical presence.
Passers-by will be drawn to the shop window; a scale model of part of the store, using raked perspective and trompe-l'oeil and showcasing SOLARIN.
On entering the shop, visitors find themselves in a pale, minimalist, marble-clad room. Slicing through the room are sharp white lines of light, reminiscent of lasers or scanners. A sculptural collection of white plinths, snaking through the 'Experience Area' invites you to take a journey through the superior qualities of the product.
Elemental Design, partnering with Media Zest (hardware and programming) and Media Monks (digital concept production), engaged high tech elements, such as projection mapping to reinforce SOLARIN's tech prowess. An interactive laboratory brings to life the sound, camera, network coverage, designs and privacy features of SOLARIN. By the end of this journey, it's clear that SOLARIN is focussed on delivering tomorrow's technology today. However you still will not have fully seen, nor handled a handset.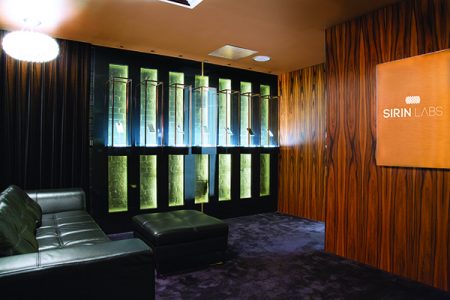 Taking one by surprise, a whole other area is revealed where the ambiance shifts from stark to unapologetic luxury, which sets the final scene. But again, it's not your typical formula. Like a speakeasy, one discovers Elemental Design's take on a VIP-lounge-meets-gallery with a colour palette of black and tones of bronze. There's an abundance of texture, from hints of black painted brick to an entire wall of sumptuous velvet curtaining, set against plush carpeting; all beautifully lit. A pair of Foscarini chandeliers bears a striking resemblance to the SIRIN LABS trademark. Stunning Rosewood panelling is teamed with black leather furniture and a perforated metal service bar.
Naturally there is a product display wall to ultimately hero SOLARIN and invite a closer look. Elemental created black lacquered panels supporting tall, bronze frames, each displaying a mobile raised on an illuminated base. The treatment is almost that of jewellery merchandisers, with the centrepiece being a gracefully revolving device. After the education, this is the seduction – which could only result in a very discreet transaction.
Gary concluded: "The client is delighted and extremely happy with the result and we have had a lot of positive press about the store and the fact that it is one of a few stores that are now looking to differentiate themselves on the high street. The store is on a small mews so it is on a quiet street amongst other high-end retailers in Mayfair. It speaks to the fact that you don't need your premises on a major high street if you are a destination store where your customer is coming in, to specifically look at your product.
"It's so refreshing to get a brief that is so different and it's an honour to work with a brand that is just starting out and have got clear ideas about their identity and customer. We felt very privileged to work alongside them and deliver their first retail store."
Most recently the project has been shortlisted for a Retail Week Interiors Award 2016.