The Sun Houses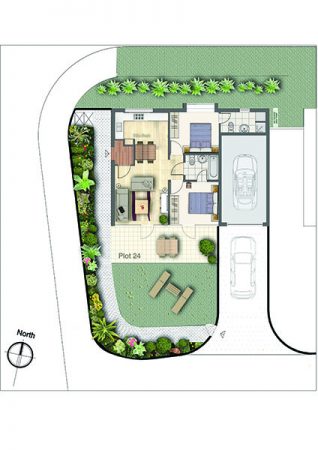 A major development project in Devon that, when completed, will see the addition of 73 contemporary bungalows, 22 of which will be affordable, continues to make progress. Designed by award-winning architect Guy Greenfield, 'The Sun Houses' are a unique proposition located in one of the most desirable places to live in the UK.
Each house has been designed to make the most of its stunning surrounding landscape through an innovative layout that turns the classic cul de sac concept on its head. Located in the quaint village of Yelland, each house faces south to make the most of natural light for a relaxed and peaceful living space.
The multi-million pound scheme was conceived and developed by Guy Greenfield Architects with Yelland Construction acting as main contractor. Speaking to Premier Construction, Guy Greenfield outlined the objectives of the development and gave an overview of its main features:
"We wanted to create a contemporary housing scheme and were really attracted to this particular site. We acquired the site with outline planning permission for 53 houses and obviously have expanded that up to 73. Before we started working the site had very traditional housing on it, most of which were bungalows. We took this on board and decided to reinvent the traditional bungalow and give it a more contemporary feel.
"Phase one of the project will be completed in July and will consist of 24 houses. Phase two will involve the construction of the remaining homes and is scheduled to begin in June, taking around a year to complete.
"The layout of the site has been designed so all the homes face south. They are approached either from the north or the south and as such you enter via a traditional frontage or the glazed frontage. They are quite unusual in that respect and are very contemporary in their design. Internally they all have shadow gaps, minimalist detailing and skylights. We've used the whole volume of the roof space."
All houses have two bedrooms on the ground floor, one of which will boast an en-suite bathroom. While there is a large degree of consistency throughout the development, one major exception is the adoption of a 'chalet bungalow' style in a small number of the houses. These homes will also have a room on the first floor with a balcony to further enhance the living experience. Each home has two parking spaces, with the majority also containing large garages. Courtyard-like gardens are either fully walled or a mixture of wall and hedge.
Guy and his team have chosen a blend of traditional materials, contemporary details and efficient technology to achieve the desired look. Rather than use a traditional roof structure, a mono-pitched roof has been used to help save precious space that would have otherwise been lost. The houses have been built with insulated structural panels and have been externally rendered with white acrylic.
High quality natural oak has been used on the doors while internally the rooms are prepared for a variety of floor finishes. Bathrooms and kitchens are similarly contemporary in design with high gloss units, laminate worktops and built in appliances.
The homes also make use of an innovative heating system to increase their energy efficiency and decrease heating costs. Heating comes via underfloor heating from air source heat pumps mounted externally in the garden while internally a 200 litre hot water cylinder ensures an ample supply is always available.
The location of the site only adds to the appeal of the scheme. Residents can enjoy the best of both worlds with both award-winning beaches and endless countryside right on their doorstep. Some of the best shops, restaurants and pubs in the Devon area also easily accessible by car or public transport in the towns of Barnstaple and Westward Ho!
Reflecting on the unique nature of the scheme and the possibility of parallels elsewhere in the UK, Guy concluded:
"We would definitely consider undertaking a similar project elsewhere, we're contemporary designers interested in modern schemes. I think the trouble with contemporary buildings generally is that they appeal to a slightly smaller market than the main market. At the same time though, if you are someone who is interested in a contemporary rather than a traditional house your choice is rather restricted. When the project is completed there will be a real sense of achievement that we have designed and built something which is great yet unusual."
London based Guy Greenfield Architects was founded in 1990 and specialises in designing contemporary buildings and products that have a rational logic combined with sculptural qualities. Paying particular attention to detail, quality, materials and innovation, the practice has won a range of awards during its time in operation, including accolades from the Royal Institute of British Architects. In 2001 the practice was shortlisted for the prestigious Stirling Prize for its Hammersmith Surgery development. The practice is currently involved in a range of high quality and innovative developments.
Edwins Bathrooms
EDWINS BATHROOMS have seen trends change dramatically over the last three decades. Originally leading the way within the plumbing & heating sector with their Trade Counter they are now doing the same within the bathroom industry from their three established showrooms in the heart of Notting Hill, London.
In a very competitive market, Edwins' wealth of experience and knowledge within the industry will assist you with your ideas from conception to completion.
An experienced team are on hand to walk you through all of the products, which are sourced from a range of brands such as Duravit, Vado, Dornbracht, Vola, Effegibi, V&B, Samuel Heath and Lefroy Brooks.
EDWINS' involvement in Specifications has increased dramatically over the last three years with a dedicated department to look after any residential or commercial projects from the early stages of planning to completion. The Specification Team have now become an essential tool for architects and interior designers across the UK.
Edwins is a one-stop shop within the plumbing & heating, bathroom and wellness industry and is one of the UK's best kept secrets.
For more information, visit www.edwinsbathrooms.co.uk or call 0207 221 3550.