Brocklebank Retail Park – Greenwich's new retail destination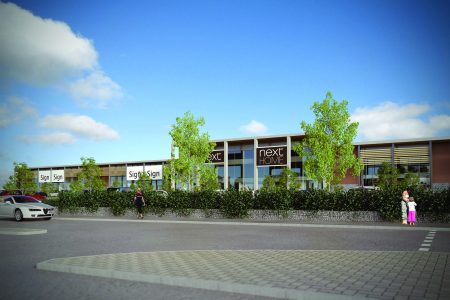 Greenwich's newest retail destination is located opposite the Greenwich Shopping Park and is part of a phased development commissioned by LxB Retail Properties.
This completes the new Brocklebank Retail Park in Greenwich and regenerates the area, as well as providing new jobs at a new retail destination, this is a project comprising the construction of four retail units pre-let to Next, Aldi, Primark and Mothercare.
The project, for LxB, comprises the second phase of the retail park, with the first phase involving the construction of a 21,500 sq ft unit for Wickes.
Together totalling approximately 145,000 sq ft, the four retail units in the second phase were designed by RGP and are being built by Ellmer Construction, who were commended for their work.
Chris Horner of RGP Architects said: "The design brief was to create a new shopping destination with flagship stores serving the area. The retail park will regenerate a former brownfield run-down site and will also provide new jobs.
"The retail units are being constructed in a terraced format, with the two storey Primark unit totalling 5,514sq m; the three storey Next unit totalling 4,458 sq m; the two storey Mothercare unit totalling 2,416 sq m and the single storey Aldi unit totalling 1,593 sq m. A covered walkway has also been constructed linking all the units together providing weather protection for shoppers."
Initial works included the demolition of a number of industrial units and a retail unit; clearing and levelling of the site.
The units are all constructed around steel portal frames with external elevations in a combination of composite insulated metal cladding, brickwork, structural glazing and curtain walling. The roofing is a composite insulated metal cladding system , including triple insulated roof lights, and photovoltaic arrays.
External works on the scheme include the creation of a large car park, cycle parking facilities, electric car recharging bays and extensive landscaping.
Chris Horner said: "Challenges of the scheme included the presence of major gas and electrical services around the perimeter of the site, which has required great care whilst construction is underway.
"The project is going well and Ellmer Construction are doing a good job."
The project is due for completion in August 2017.
LxB Retail Properties Plc is a Jersey incorporated closed-ended real estate investment company, whose strategy is to invest in out-of-town and edge-of-town retail assets. The company has a strong and independent board of non-executive directors with significant relevant experience, chaired by Phil Wrigley.
The company's strategy is to capitalise on the structural change occurring in the out-of-town UK retail sector through focused acquisition of retail parks where there is scope, through development and asset management, to extract above average returns for shareholders. The group is an active investor and implements strategies to enhance the capital value of acquired assets.