Issho
Luxury restaurant group D&D London is set to open its third site in Leeds in the form of Issho – a Japanese rooftop restaurant and bar located in the Victoria Gate shopping complex. Welcoming customers from the 21st June, Issho serves authentic Asian cuisine with a contemporary twist.
Designed by DesignLSM, Issho comprises of a rooftop bar, restaurant space and outdoor terrace. Work started on site in January 2017 with a 16-week building program by main contractor WFC.
The 7,800 sq ft space is divided by a large landlord's core through the centre of the unit. This created a natural split between the bar area and restaurant, joined together with a curved atmospheric walkway. Expanding on the look of the space Anne Rhind, Associate Designer at DesignLSM, said:
"We utilised a range of Japanese materials including charred timber, which is known as 'Shou Sugi Ban'. We also used oak, marble style tiles, natural-edged porphyry stone and suspended timber rafts to give the design an authentic and contemporary feel. There is an intimate 40-cover terrace area on the roof with comfortable lounge sofas injecting a calm and relaxing ambience."
"A large slatted feature gantry with a bespoke illustrated ceiling graphic gives the bar a prominent presence in the space. In the restaurant, the open kitchen and sushi bar are the main focal areas creating a theatrical experience for diners."
The menu at Issho has been created by Ben Orpwood, who previously held the same positon at Zuma and Sexy Fish in London. With an extensive background in Asian cooking and culture, Ben's menu is an eclectic mix of Japanese cooking and techniques – from seafood to robatayaki. Speaking ahead of the launch, Ben said:
"I've been lucky enough to travel to Japan several times and have worked in Asian restaurants across the globe, from Turkey and Dubai to London and Australia. My experience has certainly helped shape the menu at Issho and create eye-catching dishes that are full of flavour."
Housed in the newly opened Victoria Gate complex in Leeds, Issho is ideally placed to take advantage of shoppers in one of northern England's largest retail destinations. In total boasting over 30 retail brands and restaurants, as well as a casino, Victoria Gate has already proved to be a major success since opening in 2016.
Alongside Issho, D&D and DesignLSM are also working together on a separate project in Victoria Gate called East 59th. Inspired by New York's opulent nightlife, East 59th will be a stylish all-day dining destination with a unique blend of restaurant and bar spaces as well as a vibrant rooftop area, providing Leeds with a new social venue.
Anne added:
"We are proud of our collaboration with D&D and the resulting designs, we look forward to the concepts becoming the new 'go-to destinations' within the area"
DesignLSM specialises in strategy, branding, RIBA architectural services and interior design for the hospitality and retail industry.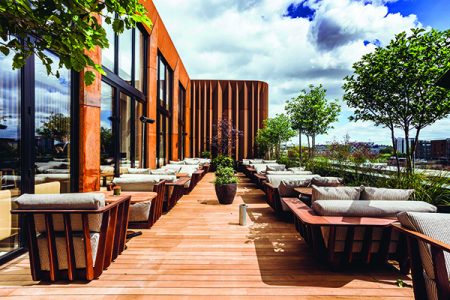 Steve La Bouchardiere and Simon McCarthy founded DesignLSM in 1988. Over the last 26 years the practice has grown around their creative passion. Today, it continues to combine a holistic approach to design, encouraging a spirit of collaboration with clients, colleagues and partners to deliver memorable customer experiences.
D&D London is a group of luxury restaurants, bars and hotels based primarily in London, but also with venues in Paris, New York and Tokyo. Following a buyout of Conran Restaurants, D&D London was founded by Des Gunewardena and David Loewi in 2006. In the time since, the brand has been responsible for the creation of some of the capitals most popular establishments including Quaglino's, Le Pont de la Tour, Bluebird and Coq d'Argent.
Botanica and Iconic in Tokyo, Alcazar in Paris and Guastavinos in New York are the four international restaurants D&D currently operates. The company made further inroads into the hospitality industry in 2012 when South Place Hotel opened in the East End of London. Boasting 80 luxurious rooms, bespoke artwork and a Michelin-starred seafood restraint, the hotel has won numerous awards during its operation.