McK Grill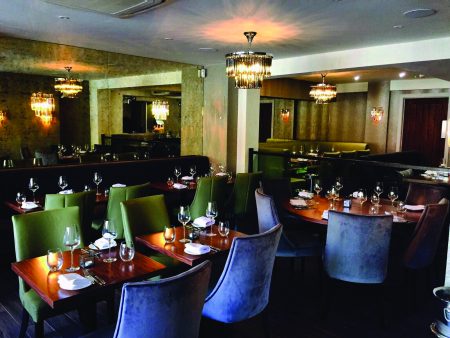 McK Grill is a British restaurant and cocktail bar located in Woodford Green Essex.  The restaurant is owned by TOWIE star Megan McKenna and is known for serving high-end, modern and seasonal cuisine in cool, calm and modern surroundings.
Speaking to Premier Hospitality magazine, Lead Designer for the restaurant Tanya McKenna said: "We wanted to open a restaurant and we all came up with the idea. There is nowhere around here that has a bit of a London vibe to it or that provides modern, British food. It is all Italian, Turkish, Chinese or Indian and if you wanted really nice food you had to go into town. Megan [my daughter] suggested that we bring a bit of Mayfair into Essex."
The restaurant and bar has been described as "striking with a modern twist" with the interior design having a plush Mayfair feel to it.
Tanya added: "It has a modern feel to it but, even if there is no one in there, it still feels comfortable. People can come in and feel comfortable if there are two people or 92 people sat inside. It has a nice aura about it and a nice feel to it – it ticks all of the boxes."
Previously Head Chef at Bonnie Gull, Gavin Gordon has taken the reigns at McK Grill. Having honed his culinary skills working under the guidance of chefs such as Jamie Oliver, Tony Fleming and Matteo Vigotte, Gavin creates dishes that combine great flavours and taste based on the food he loves to cook and enjoy.
Tanya commented: "Gavin Gordon is amazing. He is spot on and is really good."
A classic brunch menu is available on Saturdays and on Sunday; a traditional British Roast is on the menu. Other dishes available throughout the week include starters of Charred Asparagus, Duck Egg and Truffle Dressing, Chicken Liver Parfait with Sauternes Jelly and Brioche and Pea and Mint Soup, Smoke Ham Hock Fritter and Goats Cheese. Main menu items include Whole Lemon Sole, Capers, Lemon and Parsley Butter, Pan Seared Cod, Courgette Flower and Mint and Grass fed English Beef from the Dedham Vale Estate. Finally, to finish off your meal, desserts include Eton Mess, Sticky Toffee, Milk Ice Cream and a British Cheese Board served with traditional Garnish.
As it is well known that Megan is a person with Coeliac disease, a gluten intolerance, she has worked with the team to ensure that nearly all of the items on the menu are gluten free but most importantly has made certain that the taste has not been compromised in any way.
The cocktail bar is open throughout the day from 12pm to late, serving creative signature cocktails, craft beers and an extensive wine and champagne list. The signature cocktails have been designed to take you on a journey from light to dark. Lighter more refreshing drinks to enjoy in the early evening with your meal through to darker, more complex flavours for the later hours.
You can also enjoy one of the restaurants free flow prosecco packages.
The 68 cover restaurant opened its doors in May and has received nothing but positive feedback from the get-go.
Tanya said: "We have only been open for a couple of weeks and we are doing really well. Everybody loves it and loves everything about it.
"It's amazing. I'm really pleased. The feedback we are getting suggests this is something that has been missing in the area and people have said it is really good food – they are happy they now have McK Grill on their doorstep. We are completely booked up for a few weeks now so it is fantastic and I wasn't expecting this so soon. I thought it would take a bit longer for people to come in and try us but everyone has come back and said they will be back again so that is great."
McK Grill is closed on a Monday but is open for lunch from 12pm to 3pm Tuesday to Friday and from 6pm to 10pm Tuesday to Saturday for À La Carte. Brunch is between 12pm and 4pm with last seating at 3:30pm. Sunday roasts are available from 12pm to 7pm with last seating at 6:30pm.
Advance PM
Advance PM specialises in rebuilds, refurbishments, commercial fit outs, planned and reactive maintenance and dilapidation works. The company has building and maintenance contracts with some of the largest blue-chip companies in the UK and has built up a reputation for its attention to detail and ability to meet tight deadlines.
Past projects have included, a complete refurbishment of the Travellers Friend Public House in woodford – transforming a quaint venue into a 60-seater bar & restaurant; as well as maintenance contracts with Pizza Hut, Sixt and Selfridges to name but a few. Most recently, Advance PM has been involved with McK Grill.
Darrell Privett, Director of Advance PM Ltd, said:
"We were drafted in to take over from the original contractor, who was employed but left the whole building in a bit of a mess at the dismay of the owners. We quickly became the principal contractor and after all steel works and engineering were complete we were left with nine days to transform and build McK Grill.
"It was hugely important for us to be involved in this project because the proprietors were not just keen to get this finished, but keen to have it finished to a high standard. Being a fairly new company we were keen to prove our dedication and commitment to the project, as we do with each and every project we undertake. Once the client is happy then so are we."
Darrell added:
"We pride ourselves on customer focus and customers coming first – from taking a call early hours of a Sunday morning to help fix an issue or going above and beyond to ensure our clients vision is not only met but exceeded.
"We have an amazing and talented team of staff whose attention to detail is astonishing to say the least. We to stay by our clients from conception to completion and once they are happy we hand they keys back.
"Then, hopefully, we get invited back for dinner!"