11 Howard Hotel
Located in a former post office, 11 Howard Hotel is a 221-room hotel situated in New York's SoHo district. Following a motto of 'conscious hospitality,' 11 Howard stands out from the pack of the many already established hotels in the area.
The building that now houses 11 Howard was bought by developer Aby Rosen as part of her Manhattan based company RFR Holding LLC in 2014. With the help of Copenhagen-based designers, SPACE Copenhagen to renovate the space, 11 Howard is described as a temple of Danish modern design.
On the outside of the building, a 150 foot mural along its side was a partnership between the hotel and student artists with the public organisation Groundswell, under the mentorship of artist Jeff Koons.
Inside the hotel is a light filled space with minimalist design throughout. The rooms are soft and inviting with a muted grey and white colour palette with furnishings crafted out of natural materials with brushed gold features adding a touch of subtle luxury. Each room is filled with custom pieces by SPACE Copenhagen that were handcrafted in Denmark. From its Fly Collection for Tradition, the pieces are made from luminous oiled oak, shaped into a range of lounge furniture. Rooms feature an art object, a plaster wall ceramic created by artist Katie Yang, and a sensuous new lighting collection designed by SPACE Copenhagen exclusively for 11 Howard. Beautiful materials such as porcelain tile, marble countertops and brass trimmings selected by SPACE Copenhagen line the in-room bathrooms. The rooms also come with a preloaded tablet which included a guide to the local area containing information of things to see and do. The guide comes in multiple versions for all of the great downtown neighbourhoods nearby including SoHo, Chinatown, the East Village, the Lower East Side and Little Italy.
SPACE Copenhagen designed 11 Howard to feel residential – more like a home than a hotel. Its furniture creates an atmosphere of ease and informality. The studio consciously crafted each space so that a sense of congruity between the furniture and interior is felt throughout the hotel.
Speaking to Premier Hospitality International magazine Peter and Signe, Founders of SPACE Copenhagen said: "We have been really overwhelmed by positive feedback from the project; both when it comes to the rooms and public spaces.  The bar and restaurant have also been very successful and fit very well into the local area. We are delighted to see that the area surrounding the hotel has changed in the last year; there is a great atmosphere surrounding the hotel, which is due to the other really interesting projects nearby."
The restaurant at 11 Howard is Le Coucou – a French spot owned by restaurateur Stephen Starr in collaboration with chef and restaurateur Daniel Rose. The restaurant is open for breakfast from 7am until 10:30am with a menu of items including Saumon Fumė: Smoked Salmon, Capers, Tomato, Creame Cheese and a bagel, Oeuf Spėcial: Poached Eggs, Sauce Choron and Pomme Darphin and Coucou complet: Two Eggs, Poitrine Fumėe, Grilled Country Bread and Pomme Darphin. Lunch is available between 5pm and 10pm, Sunday and Monday and from 5pm to 11pm, Tuesday to Saturday. Guests can choose from items including Halibut, Beuree Blanc: Daikon prepared as Choucroute, Tout le Lapin: All of the Rabbit or Salade de Homard Sauce Lauris: Lobster Tail, Basil, Tomato, Sauce Lauris.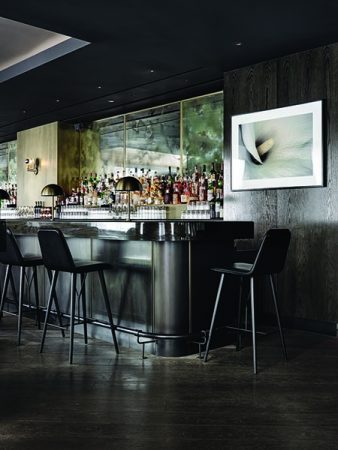 The hotels motto of 'conscious hospitality' means that each aspect of the hotel – from design to location to amenities and brand of service are delivered with purpose and thoughtful consideration. The consciousness reaches beyond the property to the community, motivating staff to give back to charitable organisations that are doing more important work. When guests book directly with the hotel, they will contribute a percentage of its room rates to the Global Poverty Project, a not-for-profit organisation aimed at reducing extreme poverty and will also work alongside other not-for-profit organisations such as Conscious Commerce, a creative agency and incubator whose mission is to integrate conscious consumerism into every commercial vertical.
Peter and Signe added: "The project is hugely important to us for many reasons; firstly, although we have worked on projects outside of Scandavia before, this was the first project we have worked on with a US client. We have always loved NYC and felt some kind of connection, – so we really enjoyed spending so much time in the city with a real purpose."
11 Howard was recently recognised in the 2017 AHEAD Awards and was shortlisted for a total of five awards in categories including Guestrooms, Lobby & Public Spaces and Restaurant. The hotel went on to win awards in the categories of Hotel Renovation & Restoration, Restaurant, Lobby & Public Spaces and Suite. The AHEAD Awards are a new global celebration of hospitality, experience and design. The awards are dedicated to the relentless pursuit of the exceptional, recognising design in all its forms, and the guest experiences created in hospitality projects worldwide.