je+1 heats up Too Hot
Retail design specialist, je+1 recently completed work on a pop-up space for dedicated online fashion brand, 'Too Hot'. Having previously worked on concept designs for a potential retail unit for Too Hot, je+1 designed, project managed and installed the pop-up space, which took up temporary residence at Harvey Nichols, Knightsbridge.
Speaking to Premier Retail about the project, John Evans of je+1, said:
"Too Hot were looking for a space that could reflect the 'urban' nature of the brand, while incorporating a digital element that could highlight their online offering. The space needed to be able to endorse the Too Hot name as much as sell products, so it needed to accommodate magazines and printed material, such as 'LAW', which Too Hot has strong cultural ties to."
With this being a pop-up in Harvey Nichols, space was of course limited and flexibility was essential. As such, je+1 designed a space that was free standing, utilising industrial-style scaffolding units, from which garments could be displayed with ease.
Additional features of the pop-up included a feature wall with video capabilities; a display unit, complete with motorised hanging components; mirrored walls; and OSB timber shelves. Too Hot's logo was also incorporated into the space, endorsing the brand in subtle ways throughout.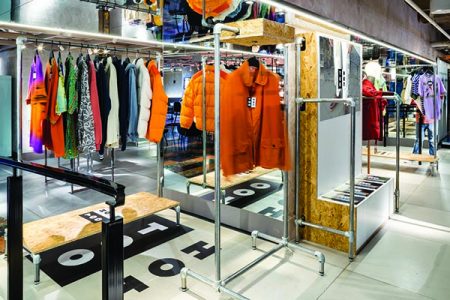 John said:
"We were keen to highlight the logo wherever possible, so we decided to apply the Too Hot logo onto the surface of the mirrored walls. We also applied the logo to the floor, as well as across each of the display units."
Too Hot specialises in iconic 80's vintage clothing which reflects the Italian Paninaro sub-culture, selling brands such as Stone Island, CP Company, Best Company, Moncler, Armani and Moshino. Too Hot has developed into a tightly edited online store which reflects the personal tastes and experiences of its founder, Ollie Evans, who travels the world sourcing vintage pieces and collectors' items from secret locations.
Commenting on the importance of the project, John said:
"Too Hot is new to the high-street, so we wanted to make sure their presence and identity would come across very clearly to customers – whether that's existing online customers or new and future customers."
The Too Hot project was another success story for je+1 and allowed Too Hot to operate the pop-up until early August.