Swantest
Swantest were established four years ago to cater for an ever-growing need in the construction and demolition market for onsite testing, inspection and monitoring of structures, installation and materials. The company has since progressed to working on some of the most complex and prestigious projects across London, working alongside major contractors including Mace, Brookfield Multiplex, Ardmore and The Berkeley Group.
Although predominately London based, the company have worked on projects throughout the UK, including works on nuclear power stations at Dungeness in Kent, Bradwell in Essex and Trawsfynydd in North Wales. With a team of experienced structural, civil and mechanical engineers, Swantest has a depth of knowledge to provide clients with a high-quality service across a range of sectors.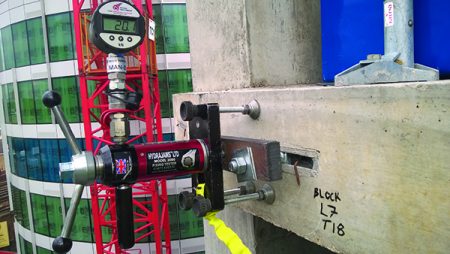 With a wide variety of new techniques and materials being utilised in the industry, it is essential to ensure these are fit for purpose and capable for the intended use they have been designed for. Although many products and installation techniques are factory approved, it can be vital to inspect and test how they have been installed and utilised on site. This applies to areas such as chemical and mechanical anchor installation, welded connections, balcony and barrier installation, scaffold and tower crane erections. Swantest are an associate member of the Construction Fixings Association and all of our engineers are CFA approved testers.
Swantest can provide bespoke testing solutions for varying situations and have previously carried out tests on new types of cladding systems – testing the impact resistance of external cladding panels as well as testing the friction resistance of the fixings brackets that secure the panels. They have the capability to carry out these types of tests at their test facility. Similarly, they have tested cladding panels in-situ on buildings to check the fixings and the panels integrity against wind loading.
As well as the product or technique being used Swantest have developed methods of testing the existing structure on which they are to be used to ensure it is capable of supporting the load. This includes load capacity tests on existing floor slabs for use of heavy machinery, such as excavators for demolition, or mini cranes for cladding installation. By using a series of hydraulic cylinders, Swantest can physically test the structure and record any deflection or movement in the slab. Compared to a calculated design check or analysis, this type of test can demonstrate that larger machinery can be used on the slabs which can result in time and cost savings. They have tested numerous buildings in this manner and also applied similar principles to test existing timber floors, suspended slabs and areas where there is to be a change of use of a building. This type of load capacity testing can also be applied to new installation on buildings, such as balconies and barriers.
On refurbishment projects which are utilising the existing steel frame of a building and either adapting or adding on to it then on-site welding is likely to feature heavily. Swantest can provide a comprehensive array of weld inspection and consultancy services across the UK, including magnetic particle inspection (MPI) and Visual Inspection (VT). All welding inspectors and consultants are fully trained and qualified to CSWIP and PCN standards and are skilled in maintaining welding quality to the latest standards and regulations.
Alongside carrying out on site weld inspections Swantest can act as your Responsible Weld Coordinator (RWC) within all your welding related activities and manufacturing processes. A robust weld quality management system is an essential part of a production and manufacturing process. Swantest can ensure the highest standards of quality are maintained and identify specific areas of a welding process that requires attention.
In this modern era of complex construction and engineering projects, Swantest aim to be at the forefront of onsite testing, inspection and monitoring. As a company, they pride themselves on being able to provide a solution to all of their client's needs.
All works are carried out in accordance with the relevant British and European standards and to approved methods. As well as the items discussed in this editorial, Swantest can offer a complete package of services including geotechnical tests, 3D laser surveys, environmental monitoring, hydraulic jacking solutions and non-destructive tests such as concrete ferro scanning and borescope inspections. Should you have any queries or would like to know more about how Swantest can be of assistance on your project please get in touch.