The Potting Shed
Located in the Yorkshire market town of Northallerton, The Potting Shed is a beautiful designed restaurant and bar serving up good food, delicious drinks and heaps of hospitality. The restaurant opened in August, following a £1 million investment and has received excellent feedback ever since.
The Potting Shed resides in the former Rutson Cottage Hospital, a Grade II listed building in the historic core of Northallerton. The restaurant boasts numerous design highlights, including a Georgian staircase, panelling, decorative plaster and a theatre kitchen, and is backed by a packed menu filled with burgers, pizzas, salads, light bites and more.
Work on The Potting Shed Northallerton ran across a period of 16 weeks and reached completion in early August. Quantum & VJC Services was the main contractor on the project, while the Jsdesign partnership was the architect/interior designer.
Speaking to Premier Hospitality about The Potting Shed, Julie Renton, Interior Designer for the Jsdesign partnership, said:
"Considerable financial investment was undertaken to preserve and enhance the character of the listed building. Existing extensions and partitions were demolished to re-expose the intended deign and proportions of the building and restoration took place to restore many of the damaged single glazed sliding sash windows and reinstate historic cornicing and plaster mouldings."
The interior of The Potting Shed has been renovated to include a mix of distressed timbers, planting, reclaimed furniture and vintage lighting. Many of the building's original features were retained to ensure none of the site's unique character was lost.
Julie said:
"Two new extensions were formed to create the required trade area and the design of these extensions complements the existing building, utilising reclaimed brick and a glazed roof system to define the transition between old and new."
A first floor private function room and bar was formed in the historic Vine Room and a roof top terrace was created over one of the two new extensions.
Externally a walled courtyard has been formed, with brightly coloured 'potting sheds' and rustic furniture, all complimenting the potting shed theme.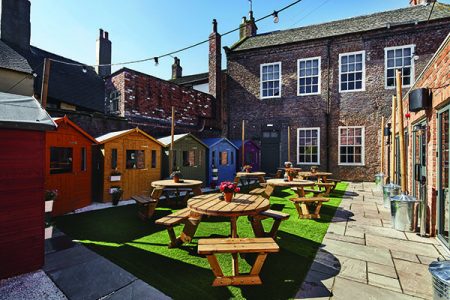 The Potting Shed Northallerton is the third site in The Potting Shed portfolio, following sites in Bingley and Beverley. Two new arrivals are on the horizon; one in Guiseley and the other at Trinity Leeds.
For more information about The Potting Shed Northallerton, or to make a reservation, please visit: www.pottingshedbar.com.