The Rose Hotel
A landmark on Deal's High Street for over 200 years, The Rose has re-opened after an extensive makeover by its new independent owners.
A relaxed and friendly bar and restaurant with eight characterful rooms upstairs, The Rose has been designed with a view to creating a place for 'dinner celebrations.' With an eclectic and luxurious style throughout, the interior comes courtesy of Harding and Read, the styling and consultancy is by Michelle Kelly and architecture by MAD Atelier.
The owners, two families with homes in the area, took over the run-down site determined to restore it to its Victorian heyday. Inspired by a love for modern-day Deal, there is also a nice link to its past; the new landlord Christopher Hicks is the great grandson of John Matthews, owner of the Thompson & Son Brewery since 1860, which owned The Rose and many other public houses in the area, until it was sold in 1950s.
Each of the hotel's eight bedrooms has been uniquely designed combining rich textiles, luxurious super king sized beds, bold colours and an eclectic mix of vintage furnishings. Some of the rooms come equipped with projector screens while others have record players and a curated selection of vinyl. The en-suite bathrooms are furnished with Lefroy Brooks taps and fittings, alongside restored antique sinks and roll-top baths.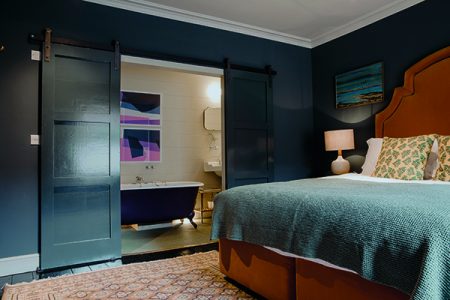 Nicola Harding of Harding and Read commented: "Each bedroom is styled individually but there are some signature elements that carry through so we have used vintage coloured sanitary ware, the same type of tiles but in different colours, panelling in the bathrooms and the same floor but in different colours. We have created a bespoke shaped headboard, which has been made specially made for The Rose, and that is in 7 out of the 8 bedrooms. There is some degree of continuity between the rooms but they have all been executed in different ways so they each have bags of personality."
Michelle Kelly, Interior Designer added: "I would say the colours are a real stand out feature – we have been very brave with the colours and have gone a little bit different to what a hotel would do. When you go to a boutique hotel, they all look the same and everybody follows a formula so we didn't really stick to any rules and just did what we felt worked in the space, trying to create something unique and a lilted bit quirky."
The restaurant features an open kitchen, original 1950s panelling, a restored banquette, brass and Marmoleum tables and mid-century lighting. The adjoining lounge is a comfortable and stylish space with a wood-burning stove, sofas, armchairs, antique rugs and walls lined with art curated by Carl Freedman Gallery's Counter Editions, Margate.
Committed to serving the best local ingredients, the Rose kitchen offers a twist on British and comfort food classics with simplicity, freshness and seasonality the key to every dish. The Rose menu is designed by executive chef Rachel O'Sullivan and with much of the menu homemade Rachel's philosophy of 'cooking from the heart' pervades.
The Rose also offers a daily breakfast, lunch and dinner menu with a traditional roast lunch served on Sunday's until 4pm. The bar menu features a small but carefully curated selection of wines, Kent ales and other local craft beers, as well as seasonal cocktails. Bar snacks include house pickles, cauliflower cheese croquettes and taramasalata radishes and toast.
Nicola added: "Each of our projects is always a real journey and learning experience where we can meet new suppliers and see the world through our client's eyes, whilst learning new things. This project has been great for letting us get to know this part of the world and its rich heritage. It has been really exciting and we are really proud of what we have created."
"It has been a pleasure to work on and I feel very proud of it," said Michelle. "It was hard work but it is really nice to see everybody's reaction and I have only heard positive things about it."