The Yorke Arms
The Yorke Arms in Ramsgill, Harrogate reopened in July 2018 after a short closure. Having undergone a significant refurbishment, the restaurant with rooms is operating under the newly formed partnership of Yorkshire businessman Jonathan Turner and Michelin starred Chef, Frances Atkins.
The property was acquired by Jonathan Turner last year after over 20 years of success under the stewardship of Atkins. During Atkins' time as chef and proprietor, The Yorke Arms grew into one of Yorkshire's hospitality gems. In 2003, she was awarded her first Michelin star and has received this prestigious accolade every year since. While no longer the owner of the venue, Atkins remains firmly in charge of the culinary side of the business.
Housed within an 18th century coaching house, The Yorke Arms boasts two fine dining options as well as 18 newly decorated bedrooms. Each of the rooms has an individual Yorkshire theme, highlighting all that makes the area so popular with proud locals as well as visitors from around the world.
Both the design of the new rooms and the dining areas has been overseen by co-owner, Karen Tuner. She spoke to Premier Hospitality about the refurbishment of the accommodation and creative choices very much rooted in the surrounding area:
"We saw so much potential in the bedrooms because they did need a refurbishment. The restaurant was lovely but we just wanted to put our stamp on it. Thankfully, Frances was very keen to work with us, take on board our ideas and stay at the helm really.
"Yorkshire was our main inspiration. With 18 bedrooms, we thought about how we could define one from the next. We chose lots of ideas that were pertinent to Yorkshire, whether it be food, drink or sporting activities to name a few.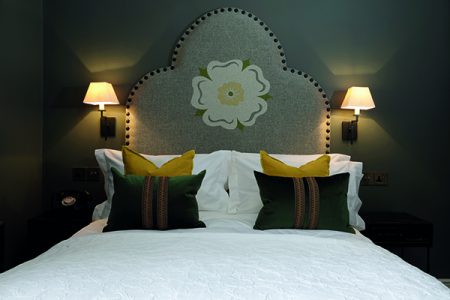 "There's one playful room called Ay-Up. We commissioned a Yorkshire rose headboard to be woven by Abraham Moon of Guiseley. We were very keen to use as many Yorkshire suppliers and crafts people as possible. Yorkshire really is the central theme to everything that we've done.
"Another bedroom is called Jowett. That's another interesting one. Jowett was a type of car made in Bradford between the 1920s and '50s. My husband Jonathan owns a Jowett car and there are not many left in the world, only a few hundred. We started to think about how we could represent Jowett in a bedroom and we went to a designer who we've used before called Sidney Paul, who makes bespoke wallpapers and fabrics. We asked him to do some sketches of the Jowett car, iconic buildings in the area such as The Yorke Arms, Ripon Cathedral and Fountains Abbey, the Ripon horn blower and some Edwardian ladies. Sidney Paul has created a beautiful piece of art with all these buildings and images in a wallpaper."
Alongside the obvious aesthetic changes, more subtle alterations have been made to make the property more suitable for 21st century living. Facilities such as internet and Wi-Fi are discreetly hidden in walls, floors and ceiling to maintain the traditional feel. The success of the project in this regard is in no small part thanks to the hard work and dedication of main contractor Rock and Bone and foreman Graham Bassitt.
On the food side, guests have a choice between The Yorke Arms Restaurant by Frances Atkins and The Little Dining Room. The latter is a relaxed dining experience, with The Restaurant showcasing Frances Atkins' extraordinary and delicious dishes. The menus at The Yorke Arms will continue to feature local suppliers and Frances will use the produce she harvests from her kitchen garden, as she is a passionate promoter of British food.
The original site dates back to the 11th century when it was a monastic cheesery and is found at the end of the Gouthwaite Reservoir by the river Nidd. The setting is spectacular and is a worthy destination for those seeking the outstanding natural beauty of the Nidderdale Valley. For more information, please visit www.theyorkearms.co.uk.
Rock & Bone
Based in Harrogate and operating from a 15,000 ft² workshop, Rock & Bone is an interior design practice and furniture maker, providing a range of services including CAD, cabinet making and carpentry. The practice has 35 employees, including skilled cabinet-makers, joiners, specialist finishers, CnC operatives, wood machinists, CAD and technical operatives & project managers and installs all of its own products.
Rock & Bone's workshops are fully equipped to deal with the highest standard of cabinet-making & on-site joinery and include CnC machinery, a veneer plant and 120m² triple booth specialist finishing shop, perfect for finishes such as high gloss lacquer. The practice works with its own network of like-minded artisan studios to source a wide variety of products and this ensures Rock & Bone can offer the most extensive and professional service to all clients.
Past projects have included Bowcliffe Hall, The Swinton Estate and Manor House Lindley, as well as a range of schemes in Mayfair, Fitzroy, Wentworth Estate, Eaton Square and Chelsea Waterfront for private clients. Most recently, Rock & Bone was involved with the work on The Yorke Arms, undertaking an extensive collection of works which included: interior architecture, a 3D Render service, cost & planning, sampling, joinery, stone & glass work, restoration, the supply of mechanical & electrical drawings, full project coordination and installation across a 23-week programme.
Damian Lawrance, Rock & Bone, said:
"We are pleased with our involvement with The Yorke Arms as a project like this enables us to remain at the top of the game."
Damian added:
"At Rock & Bone we pride ourselves on our ability to get the job right first time, every time!"