McDonald Design
Having worked on a number of standout projects, McDonald Design is a specialist in the Irish hospitality industry. The architectural interior design company was established in 2004 by Brian McDonald. The company has worked on high profile projects in Dublin and further afield, including Jameson's Distillery Dublin, The Button Factory Venue and The Morgan Hotel.
In 2018, McDonald Design worked on two prominent hospitality destinations – Cookes Restaurant and Druids Glen Hotel & Golf Resort. Premier Hospitality caught up with Brian to find out a little more about his company and its recent work:
How did you get involved with Cookes Restaurant?
"It was really by reputation. I hadn't worked with Johnnie Cooke previously but Dublin is a small city and everyone knows everyone really. The brief for this project was to be young, fresh, dynamic and plush – everything that it wasn't. There were a few problems with the amount of light that was coming in. We had to battle that and make the space feel warm and homely. You have to do this through partitions, bring the floor all the way through and try to unite it with colours and furniture.
"Then there was functionality – how do they get the food out of the kitchen quickly? The bar was also previously too high so I had to make it approachable."
How long were you working on this project for?
"We were working on it for about two months."
Guide us around the space. What are some of the design highlights?
"We used a good bit of brass that was from Dean Unique Fit Out. The tiles on the front of the bar were supplied by Halo Tiles. They are people I have worked with before, they are very good and they understand what I am looking for. The whole bar glows like amber to create a warm feeling as you walk in. The paint colours and furniture are a contrast. I wanted the whole thing to feel like it was gold and it's kind of a bit of a throwback to the 1970s."
And what has the feedback on the space been like?
"The feedback has been great. I think a lot of people have been taken aback by the turnaround and change in the atmosphere. Harvey Nichols was delighted with it and Cookes are very happy. People want to rent it out for parties and doo all sorts of stuff now because it had been vacnt for two and a half years."
Tell us a bit about your work at Druids Glen.
"This is a massive project and we've been involved as a consultant, working away. They asked me to come up with a concept and a design, which spread throughout the whole of the hotel organically."
Did they give you a brief at the start or leave you to your own devices?
"It's a five star hotel but it looked like a three star so it had to be brought back to looking like a five star. Materials were very important – where people sit down, touch, feel and contemplate. The experience was lacking drastically. What I have tried to achieve is a dateless look. The furniture is exquisite by Orior. There are a lot of curtains, supplied by Conroy's Curtains. Judy Conroy did her magic and got it right.
"The colour tones, the atmosphere and the lighting are what we've played with. In the main reception area there was a need to break down spaces and make zones where people could gather as opposed to feeling like everyone is sitting on a bus.
"Edward Stephenson, the manager at the hotel, was great to work with. He comes from a five star background and expects nothing but the best."
When did you first start working at Druids Glen?
"We probably started working about a year ago. We're chipping away at it, doing a little bit at a time. It's still not complete and there's a few bits to be done yet. The feedback on what's been done so far though has been absolutely amazing. It is now a destination and people come from far and wide to stay there."
And finally, what do you take pride in as a company?
"We take pride in the finish and the longevity of our work stands for itself."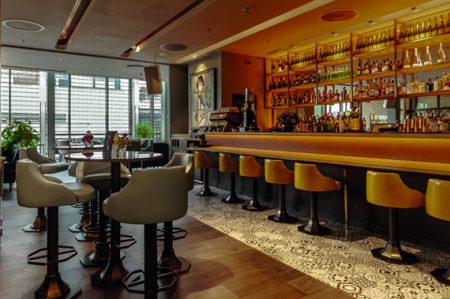 Cookes Restaurant
The latest offering from renowned Irish chef Johnnie Cooke, Cookes Restaurant opened in the Pembroke District of Dundrum Town Centre, Dublin, in July earlier this year.
Cookes Restaurant is a 125-cover restaurant and bar, offering contemporary and refined Mediterranean dining in an exceptionally designed space. Take a lead from the success of his other ventures, the venue showcases the best the Johnnie Cooke team has to offer, with a familiar focus on fresh ingredients, 5-star service, mouth-watering dishes and classic cocktails.
The kitchen at Cookes Restaurant is being led by Johnnie himself, ably assisted by an experienced team including Lee Doyle, formerly of The Exchequer and Ros Morgan, formerly with The Legal Eagle. Drawing on Johnnie's signature style, Cookes has a strong Mediterranean influence and since opening guests have been able to sample some of Johnnie's classic dishes.
From breakfast through till dinner, the Cookes Restaurant menu is an eclectic mix of flavours and tastes. The dinner menu includes starters including Grilled Gulf Shrimp Cocktail; Irish Diver Scallops; Lambay Island Dressed Crab Salad; and Fried Calamari. Standout meals such as Black Icelandic Fish and Chips; Pan Fried Dover Sole Grenoble Style; Roast Magret Duck Breast; and Red Wine Braised Beef Short Rib are just some of the highlights on the main dinner menu. Cookes Restaurant is also home to extensive list of drinks, from red and white wine through to cocktails and Irish whiskey.
Johnnie's impressive culinary career spans more than 30 years and reaches across the globe. In Dublin, his name is synonymous with good food and this new location will be no different. Having spent time honing his culinary craft in the likes of New York & California, and with a taste for all things Mediterranean, Johnnie brought a new style of cooking back to Dublin in the early 1990s.
Alongside the newly launched Cookes, Johnnie also operates The Restaurant by Johnnie Cooke and Green & Bean Café. The Restaurant by Johnnie Cooke serves a unique blend of contemporary elegance and innovative food. It is located on the third floor of Brown Thomas, Grafton Street, a hugely enviable location in Dublin. Housed on the floor below is the Green & Bean Café. The café is an enjoyable destination to unwind and relax in after a day's shopping.
Cookes Restaurant is open 7 days a week from 10am, Monday to Friday and 9am Saturday and Sunday. For more information, please visit www.cookesrestaurant.ie.
Druids Glen Hotel & Golf Resort
Situated just 30 minutes from Dublin, Druids Glen Hotel & Golf resort in Newtownmountkennedy, Co. Wicklow, is a special blend of nature and luxury. Quietly nestled within approximately 400 acres of countryside between the Wicklow Mountains and the Irish Sea, the resort is a 5 Star haven.
Druids Glen Hotel & Golf Resort features 145 spacious guestrooms and suites, eight conference and event spaces, dining options to include Hugo's Restaurant, the Garden Rooms and Bar, Sycamore Lounge along with a Spa, Health Club and two championship golf courses, Druids Glen and Druids Heath.
Accommodation at the resort is defined by comfort and understated luxury. Amenities such as individually controlled air-conditioning, flat screen TVs, complimentary mineral water, Wi-Fi, fluffy robes and slippers makes for an unforgettable stay.
On the food side, Druids is home to several dining options to suit all tastes. Hugo's Restaurant currently holds 2AA rosettes and produces an array of flavoursome dishes on a daily basis, serving the best Irish ingredients available.
Over the course of the last five years, Druids Glen Hotel & Golf Resort has been reinvesting significantly in its offering to make sure guests are provided with a fresh experience. Earlier this year the first ever alteration to the footprint of the original hotel, built in 2002, was made to reveal the new Garden Rooms and Bar. This was designed to extend the area of the existing bar and pavilion. The new area offers additional for both bar use and informal dining. The resort has also made the most of the magnificent view offered looking out onto the gardens and woodlands from the stunning outdoor terrace.
Internally, bespoke furniture has been designed and handmade by Irish craftsmen, influenced by luxurious fabrics and leather. Dark green leathers, subtle blues, London pinks, rich walnut and brass combine to compliment the surrounding beautiful landscapes.
Speaking about the new look of Druids Glen Hotel & Golf Resort, CEO Edward Stephenson said:
"We are delighted to be able to unveil the new Sycamore Lounge and Garden Rooms and Bar. It has been an exciting couple of months as we have seen the refurbishment come to life, which have been a significant investment for us this year. The Garden Rooms and Bar, along with the new outdoor terrace, give the resort a whole new dimension and a fresh offering to our guests and those in the local area. We are thrilled to have the revamp complete ahead of the summer season and we look forward to welcoming guests and visitors to see it for themselves."
To find out more, please visit www.druidsglenresort.com.
Halo Tiles
Halo Tiles & Bathrooms is part of the Rhinecourt Ltd Group, owned by father and son team, Tom and Patrick Doyle. Tom Doyle has been in the tile business for over 40 years with the company priding themselves on their ongoing relationships with customers, ensuring repeat custom, and the quality of their products.
Over the years the business has grown and in 2012 Halo Tiles & Bathrooms was established to service the Irish market through a network of 22 showrooms around the country. In addition to their showrooms, they also supply almost 50 other tile retailers throughout Ireland and Northern Ireland.
Over the years, the company has worked on numerous projects from Apple Green Service Stations to Meadows & Byrne retail projects. They have also worked on several hotel and hospitality projects including the refurbishment of the New Park Hotel in Kilkenny and the Iveagh Garden Hotel in Dublin.
The company has recently been working alongside Brian McDonald on a number of his projects including restaurants, pubs and hotels.
Halo Tiles Managing Director, Patrick Doyle said: "Brian has a huge reputation in the industry and produces great designs. He is at the forefront of design and is cutting edge so he challenges us to source new products. Every job that he does is unique and it's great to have our name alongside him and his work."
Conrad Jones Creative
Conrad Jones Creative is a graphic design firm working across all media, from websites and video to digital and press advertising, presentation materials and more. The company has been in operation since 1983 and over the past 35 years has built up a sizeable portfolio working with some of the biggest property developers in Ireland, including Collen Construction, Castlethorn Developments, Gannon Homes, and Comer Group, as well as sales agents such as Savills, Hooke & MacDonald, Colliers, and dozens more.
Other industry clients include beauty professionals Waxperts and Mazda, while a longstanding client for Conrad Jones Creative is Brian McDonald. For Brian McDonald, Conrad Jones Creative takes brands – either new or existing – and develops workable, energetic and effective presentation materials, whether signage, web work or advertising.
Brian knows exactly what he wants but is always open to suggestions and alternative solutions, giving Conrad Jones Creative the opportunity to further enhance a project. Conrad Jones commented:
"We're very proud to work with Brian; he's the best in the business and he constantly challenges us. Our association with him is very important to us."
Conrad added:
"At Conrad Jones Creative we pride ourselves on our attention to detail. We've been working in this field for a long time, and we continue to learn from each project we work on."
Michael Nolan Painting and Decorator
Painters and Decorators Michael Nolan and Neill Mccondichie have recently joined forces to work alongside Brian McDonald on his latest projects.
Michael, who has been working as a painter for 20 years and self-employed for 11 years, typically works on private residential projects and usually completes one-off high-end projects. Upon meeting Brian McDonald 18 months ago, Michael decided to move into the hospitality industry and joined forces with Neill, who has been painting for 18 years and self-employed for 11 years.
Michael said: "Essentially we are two small companies that decided to come together and complete the work at the hotel.
"We have done wallpapering, worked on the lobby and bar and still have some work on the bedrooms to complete.
"Brian has been a really good contact for us and we look forward to working with him again in the future."
Michael and Neill both pride themselves in the quality of the work they provide and the quality of the end product, as well as keeping their customers happy.
Mythen Construction Limited
Established in 1994, Mythen Construction Limited has grown to become a nationally recognised main contractor having successfully completed hundreds of projects across all ranges of the construction industry in both the public and private sector. Work ranges from €250,000.00 schemes to €30 Million projects and covers everything from residential, education and industrial to healthcare, social infrastructure and hotel & leisure schemes.
Mythen Construction Limited's history, experience and reputation ensure that every project is delivered safely, to the highest standards and in accordance with agreed programme and budgets. The company loves a challenge and this ethos allows Mythen Construction Limited to bring a unique energy and vision to every project, striving to deliver beyond customers' expectations.
Mythen Construction Limited has successfully completed several hospitality projects to include: Monart Destination Spa, Kelly's Resort Hotel in Rosslare, Stillorgan Hotel, Talbot Hotels, Druids Glen Resort and the Hotel Minella in Clonmel.
The company's recent work on the Druid's Glen Resort project allowed Mythen's management team to develop a strong working relationship with Brian McDonald. The team found Brian to be an innovative and clever designer on this challenging project.  Collaborating with Brian was easy, and Mythen Construction Limited was able to work closely on this project to deliver the highest quality.
Mythen Construction Limited Director, Leonard Daly, said:
"When I noted Brian McDonald's name on this project, I knew that we would be constructing something out of the ordinary and stunning for Druid's Glen. Brian has brilliant designs and we have an excellent working relationship with him."
Leonard added:
"It can be difficult for a hotelier to maintain their trade and revenue during an extension or renovation. At Mythen Construction Limited, it is vitally important for us to understand our role in successfully managing the project in a way that protects the hotel's income during the project while providing the best quality product. We have done this successfully on several hotel extensions and renovations, which is why we get invited back again and again for follow-up projects."
DEAN Unique Fit-Out
DEAN Unique Fit-Out is a fit-out contractor specialising in the manufacture of bespoke furniture for the leisure and hospitality industry. They offer a full turnkey service with a professional client driven dedicated team who make each project their very own.
The company's fit out division has been in operation for 15 years and the new company has evolved from their sister company, NEA Engineering Group. Director Dean Church and his key staff in DEAN Unique Fit-Out have worked in the fit out industry for over 15 years and pride themselves in their wealth of experience in bespoke, high end furniture pieces and detail driven projects in both maritime and land based hospitality projects.
The team at DEAN Unique Fit-Out have worked on numerous projects including the luxury upgrade of the Balcony Suites in the New Park Hotel, Kilkenny. DEAN Unique Fit-Out manufactured the furniture under the direction of Brian McDonald, this included a four-poster bed, sapphire blue breakfast chairs, recliner chairs and sofas, along with the bedside tables and various other tables, mirrors and units throughout the rooms and spa bathrooms. The project had a budget of €250,000 and featured specially sourced bespoke fabrics.
Commenting on working with Brian McDonald, Dean Church from DEAN Unique Fit-Out said: "We have a close relationship with Brian and we assist him at the very beginning of each project with guidance on the manufacture of the bespoke furniture pieces and also with any structural advice required."
"It is an honour to work with one of the most impressive Interior Architects in Ireland. It allows us to bring into reality Brian's elegant and timeless designs, creating outstanding spaces for each of his clients."
Ballymount Fireplaces & Marbleworks
Based in Dublin, Ballymount Fireplace & Marbleworks offers a one-to-one consultancy service on all commercial, domestic and hospitality projects. The company has the capabilities to provide a range of products, from handmade stone chimney pieces and marble & granite vanity surfaces, to stoves, bio ethanol fires and more.
Some of the most prestigious developments the company has had the privilege of working with include City West Group, The Merion Hotel, K Club Private Houses, Crown Hotels London, Moran Hotel, Merrion Hotels private Residence and Leixlip House Hotel, amongst others. Over the last decade, Ballymount has had the pleasure of working with Brian McDonald on many unique commercial, domestic and hospitality projects and this includes, most recently, the work on Druids Glen Resort.
Gerry Brennan, Ballymount Fireplaces & Marbleworks, said:
"At Ballymount Fireplaces & Marbleworks we pride ourselves on showcasing our 7000sq ft showrooms in Dublin with all top internationally recognised brands such as Chesney's of London, Belle Pierre, Interfocos Fires, Cocoon and Planika. Our showrooms and factory are all housed within the same location, with state-of-the-art manufacturing, machinery and stone masons to achieve the finest works on projects."
Gerry added:
"We take pride in our workmanship and boast the experience of over two generations of stone masons. Our in-house design team can take a project from conception to reality in a fluid manner, sourcing the best materials and product from all over the world."