Radisson Blu Stansted
The final phase of a major £6m refurbishment project at the Radisson Blu Hotel London Stansted has been completed. The most recent aspect of the work involved the refurbishment of all of the hotel's public space.
Over the last 18 months the hotel's bedrooms, meeting and events spaces and restaurants have all been upgraded.
Radisson Blu Hotel London Stansted is currently home to over 500 rooms and suites, two stylish restaurants, a standout bar, meeting and events space for up to 600 guests at a time and a fully equipped gym. After a long days travel, the hotel is a relaxation haven to unwind rest up.
To carry off the redesign of the public spaces, including the hotel's iconic wine tower, Radisson Blu continued its relationship with Trevillion Interiors. Design Director Frances Blackham spoke to Premier Hospitality about the work:
"We've completed the refurbishment of bedrooms, meeting and events areas and now the main public areas. Prior to that, we have enjoyed working with Radisson in several locations for quite a few years now.
"The new public spaces needed to meet today's demand of lifestyle, delivering an opportunity to do what you want, where you want, when you want. We had to make sure it had an international appeal in terms of the styling because of the hotel's proximity to the airport. The client also wanted to emphasise the connection to central London so this is featured in the artwork.
"There's a collection of Moooi lights visible as you approach the hotel. You can see them from the outside and they deliver great sparkle and set the scene within. There's also a series of individual, marble clad reception pods, greeting guests on a one to one basis, an existing arrangement but these totally transformed by the marble providing lovely contemporary pods. The iconic wine tower has been retained and reinvented."
One of the project's most unique elements was the use of abseil equipment to carry out some of the painting and installation of artwork. Frances added:
"It's extremely important to be involved with a project like this. Since much of our work comes on recommendation it's important to us that we were invited once again to work with the Radission Group on another prestigious project."
Earlier this year the hotel invested approximately £660,000 in its Meetings & Events spaces. Given its proximity to a major transport hub, the hotel has long been a popular spot for business meetings and conferences. The refurbished conference centre includes 19 meeting rooms. At the other end of the spectrum the hotel's Essex Suite can accommodate up to 600 delegates.
The hotel also unveiled two new restaurants in 2018 – Station 169 and Collage. The two destinations are run by Executive Head Chef Ben Nottage, who has previously worked at a number of exceptional restaurants.
The name Station 169 is inspired by Stansted Airport's history as the site of a United States Army Air Force Base during WWII. The restaurant serves traditional and sophisticated Anglo-American cuisine. Conversely, Collage is described as a quintessentially British brasserie. Offering a more casual dining experience, Collage has a dedicated buffet station that is open from 4am for breakfast while the main menu includes dishes bursting with rich flavours and sumptuous textures.
The hotel is also home to a number of amenities including a 10-metre heated swimming pool, sauna, steam room and a fully equipped gym including free weights and resistance and cardiovascular machines. To find out more, please visit www.radissonblu.com/en/hotel-stanstedairport.
Established in 1972, Trevillion Interiors is a leading, international design practice. Alongside working extensively at the Radisson Blu Hotel London Stansted, Trevillion has worked on projects at The Strand Palace Hotel, Dormy House Hotel and Goodwood Hotel. For more information, please visit www.trevillion.co.uk.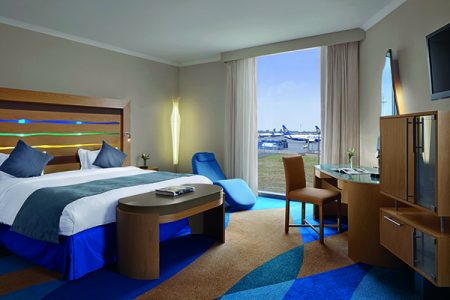 Hoist Group
Established in 1994 and with more than 24 years of proven hospitality experience, Hoist Group is the market leader in providing innovative high speed internet access, conference services, TV & content solutions, PMS & back-office software and guest-facing amenities. Many hotel chains, including flagship independent hoteliers, entrust their IT to Hoist Group, and as such, the company has become the biggest hospitality tech provider in Sweden.
Since its inception, Hoist Group has grown considerably, increasing its sales, its scope and its portfolio. In the first half of 2018 alone, Hoist Group signed seven Hilton properties in UK & BNX; has started implementing its TV solutions to the Moxy brand; and has provided Radisson RED Brussels and Glasgow with the Fusion Platform, which includes HSIA and TV services, including Cast to TV.
In addition to the aforementioned names, Hoist Group has become the preferred supplier for both HSIA & TV services within the Radisson Hotel Group, Europe. This association has led to Hoist Group supplying Radisson Blu Stansted with HSIA, TV & Movie services and conference & events support for the last six years.
More recently, as part of this association, Hoist Group was approached to upgrade the hotel's TV system, to bring it in-line with the group brand standards and to improve the guest experience. This has been achieved through a new, feature-rich TV system including the Hoist Group Cast to TV service, which enables guests to stream their own content to the TV in their room.
Commenting about their involvement with the Radisson Hotel Group, Mark Teixeira of Hoist Group, said:
"It is a great privilege to be chosen as the preferred supplier for this exciting TV upgrade project at Radisson Blu Stansted. Not only does it strengthen our partnership with the hotel it also enables Hoist Group to showcase our great product within this fantastic hotel."
Mark added:
"At Hoist Group we offer full portfolio of products tailored for every hotelier – from small, independent properties to big hotel chains. At Hoist Group it's not just about promoting technology it's also about education, giving our clients guidance and consultancy at every step.
"We genuinely want to help hotels prepare for all upcoming technology changes. As such, we offer a dashboard system, which summarises hotel operations and gives the hotel the ability to take a deeper look into new opportunities they've yet to experience."