The Swan at Tarporley
The Swan at Tarporley has begun renovations ahead of its upcoming relaunch, which will see the coaching-inn offer an exciting new menu based around high quality Josper fire cooking.
Owner 16Hospitality has made a significant investment to fund the refurbishment, with the new interior set to utilise the building's original features whilst also incorporating modern touches. Rooms will be individual, creating areas to accommodate different customers; from an atmospheric bar, to an over ground wine cellar and slightly more formal dining area.
The Swan's general manager, Neal Thacker, described his excitement about the new development and he said: "The Swan has always been the heartbeat of Tarporley, and its presence in the area has always been reflected throughout its history. I think this restoration will not only benefit The Swan but also Tarporley."
The menu will receive a radical overhaul with grills from the new Josper indoor barbeque, and hearty hotpots packed full of flavour and taste, returning to its coaching-inn roots.
Proudly going back to basics, the new menu celebrates the essential requirement any diner needs for an enjoyable meal; taste. Alongside the selection of delicious new grills, a range of vegetarian and vegan options will also be available, and the menu will be updated regularly with seasonal local produce.
As well as the revolutionary menu at The Swan, guests will also have the opportunity to drink from a new ground-breaking wine menu. The wines have each been hand-picked by established wine expert Jon Campbell, who sources exemplary wines from quality-driven corners of the wine world. All wines have been chosen based on their quality and to complement The Swan's menu.
Open since the 16th century, The Swan has been welcoming guests through its doors for over 400 years, and was once a convenient resting place for people travelling the 200 miles from London to Chester. Today, comfortable rooms and a welcoming bar and dining areas mean that The Swan continues to be a haven for visitors from far and wide.
A regular winner of the Best Kept Village award, Tarporley appears in the Domesday Book of 1086.Then, Tarporley was home to just eight households, but today is one of the largest villages in the heart of the Cheshire countryside, with antique, curio, craft and fashion shops lining its streets.
Some of The Swan's most historic features are located in its Hunt Room, home to the Tarporley Hunt Club. Founded in 1762, it is the oldest in England.
The club historically met twice annually at The Swan, with each meeting lasting seven days and the hunting taking place largely within the nearby Delamere Forest. In the founding set of rules, members were required to drink "three collar bumpers" after both dinner and supper, and, in the event of marriage, to present each club member with a pair of buckskin breeches.
The Tarporley Hunt Club still meet once a year today, a quarter of a millennium after it began.
Edward Barlow, founder of 16hospitality, explained: "The Swan is a place where every corner of the community can gather to eat, drink and be merry; those in need of a hearty meal, guests who meet up for a coffee, business professionals gathering for a meeting, local tradespeople in need of a pint after work, or mum and dad enjoying a date night over a bottle of wine and three-course meal.
"The renovation gives us the opportunity to better service our wide range of guests, and the new food options offer something completely fresh. Alongside the menu relaunch, we will continue to offer visitors a wide selection of drinks, from refreshing thirst-quenchers to cask ales and international wines any connoisseur would be proud to peruse."
About 16hospitality
16 Hospitality Ltd owns and operates a variety of pub, bar, hotel and restaurant businesses. Owned predominantly by Edward Barlow and the Timpson family, the company's aim is to become one of the leading independent hospitality operations in North Wales and the North West of England, with a range of characterful hospitality venues in its portfolio.
The vision that underpins all of 16 Hospitality's individual venues is that each customer is delighted by every aspect of their visit. The highest quality service and food are equally as important as is a great pint and a perfect log fire. Guest experience at each of 16 Hospitality's sites is key – whether it's a premium community pub, a gourmet restaurant or a family hotel. 16 Hospitality is run by a collection of brilliant people that aspire to do what they do better every day.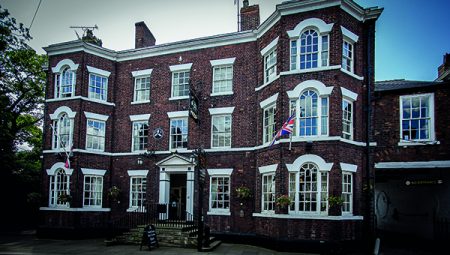 Silverglide Limited
Established in 2008, Silverglide Limited is Bolton's leading commercial builder, specialising in projects within the hospitality, leisure, residential and commercial sectors. Overseen by directors, Rick Cleworth and Tony Judge, the company has built up an excellent reputation for quality, value and reliability to become the go-to contractor in the North West.
The company provides an extensive range of construction, building and maintenance services, including refurbishment and fit out works. Silverglide Limited is backed by a dedicated team of site managers and tradesmen, all boasting years of experience in the industry, while the company portfolio includes schemes for the likes of Thwaites, JW Lees, Hydes Brewery, and Amber Taverns, amongst others.
Richard Cleworth, Owner Director, said:
"At Silverglide Limited, we are large enough to cope and yet small enough to care. We are located in Bolton, Greater Manchester but offer our construction services on a national basis.
"We hold health and safety and environmental responsibilities as core values of the company and this is a key aspect of all the work we do."
One of Silverglide's most recent projects was the refurbishment works at The Swan Hotel, set in the historical village of Tarporley.  Upon completion it can be seen that this beautiful 16th century coaching inn and guest house has been finished to a very high standard. Working alongside the owners, Silverglide Limited was the principal contractor, co-ordinating the job from start to finish.
Tony Judge, Owner Director, said:
"We valued our involvement with The Swan, working on yet another fantastic project in the hospitality sector. We are proud to be reviatlising a histroical building that has been a key part of the community for over 400 years"
For further information about Silverglide Limited, please visit: www.silverglide.co.uk.