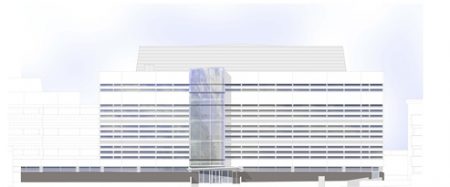 An extensive refurbishment scheme is currently underway to transform Glasgow Royal Infirmary University Tower.
The £12.5 million project is being completed for NHS Greater Glasgow and Clyde and comprises the refurbishment of the existing University Tower Block, along with the complete overhaul of existing services.
The work is being undertaken to improve efficiency within the building and once work is complete on the project, University Tower will include state-of-the-art laboratory analysing equipment. A plant room will also be installed on the roof of the five-storey building.
To complete the transformation of University Tower, a new glazed vertical 'eyebrow' will be installed on the north elevation. From this point of the building staff will be able to enjoy views of the city at dedicated break-out zones.
Work began on the project in January 2012. Balfour Beatty Scottish and Southern Ltd is the main contractor and Armitage Associates is the architect. Gerry Groome of NHS greater Glasgow and Clyde is the project manager, whilst Steve Russell is the senior project manager on the site.
Davie & McCulloch is the mechanical and electrical consultant and WSP is the structural consultant.
To date the project is the largest scheme that Armitage Associates has been involved with.
A spokesperson for Armitage Associates said:
"Working within a fully operational hospital environment is always a challenge. On this occasion these major refurbishment works are being undertaken with some occupants still on level one. The site's main outpatient clinics and x-ray facilities directly below that have to remain fully functional throughout the project.
"In today's environment finances are particularly tight, necessitating exceptional project and budget control. This, along with the need to maintain a fully operational clinic environment which meets infection control and health and safety standards, requires substantial services co-ordination and communication between the contractor, client and general site occupants.
"This project is the first time that University Tower has benefited from significant investment. The external fabric and structural frame is in good condition and this refurbishment will bring the building up to current standards, giving it a new lease of life."
Glasgow Royal Infirmary University Tower is due to reach completion in August 2013.