Established in 1967, the McAleer & Rushe Group is a leading Irish property development and investment company with expertise in the construction of design and build projects.  
Based in Cookstown, Northern Ireland, the company is a specialist in high density mixed-use schemes with projects located across the UK, including: London, Newcastle-upon-Tyne, Sheffield, Nottingham, Derby, Belfast and Dublin.
Over the past 10 years, McAleer & Rushe has completed over 40 hotel projects and has provided approximately 10,000 bedrooms for the UK and Irish leisure sectors. During this time, the company has built an enviable reputation for delivering high quality projects both on time and within budget. In addition, McAleer & Rushe also undertakes work for housing schemes and office developments.
Projects within the McAleer & Rushe portfolio include Aloft London Excel, Premier Inn Stanstead Airport and W London Leicester Square, whilst recently completed projects include a twin hotel development for Accor Hotel Group and a Premier Inn at London Gatwick Airport.
Completed in October 2012, the £30 million twin hotel development for the Accor Hotel Group, comprises one structure housing two hotels – a 4* Novotel and a 2* Ibis.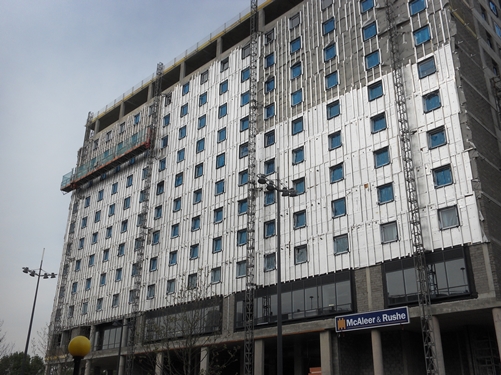 Novotel London Blackfriars comprises 182 guest bedrooms, 12 business suites, 6 meeting rooms and a bar and restaurant. The hotel also includes a full range of leisure facilities, including a swimming pool. Meanwhile, Ibis London Blackfriars comprises 297 guest bedrooms and a bar and restaurant with a 24-hour snack service.
Commenting on the project, McAleer & Rushe Contracts Manager, Peter Devlin, said:
"Accor Hotel Group is a very high profile hotel chain and it was great for McAleer & Rushe to be involved with this unique project."
Following the completion of the twin hotel development, McAleer & Rushe completed the UK's largest Premier Inn at London Gatwick Airport.
The £30 million project comprised the construction of a 250,000 ft² hotel, approximately 20,000ft² of private office space and a 400 space multi-storey car park (MSCP). The 13-storey Premier Inn was built for Arora Hotels and was constructed at the North Terminal of London's busy Gatwick Airport.
Work began on the prestigious project in March 2011, with McAleer & Rushe Ltd as the main contractor and Urban Innovations as the architect. Once work on the site was complete, leading hotel operator Whitbread took over the operation of Premier Inn London Gatwick Airport.
McAleer & Rushe Contracts Manager, Mark Elliott, said:
"The site is right beside the drop-off zone for the North Terminal so it is located within a very busy section of airport and is extremely convenient for people with early flights.
"Guests are able to stay overnight just a couple of minutes from the North Terminal, which will make their departure a lot easier. The hotel also offers panoramic views which allow guests to look out over the airport as well as the surrounding countryside.
Premier Inn London Gatwick Airport was not the first Premier Inn site that McAleer & Rushe has been involved with during 2012, as earlier in the year the group successfully delivered a hotel at Stanstead Airport.
Premier Inn Stansted Airport was completed in April 2012 and was hailed as a "fantastic success" after construction reached completion 14 weeks ahead of schedule. The 303-bed hotel took advantage of an early trading period ahead of the London 2012 Olympic Games and was another great development for McAleer & Rushe.
Discussing the early completion of the project, McAleer & Rushe Construction Director, Martin Magee, said:
"To deliver such a high quality finish that incorporated the latest Premier Inn brand standards 14 weeks early was no mean achievement.
"This was a particularly demanding site so close to Stansted Aiport and I would like to pay tribute to our construction team for delivering the site so early and also thank Whitbread and Grove Developments for their clear brief and straight forward, collaborative approach on the scheme."
Martin added:
"Completing the work ahead of schedule with no compromise on quality or health and safety was brilliant for McAleer & Rushe and demonstrated how much of a fantastic success this project was.
"Both Grove Developments and Whitbread were extremely delighted with our work and being open in advance of the London 2012 Olympic Games was a huge boost to the opening of the new site."
For more information about McAleer & Rushe please visit: www.mcaleer-rushe.co.uk.