Many restaurateurs throughout the UK have had the luxury of chic and ambient surroundings whilst dining, thanks to JDMA design practice.
JDMA have now completed works on three Chaophraya restaurants in Glasgow, Edinburgh and Leeds and Reds True Barbeque, also based in Leeds.
Formed in 2009 by Jonathon Morgan the practice has established itself as a leading source of innovation and design, specialising in hospitality, leisure, education, commercial and domestic design.
JMDA prides itself on listening to clients in order to reach successful individual solutions – an approach which can plainly be seen in some of the latest projects.
Chaophraya Leeds
 Chaophraya Leeds was the first restaurant in the chain and is the local site to Chaophraya owners Martin Stead and Kim Kaewkraikhot. When JDMA were commissioned with the contract to expand the restaurant therefore, they were intensely aware of the need to produce something special.
The original Leeds restaurant was housed within the first floor of the mixed use development at Blayds Court and when the ground floor – which was a former furniture store – became available the owners jumped at the opportunity to expand.
The gauntlet was truly laid down when the expansion began; the owners stipulated the first floor should only be closed for one week – as not to alienate a loyal customer base. JDMA and two contractors took up the challenge and managed to create some astonishing results.
The end product was a Thai inspired, two floor 300 cover restaurant with a VIP section called the Palm Sugar Lounge and a private dining facility. Visitors are greeted by a chic bar which is flanked by a glass lobby, clad in white Buddha ornaments.
'Dark and moody' was the brief that JDMA received and the use of hand carved timber, tub chairs, large picture windows, backlights and dark painted, slightly dropped ceilings certainly achieves that feel. The Thai furniture and artefacts also provide a consistent narrative throughout the whole venue.
A key aim of the expansion was to have continuity with the first floor restaurant – to achieve this, a bold illuminated glass and timber staircase was constructed. Ultimately the rich bespoke burgundy and gold carpets, the timber and the Thai decoration all work together to achieve an opulent, sophisticated and relaxed setting.
Chaophraya Edinburgh
 Hot on the heels of the Leeds and Glasgow developments, JDMA were again commissioned by Chaophraya to create another link in the chain in Edinburgh. This time, the practice was tasked to refurbish an existing 4th floor 3520sq ft restaurant formerly occupied by the successful Oloroso operation.
The restaurant's layout and appearance have been completely transformed and extended by 330sq ft by the formation of a 'glass box' to the existing terrace – giving the diner a year-round uninterrupted view across the city's historic skyline.
A claustrophobic entrance lobby on the 3rd floor has now been given the wow factor with illuminated feature walls and mirrors. In addition, a glass and chrome balustrade now serves to open up the space to enable the guests to be immersed in a sophisticated ambience upon entering.
Chaophraya regulars will understand that an exhibition kitchen is a must have and the Edinburgh restaurant has been given the 'Roll Royce' version in which Thai chefs can be seen preparing mouth watering dishes.
Despite the site being quite compact, JMDA still managed to incorporate an intimate and glitzy pre-food bar area featuring black illuminated Onyx, chrome and glass black fitting – which showcases a wide range of drinks.
JDMA have evolved designs with each Chaophraya project and Edinburgh is no different. A spokesperson for JDMA said:
"At Chaophraya Edinburgh we are doubly proud of achieving a stunningly contemporary yet relaxed, intimate and moody interior which is set to change both the landscape and peoples pre-conceptions of fine dining in the city."
Reds True Barbeque Leeds
Following on from the Chaophraya successes, JDMA continued to inspire with their design of Reds True Barbeque. After travelling around the US extensively, James and Scott were inspired to create a bbq style restaurant – bringing the flavours of the Deep South to Leeds.
The dream was realised with the pair got in touch with JDMA, who worked with them to create an authentic taste of America. That meant no union flags, no Uncle Sam and no Gibson Guitars hung on the walls. Instead a much more subtle approach was taken and together with religious iconography, reclaimed/rough sawn timbers, distressed floors and exposed brickwork the restaurateur is lulled into thinking they are actually dining in the Bible belt.
The exhibition kitchen is a hive of activity producing huge racks of ribs, towering burgers and succulent steaks. All these tasty classics are prepared using specially imported smoking ovens, again giving that mouth watering authentic bbq flavour.
In addition to the dining area the restaurant also has a bohemian bar area were customers are treated to anything from banana flavoured shots to locally brewed ales. It is the plan of Reds to roll out the concept and plans are already afoot to open another venue outside the city centre.
Dawnvale Ltd
Dawnvale are a specialist bar, kitchen and interior fit out company, which have been in operation for more than 15 years.
From their manufacturing base in Manchester, they have worked on a range of high profile sites including the Chaophraya Group, Hawksmoor Restaurants, Angus Steak House, Radisson Hotels, plus many more. They have also completed the restaurant and kitchen refurbishment for innovative celebrity chef Andrew Nutter at Nutters Restaurant.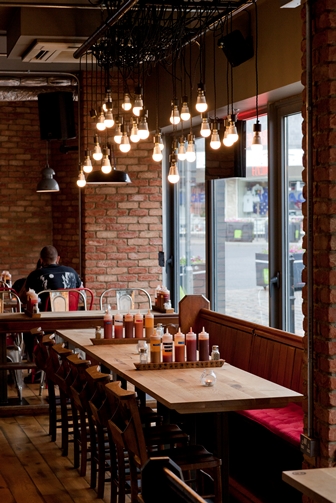 Dawnvale are currently completing the final 3 of 18 sites for TGI Fridays.
Dawnvale designed and manufactured the specialist bar and kitchens for both Reds True Barbecue and Chaophraya. The Chaophraya sites include Edinburgh, Leeds, Manchester and Liverpool, amongst others.
Dawnvale Ltd Managing Director, Neil Guest, said:
"Working on Reds True Barbecue and the Chaophraya sites is very important to us. It is great getting involved so early on in a project where we can influence some of the concept design.
"At Dawnvale Ltd we can provide the complete package. We have specialist in house divisions, from stainless steel manufacture to furniture, to kitchen installation through to total fit out and project management.
"We have a broad spectrum of work and create good, long lasting working relationships with all of our clients."
Neil added:
"Dawnvale Ltd started life as commercial kitchen contractor but we have steadily progressed to the point where we can now offer the complete fit-out solution for our clients. And more importantly with our back of house experience we do that from the operator's point of view."