Located at 27a Foley Street, London, Attendant is a brand new coffee shop serving up a fantastic selection of snacks, light dishes and drinks.
Installed within a former Victorian toilet – which was built in 1890 – the site has been carefully transformed and now boasts a kitchen, seating area, storage facilities and free Wi-Fi throughout the site.
Attendant opened in February 2013, following a £100,000 restoration and refurbishment scheme which began in August 2012. The site has already received high profile coverage from the likes of Elle, Vanity Fair and BBC News and is becoming quite the talk of the town on Foley Street.
Fine Balance Carpentry was the main contractor on Attendant, whilst Northern Lights was the electrician on the transformation project.
Commenting on the new coffee shop, Attendant Owner, Pete Tomlinson, said:
"What intrigued us about Attendant was the great location and of course the condition of the existing site prior to the conversion. Attendant covers an area of approximately 390 sq ft and includes banquette seating, a wireless music system and a fantastic lighting scheme, whilst eight original Victorian urinals have been converted into bar seating."
Pete added:
"My wife and I took a trip to California last year and during this time we took a lot of inspiration from a number of bars and retailers and identified key elements which we wanted to incorporate into our shop. We have made the best use of the space we had, whilst at the same time made the site as bright and inviting as possible.
"It has been amazing to see this site transformed and given a new purpose. When you first begin on a project like this there is always the worry that it won't quite work, but we are very proud of what we have achieved. We have breathed new life into a piece of London's history and have made this site a place that people want to go to."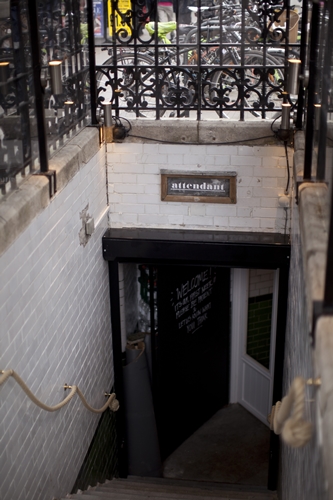 The menu at Attendant includes a daily selection of treats, from fresh loaf cakes, cookies and biscuits, to soups, breads and toasted bagels. Every week day the Attendant serves up a limited number of hot special sandwiches, with such imaginative names as Piggy in the Middle, Fire in the Hole and Back to the Grind.
Pete said:
"We work with independent suppliers where possible, so our coffee comes from Caravan Roasters in Kings Cross, our milk comes from Ivy House Farm in Somerset and cakes from Bittersweet Bakers. We are always looking at the best way to develop our menu, so that when customers come to see us there is always something different on offer. There's a lot of choice when it comes to eating out within the local area, so we are working hard to develop our brand in order to build up our regular customer base."
In addition to a varied selection of food and beverages on offer at Attendant, customers can even reserve the site's banquette seating area for meetings of up to eight people from 8am Monday to Friday.
For more information about Attendant, please visit: www.the-attendant.com.
Fine Balance Carpentry 
For more than three years, Fine Balance Carpentry has specialised in the provision of storage solutions for the construction industry. Fine Balance Carpentry provides a bespoke service – including fixtures and fittings – from wardrobes and cupboards, through to bookcases and can tackle and area which presents a storage problem.
Most of Fine Balance Carpentry's projects are domestic works, but twice a year the company builds Boden's press event. Fine Balance Carpentry's role is to build the set and customise furniture, build new furniture and work with the stylists to create the look that Boden wants to achieve.
Robin Walker of Fine Balance Carpentry, said:
"I love the challenge of space and how to maximise its potential. I am very proud of my ability to interpret a brief in a way that allows me to turn what a client desires into a reality. In fact, problem solving has always been a strength of mine and rarely am I left scratching my head over a solution.
"Relieving the stigma attached to trades people is important to me, so being on time and on schedule is a must. This then allows the quality of our work to speak for its self.
Fine Balance Carpentry has recently provided expert services on Attendant. In discussing his involvement on the project, Robin said:
"Attendant was great as it was so different and the owner was very passionate about it. He valued my opinion and trusted me to produce what he desired."
Robin joked:
"Attendant has had a lot of media coverage but I have not yet capitalised on that unfortunately."
Northern Lights Electrica
Northern Lights Electrical is an electrical contractor working in the domestic and commercial sectors. The company has been in operation for more than ten years and within this time has provided services to many leading names, including Young's Brewery and Convivial London Pubs, as well as various London restaurants.
Working on Attendant, Northern Lights Electrical installed lighting, power and fire alarm systems.
Northern Lights Electrical Director, Ross Williams, said:
"Working on projects such as Attendant is great. We always enjoy working on restaurants and establishments like Attendant as they require efficiency in order to meet project time frames."
Ross added:
"At Northern Lights Electrical we are most proud of the quality of our work and the service that we provide."