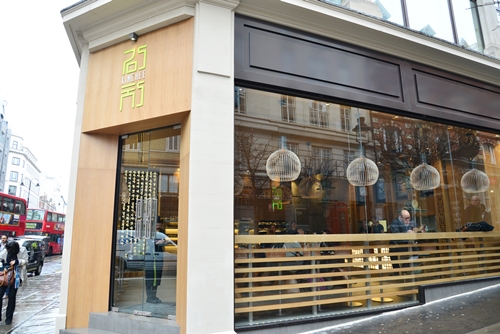 Kimchee is a new concept in Korean dining from Wasabi founder Dong Hyun Kim.
The London-based takeaway – which takes its name from a signature pickled cabbage dish – has launched two 'Kimchee to go' sites on the Strand and New Oxford Street, expanding the brand's already successful name.
Kimchee on the Strand is a 1,951 sq ft site which opened on the 8th April, whilst Kimchee New Oxford Street is a slightly larger site at 2,235 sq ft and opened on 29th April. Both sites follow on from the success of the brand's flagship restaurant on High Holborn, which was awarded the Best New Scalable Concept in Restaurant Magazine's R200 Awards 2011.
Interior design elements of the new sites in the Kimchee portfolio include light wood panelled walls and a tranquil indoor garden area, which comes complete with a water fountain that is reminiscent of a traditional Korean home. Kiln-shaped lamps hang over wooden benches, whilst ancient replica pots from the Joseon dynasty (1392 – 1910) are presented in glass cabinets, typical of the decorative objects found in today's Korean households.
Kimchee concept founder Dong Hyun Kim's vision to bring quality, authentic Korean food to London was realised when he launched Kimchee restaurant in 2011 on High Holborn. The 200-cover restaurant has since developed into a huge success and has helped to educate diners in a relatively unknown cuisine.
Commenting on the continued development of Kimchee, Dong Hyun Kim, said:
"The opening of Kimchee restaurant and winning the award for best new scalable concept in 2011 has shown there's a strong appetite for healthy Korean cuisine. Our aim, with the development of Kimchee to go, is to promote Korean Culture and authenticity, putting Korean food firmly on the culinary map, making it affordable and accessible to all."
Open all day, seven days a week, Kimchee to go presents an affordable menu which offers a range of innovative, yet healthy Korean dishes to either eat in or take away. The Kimchee brand ethos of well-balanced and nutritional meals originates from the very heart of Korean cuisine (Hansik) and includes Korean 'sushi' kimbap rolls with spicy chicken, beef or sweet tofu fillings; and bento-style Dosirak boxes filled with a fantastic selection of salads, noodles and delicious dishes.
Breakfast dishes are served at both Kimchee to go sites between 7.30 am and 10.30 am and include one of Korea's oldest dishes; Misugaru, a smooth porridge made from roasted beans, rice, barley and topped with fruit as well as Korean Toast. Meanwhile, the sites offer a range of teas, coffees and chilled beverages, including Plum Tea served either hot or cold.
The creative approach to Kimchee's menu is reflected in the brand's packaging, which comprises a two layer Bibimbap box that allows cold ingredients to be separated from the hot rice, leaving customers to mix the meal elements together should they wish. All packaging is eco-friendly and recyclable and in keeping with Kimchee's ethos.
The launch of the two new Kimchee sites is not the end of the Kimchee story; in fact it is the beginning of a planned expansion which is currently in the pipeline. In total an additional 12 sites under the Kimchee brand will open by the end of 2015, bringing Korean cuisine to even more customers in the UK.
For more information about Kimchee please visit: www.kimchee.uk.com.