Over a decade since dtwo design was first established by Dave Knight and Dominic Taylor the pair still radiate enthusiasm for the company and each project they undertake whether it be a bar, restaurant or retail development.
Readers may be familiar with dtwo as Premier Hospitality has featured several venues they have worked on in the past. Dave Knight gives us an exclusive insight into the story behind the design, he said:
"I met Dominic at Central Saint Martins College of Art and Design where we were both studying over ten years ago now. We got on really well and we were into the same kind of things and we went on to form dtwo design in the second year of university and we haven't looked back since.
"The interesting thing about St Martin's is that it doesn't really have a campus, the campus is London. So that's your playground really, it led us to go to all these flash bars and clubs and we became immersed in probably the best bar scene in the world- or certainly up there with America.
"I remember being a little bit too young and not having as much money as some of the other people in these exclusive bars, but me and Dom managed to blag our way in and really enjoyed ourselves."
Speaking about their first outing as designers, Dave said:
"Our first work was a DJ bar in Kings Cross called Ruby Lounge, at the time the area was seen in less than glowing terms but I remember Vogue Magazine voting the area one of the trendiest areas in the world to be. That really helped and Ruby Lounge enjoyed massive success, not long after opening that first venue did they open a couple of other sites.
"From there we were approached by a friend and given the opportunity to design a late night bar in South London called Loop. I was 19 at the time, Dom was 22 and we were responsible for a budget nearing one million pounds! It really was an exciting time, we relished the opportunity.
"With the large budget in mind there wasn't one element of design that we didn't scrutinise and question. We weren't 40-year-old architects that would never drink in a place like Loop, we were heavily involved in the scene and we knew what worked and what didn't. We still have that approach to this day."
What sets dtwo apart? Dave took a moment and said:
"Our attention to detail is second to none. In terms of a house style, both Dom and I have to say that we don't really have or indeed want one.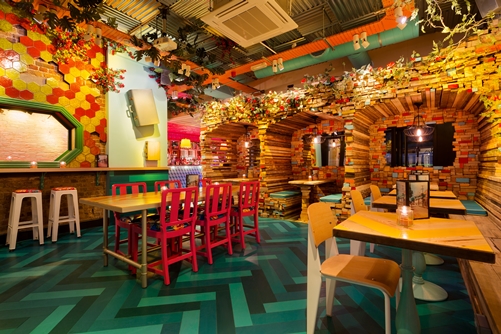 "Of course there are elements in a plethora of venues which we have worked on where you can see common denominators, likenesses and similarities in our approach to material selection and manufacturing processes. But it's important to stress that we weren't trained by anyone, aside from at St Martins, so we always come at a project fresh.
"We have got quite an intense industrial product design background so we are really keen to go and meet the people who bring our ideas to life. We have got no problem speaking to scientists or engineers, they are happy to talk to us because we can come up with technical designs which speak to them in their language- I think that is what great design is all about."
Most recently the pair have redesigned the trendy Soho bar Thirst, speaking about this Dave said:
"Thirst is an exciting place to be and again I think we have done something different. We have worked on high profile bars, pop-ups and on big chains, but this is quite special.
"It's not low budget, but it is a really small space in the middle of Soho, a place that we both love. What we have tried to do with Thirst is to help the owners adapt to the changing reality of the area, unfortunately it feels like Soho is slowly becoming more of a Mayfair establishment and people are being priced out.
"Rents are going up and it's really hard for bars and shops to remain open, if you're a bar and you open your door at 5 o'clock and you're lucky enough to have a 3am license that simply isn't enough these days. It's like a taxi, when that light goes on the meter is running and it's the same with rent.
"You need to be open as much as possible and the trick with this venue is that it is a genuine pop-up. That means that staff come in and set the venue up as a coffee shop from really early in the morning and come 3.30pm they completely change the venue around, so everything that was a coffee shop spins around and clips away and then becomes a late night bar."
Aside from bars restaurants dtwo have also undertaken work for big retailers like Harrods and Selfridges. Speaking about this Dave said:
"We love the bar industry but what we learn from one industry, we can put it into another like the retail sector- helping us spread our wings further as designers."
Going forward for 2013, dtwo are currently in talks with the owners of the world famous Ronnie Scott's Jazz Club to undertake an ambitious redesign.
For more information about the company please visit www.dtwodesign.com.
Chordal Green
Chordal Green is a design-driven company, with a reputation for making and fitting high-end, bespoke interiors for architects, interior designers and private clients.
The company has a long established relationship with dtwo design and speaking about that relationship, Mark Rutty, Co-Director of Chordal Green said: "I first met Dave Knight at university, becoming firm friends whilst racing in the Dakar Rally – driving a motley collection of vehicles including a recovery lorry, CJ 7 Jeep and Honda CR motorbike. Needless to say we did not win, but recognized we both had a strong affinity for madcap projects.
"Dave and Dom set up dtwo at about the same time that I and Vince established Chordal Green Ltd as a hard-hitting cabinet making business – initially designing, making and fitting kitchens from locally sourced materials, out of a large workshop in rural Essex. Finding solutions to weird and wonderful design ideas has led dtwo to use Chordal Green on a number of occasions."
Mark added:
"This is an exciting industry to work in and really interesting from a design point of view. dtwo's use of materials is original – for example at Thirst the latest bar we have worked in – a mechanized lift system was used to operate a rising and falling coffee shop by day, which turns into a bar seat by night – creating elaborate tricks on the eye".
Loop Bar, Thirst, Barrio East, Salvador & Amanda are just a few of the bars Chordal Green has worked on with dtwo.
When asked about dtwo, Vince Glue, Co-Director and designer at Chordal Green added:
"Chordal Green thrives on the high pressure of dtwo's one-off projects – loving the thoroughly British, subversive, gently humorous approach that Dave and Dom use when designing bars. Cutting up Rolls Royces and Minis and completely re-fitting the interior of a 1960s Sprite caravan is standard stuff.
"As an established business we enjoy the more quirky aspect of this work. Soho is a fantastic and lively place to work – these bar projects enable us to team our traditional cabinet making skills with avant-garde design."