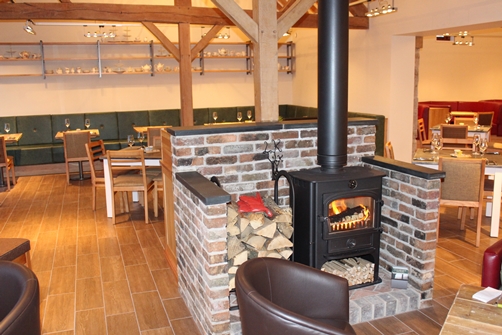 Set in the picturesque Earl of Plymouth's Oakly Park Estate in Bromfield, Shropshire Ludlow Kitchen is a brand new restaurant serving up some of the best seasonal British produce. 
The restaurant is part of the long established Ludlow Food Centre which has supplied fresh goods to locals for sixty years.
The 140 cover restaurant is based in a refurbished and extended Listed barn building which previously housed a popular café. Speaking about the development, Managing Director at Ludlow Food Centre, Edward Berry said:
"The new restaurant keeps with the spirit of previous building and has retained the look and feel of barn, having a pitched roof, beams and high ceilings. It is the sort of place that you go to and get a feeling of warmth and familiarity.
"The restaurant, like the food centre is very much true to origin of our food, we believe no one else can deliver as much home-grown produce as us."
Edward added:
"We're very rooted in the local community; Shropshire is one of the most under populated areas in the country, so we are therefore keen to support local economy, all the crockery for example has been supplied by a local potter."
Ben Crouch, Restaurant Manager at Ludlow Kitchen added:
"The new restaurant will be the place to eat in Shropshire. The new layout will include soft seating, a log burning stove, a sharing table and a garden room. We are really excited by the new offering but it is essential that we find the best local talent to help make it a success.
"The aim is to create a relaxed and diverse dining experience in an environment that is friendly and inviting. Our seating areas have been designed to give people choice and encourage both local visitors and tourists to spend time enjoying the wonderful produce this region has to offer."
Ben added:
"The Food Centre is the ultimate larder to select our produce from. The food is local or made on the premises and we can choose ingredients, cuts of meat, cheese and bread on a daily basis. I am not aware of another restaurant that can claim such provenance across their entire menu."
For more information please visit www.ludlowfoodcentre.co.uk.