For the past 25 years, Ed's Easy Diner has become synonymous with shiny chrome fittings, a red and white colour scheme and vibrant neon signs.
Over the past three years Ed's has been under new ownership, and is now rolling-out in more and more locations, from Bridgend through to Gateshead.
Leading designers, Dover Design has been working with Ed's since the creation of the brand's first new diner at Euston. Dover Design has worked on every single site to date, helping to create the strong team used to design and build each diner. The team includes NCD Shopfitters as the main contractor, Salix as the kitchen installer and Dave Tidd as the services consultant.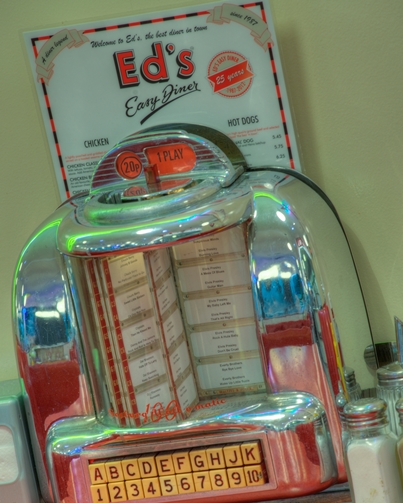 Commenting on his involvement with Ed's Easy Diner, Dover Design Managing Director, Jon Dover, said:
"Ed's Easy Diner is an American 1950s-style diner, which features retro designs reminiscent of the old diner cars. The first Ed's Easy Diner was installed in Soho and has become an icon on Old Compton Street.
"The overall design of Ed's Easy Diner remains the same across the brand, with sassy slogans on the wall, mini-jukeboxes on the counter and in the booth seats."
The most recent Ed's to open is Ed's Easy Diner Metrocentre; a 139-cover diner in Gateshead's large indoor shopping centre. Ed's Easy Diner Metrocentre is the largest Ed's to date and includes lots of neon signs, rocket trails and all the classic Ed's features.
Ed's Easy Diner Reading opened in March 2013 at The Oracle Centre. The diner is split across two levels and is ideal for customers who want to take a break from shopping.
Jon commented:
"The exterior of the diner includes a fantastic set of fins which created a huge impact within the shopping centre. The design is very prominent, and has paid off as the diner has traded very strongly since it opened."
Prior to Ed's Easy Diner Reading, Dover Design completed two Ed's Easy Diners in December 2012; at Bridgend and Southampton. The sites opened within one week of each other in The Designer Outlet Village and West Quay Shopping Centre, respectively.
Jon said:
"Ed's Easy Diner Bridgend is located on the upper floor of The Designer Outlet Village, resonating with the adjacent Odeon cinema.
"The Bridgend site is a deep unit with a wide frontage and works perfectly with the cinema. The diner includes a theatre kitchen, with a counter and stools and the iconic Seeberg dime-selectors and speakers associated with the Brand
"Meanwhile Ed's Easy Diner Southampton forms part of the food terrace at West Quay Shopping Centre which was being revamped when we began on Ed's. The site has a wide front which shows off the colourful and attractive interior."
Jon has built up a fantastic working relationship with Ed's Easy Diner and it is something which he really values.
Jon said:
"I'm thrilled to be involved with Ed's, although this is high pressure work it's very enjoyable, and the continued roll-out allows us to work fast, which for me is good. We are constantly looking at new opportunities in other locations and this is just great!"
For more information about Ed's Easy Diner, please visit: www.edseasydiner.com.