Following an extensive makeover from Shaun Clarkson ID, Harvey Nichols Fourth Floor Cafe & Bar is a brand new dining experience for guests and customers of the high-end retailer.
The new restaurant and bar – which is based in Leeds – boasts a menu from head chef Paul Cunliffe, alongside an equally impressive drinks offering from bar manager Adrian Wickham, and opened to the public in April 2013.
Design work began on Harvey Nichols fourth Floor Cafe & Bar in October 2012, with approval on the scheme given in December. The refurbishment phase got underway at the beginning of March 2013 and reached completion ahead of its opening in April.
Work ran smoothly on the refurbishment of the Fourth Floor Cafe & Bar, with the completed facility delivered on time. Whilst work took place on the project, the existing cafe and bar was closed and hidden from public view behind hoardings, and deliveries were made outside of the store's trading hours.
Shaun Clarkson ID Ltd was the interior designer on the Harvey Nichols fourth Floor Cafe & Bar project, whilst Cumberland Construction Company Ltd was the main contractor. Shaun Clarkson is a world famous designer who has previously worked on the OXO Bar and the Perrier Jouët Champagne Bar at Harvey Nichols, Knightsbridge.
Commenting on the new bar and restaurant for Harvey Nichols, Shaun Clarkson, said:
"Harvey Nichols have a bar and restaurant within all their stores, so this project comprised the refurbishment of an existing facility which had been in use for around 14 years. Although the former cafe has been well received by customers over the years, the facility was long overdue for refurbishment and this transformation has been amazing."
Shaun added:
"One of the main aims of this refurbishment was to offer a slight alteration in the site's operations, to create a distinction between bar foods on one side and a more formal restaurant on the opposite side of the facility.
"We also felt that this new cafe should be glamorous, with slight aspirations, but not in a way that makes it too intimidating for guests. We wanted the Fourth Floor Cafe & Bar to be slightly fashion orientated and this became part of the design concept."
The Fourth Floor Cafe & Bar includes a mix of brass and bronze finishes, and serves up a contemporary yet classic look. The cafe and bar overlooks the city, offering fantastic views of Leeds and presents the perfect escape for shoppers, from the hustle and bustle of daily life.
The menu at the Fourth Floor Cafe & Bar includes slow cooked fillet of Yorkshire Dales beef, seared hand dived Isle of Mull king scallop and Valrhona Pallet d'Or with blood orange sorbet, caramel popcorn and sesame brittle. Meanwhile drinks include the Pink Princess, the Minted Appleberry and the Empire. The new menu has been expertly designed to offer up a range of lighter dishes, alongside good old fashioned hearty meals.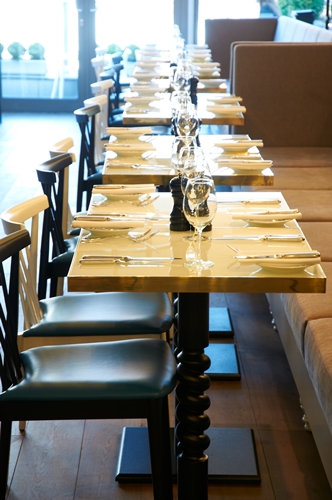 Commenting on the project, Shaun said:
"Cumberland Interior Contractors were great to work with and it was also great to work with Harvey Nichols who we have worked with on a couple of projects previously. We work well with Harvey Nichols; we understand their brand, they like what we do, so we have established a good working history with them."
Although work is complete on the Fourth Floor Cafe & Bar, a further phase to extend facilities onto the balcony is in the pipeline and should take place next year.
For more information on Harvey Nichols, or the Fourth Floor Cafe & Bar in Leeds, please visit: www.harveynichols.com.
Cumberland Construction Company Ltd
Cumberland Construction Company Ltd specialise in fit-out works across a range of sectors, from retail, restaurants, commercial, leisure and high specification residential property projects. Founded in 1977, Cumberland's highly regarded name has become synonymous with exceptional production standards and impeccable service levels across a prestigious client base namely Chelsea's Marco Pierre White's restaurant, The Chelsea spa, Chelsea football clubs Executive lounges, Estee Lauder, and Harrods.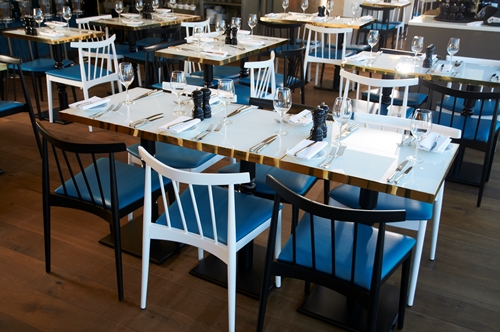 Cumberland Construction Company Ltd was the appointed main contractor of the Harvey Nichols Fourth Floor Cafe & Bar refurbishment project, with sole responsibility for production, coordination of all sub-contracting trades, project management and installation of the beautiful new design scheme.
Cumberland Construction Company Ltd Director of Business Development, Claire Hutchinson, said:
"This was Cumberland's first opportunity to work with Harvey Nichols and between the retail team, designers and the external trades we all experienced an enjoyable and seamless collaboration. The project criteria was to deliver the high quality standards and expectations of our client, which we feel was both achieved and evident within the surroundings, as was the project delivered on time and within budget"
Claire added:
"At Cumberland Construction Company Ltd, we offer a fully proficient range of services. We are predominately known for working with any number of esteemed clients and in doing so, have achieved a fantastic reputation in the industry for consistently delivering high levels of service and quality finishes."